Chat with Heather O'Reilly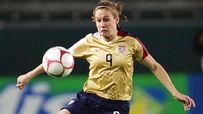 O'Reilly has two Olympic gold medals.
Welcome to SportsNation! On Monday, United States women's national soccer team and current Sky Blue FC midfielder Heather O'Reilly stops by to chat.
O'Reilly is teaming up with CooperVision and WePlay, as CooperVision is offering $25,000 in Gear Up Grants to ensure that teams and athletes have the necessary gear - from sports equipment to fitted contact lenses. Ten grants in total will be awarded, and submissions will be accepted from May 3-June 25.
A New Jersey native, O'Reilly played collegiately at North Carolina winning two national championships in 2003 and 2006. In eight years as a member of the U.S. Women's national team, "HAO" scored 25 goals in 122 appearances. Currently she is co-captain for Sky Blue FC of the WPS.
Send your questions now and join O'Reilly Monday at 3:15 p.m. ET!
More Special Guests: Previous chats | SportsNation