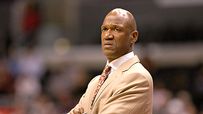 Porter was the 24th pick in the 1985 draft.
Welcome to SportsNation! On Friday, we'll be talking NBA playoffs when former NBA player and coach Terry Porter stops by to chat.
Porter spent 17 seasons in the NBA, playing for Portland, Minnesota, Miami and San Antonio. He played in two NBA Finals series while with the Trail Blazers, while also making two all-star teams with Portland. For his career, he averaged over 12 points per game. He coached the Milwaukee Bucks during the 2003-04 and 2004-05 seasons and then the Phoenix Suns for 51 games in the 2008-09 season.
Send your questions now and join Porter Friday at 1 p.m. ET!
More Special Guests: Previous chats | SportsNation
Buzzmaster
(12:47 PM)
Former NBA player and coach Terry Porter will be here at the top of the hour to take your questions!
Buzzmaster
(1:03 PM)
Terry is here!
Joe (Dallas)
Your thoughts on the Suns season so far. Have they overacheived in your mind?
Terry Porter
(1:04 PM)
Yes, I think they have overachieved. I think they've gone back to a proper identity and style of play. I didn't think they'd be able to make the type of adjustments that they've made. Give credit to the team and staff. They've played at a high level.
Dave (Washington)
Do you think the old Celtics have enough left in their legs to get past Cleveland?
Terry Porter
(1:06 PM)
The big question is how healthy is LeBron's elbow. That thing has had more people look at it than a health care bill. If his elbow continues to give him some discomfort and he's not able to perform at a high level, then it falls on his supporting cast, Mo, Jamison and Shaq. They'll have to pick it up for him.
Tommy (DC)
We all have our opinions and thoughts about professional athletes, but as a former player, what's one thing about being a professional athlete that you think no one thinks about or talks about?
Terry Porter
(1:06 PM)
I think most people don't realize the demands on your time on a day to day basis, especially the superstars. The demands to meet with your organization, your charities, your brand and then family time.
Terrance(hawaii) [via mobile]
Do u think rajan rondo could develop to be a better point guard than deron williams and chris paul?
Terry Porter
(1:08 PM)
Yes. I think each one has their strengths. The one thing that he has is that he's quicker than the other two. His ability to get into the paint. The one thing that he lacks compared to the others is his ability to hit the jumpshot. That's an area that he needs to improve to be in the same class as those guys on a year to year basis.
Sammy (Florida)
Do you think that the winner of the Celtics-Cavs has the best chance of winning the East?
Terry Porter
(1:09 PM)
As of right now, no. I think Orlando is playing the best basketball of anyone in the playoffs. They had a tough first round matchup and they beat them. The Hawks are a good team, but they're dominating them. I would give the edge to the Magic. They still have a tremendous amount of excitement about how their year finished last year and trying to get back there this year.
James (El Dorado Hills, CA)
If current leads stand, Lakers and Suns will be meeting in the WCF. I know your main focus is always on defensive, so which team wins? Lakers defense vs Suns offense.
Terry Porter
(1:10 PM)
There is no doubt that the Lakers will show a better chance, because at some point in the playoffs you have to stop somebody. They have the personnel to stop the Suns style, but the Suns don't have the matchups to stop the Lakers height, length.
Andy (Denver, CO) [via mobile]
Terry, do you think point guard is the most important position in the playoffs this year?
Terry Porter
(1:12 PM)
I don't think there's any doubt this year. It's been about the playoffs and which team's point guard has played the best has gone on to win the series. It's going to be important for Rondo to continue to play like he has. Nelson has stepped up big for the Magic. Williams in Utah has willed his play against Denver.
Aaron (Texas)
It seems like everyone is bailing on the spurs. Both games could've gone either way! It will be 2-2 going back to Phoenix, book it.
Terry Porter
(1:13 PM)
I played under Pop, so I agree with you. Give Suns credit, they won two at home, but the longer this series goes on, the Spurs will win. I think they will prevail at home and then the pressure falls back on Phoenix. I think long term, the Spurs will respond, make the adjustments and win those two games in San Antonio.
Jack (Los Angeles)
How come so many coaches fail to coach defense properly?
Terry Porter
(1:14 PM)
I don't think that defense is something that falls to second fiddle. A lot of teams talk about defense. The championship caliber teams focus on it and make sure teams don't get easy penetration. You have to score more than an opponent, but you have to stop them. On that last play, do you have that individual that can make that one last stop. The team that can play defense well in the season is the one that can host the trophy in June.
Henry (Chicago)
Terry, what do you think the Bulls need to do in the offseason to improve for next year?
Terry Porter
(1:15 PM)
First, I think they have some great pieces in Rose and Noah. Love their energy and the skills they bring. I think they need to add an inside presence and another offensive weapon in Rose. He creates so much of their offense. I think Deng is a decent player, but they're still missing another scorer.
SprungOnSports (Long Island)
Atlanta looks lost. If you were in Mike Woodson's position, what would you do to get the the Hawks back in it?
Terry Porter
(1:17 PM)
I think the first thing is you have to forget about Game 1. They showed improvement in Game 2. They started to play too much one on one basketball. They had stopped with ball movement and body movement. Orlando is a good team once they get set. They have to figure out how to move Dwight Howard. Joe Johnson will have to play better. Crawford too. They have to get out in the open court and get some dunks.
bob (toledo)
I used to rain 3pts with you in Bulls vs Blazers for my super nintendo. Why dont the cavs go more uptempo?
Terry Porter
(1:18 PM)
I think they should. They have enough players that I think they can play that style. I think that's something they have to do in the playoffs to get easier opportunities. They're very selective to when they run and don't run. It's important for them to get those easy points. They just can't always play the halfcourt game.
Henry (NYC)
Who was your rookie of the year?
Terry Porter
(1:19 PM)
I think the right guy got it. You look at the body of work. Lots of times guys weigh on how the team performs, but a rookie can't help the team he plays on. Sacramento didn't quite have the cast that some of the other teams. I think he did a great job. To average 20 points and over 5 rebounds and 5 assists is amazing on a bad team.
Mike D (Portland, Or)
What do you think the Blazers should do this offseason?
Terry Porter
(1:20 PM)
I think when you look at the Blazers, they should all get a healthy card. They need to stay healthy the whole season, before you can evaluate this season. They need to get more perimeter shooting and a more physical presence. The last thing is long term, they need a point guard. That's an issue that needs to be addressed.
Courtney jackson (Lindenwold,nj)
Hi terry, who is your take for the nba championship? i like orlando this time.
Terry Porter
(1:21 PM)
I still would have to give the edge to the Lakers. They have the best closer in the game in Kobe. They have their big guys who have had injuries over the year, but they're getting healthy. They've been able to get in the paint and dominate the boards. Like my old coach Pat Riley used to say, no rebounds, no rings.
Terry Porter
(1:22 PM)
Thank you guys for the many years of support. I love the NBA. Great time of the year to be watching the NBA playoffs.