Chat with Queen Latifah, Common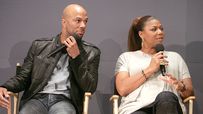 "Just Wright" comes out May 14.
Welcome to SportsNation! On Monday, rappers turned actors Queen Latifah and Common stop by SportsNation to chat about their new movie "Just Wright" which hits theaters May 14.
Queen Latifah plays Leslie Wright, a physical therapist who gets a job working with an NBA all-star Scott McKnight, played by Common. Oblivious to McKnight, Wright falls in love with him. Instead, McKnight is drawn to Wright's childhood friend Morgan, played by Paula Patton, who wants to become an NBA trophy wife.
"Just Wright" is the 30th film for Queen Latifah and 10th for Common. As musical artists, Common has released nine albums, his first in 1992, while Queen Latifah has seven albums to her name, her first in 1989.
Send your questions now and join Queen Latifah and Common Monday at 2:30 p.m. ET!
More Special Guests: Previous chats | SportsNation
Buzzmaster
(2:20 PM)
Queen Latifah and Common will be here at 2:30 p.m. ET to take your questions!
Buzzmaster
(2:22 PM)
Their new movie "Just Wright" comes out at the end of this week.
Buzzmaster
(2:33 PM)
They're here!
Buzzmaster
(2:33 PM)
First Common!
Larry (NYC)
Common, did you do any basketball specific training to get ready for this movie?
Common
(2:34 PM)
Yeah, I trained with the assistant coach for the Nets, Jimmy Sands. He trained me like any other player. It was a lot of fun.
Kyle (Chicago)
Common, you're a pretty big star and celebrity...what do you make of this loss of privacy that many celebrities go through? We have Tiger and his situation, Sandra Bullock and Jesse James...it seems like no celebrity is allowed to have personal/private matters and they are definitely not able to deal with them out of the spotlight.
Common
(2:35 PM)
I think it's tough to be in a position where your life is in the spotlight. But as an experienced actor or artist, you do know that if you continue your career in this, there's a chance that you'll be chased by papparazzi. The best thing you can do is live your life and try not to worry about what everyone is saying and keep private matters in your home.
Freddy (Boston)
Common how cool was it to be around some of the NBA players that appeared in the movie?
Common
(2:36 PM)
It was crazy, because it was like a dream to look across the court and be playing against DWade and to score with Dwight Howard. Of course, that was like surreal for me.
brett (louisville)
hey common, your one of my favorite artists of all time, its good to see your talent has carried over to mainstream, when can i expect your next album? thanks
Common
(2:37 PM)
I'm working on a new album, it's called The Believer, it should be released in early winter.
Chad (Las Vegas)
Common, you could make the Nets after the clips I've seen about this movie. That ain't saying much but you could add pro-athlete to your repituar.
Common
(2:38 PM)
That dream is still alive. Hopefully the Nets will get John Wall.
Hayden (Logan, Utah)
If you could get invited to one event, what would it be?
Common
(2:39 PM)
Sporting event? It would probably be the World Cup. Performance wise, probably the Super Bowl.
Paul (San Diego)
You two are both in the hip hop scene. Why is it that rappers are always getting into fights or feuding with other rappers?
Common
(2:40 PM)
I think hip hop is a reflection of the community that it comes from. Sometimes, there are disagreements that happen and it's not always handled politically correct, because that's how it happens in the streets. But some feuds are just for the hype.
Jewell (Htown Texas)
What made you guys as actors, take part in a movie like this?
Common
(2:41 PM)
I thought it was a great opportunity for me to play a leading man. And my vision for myself is to always be a leading man. It was definitley a different role for me. And this was a chance to live out a dream to be in the NBA.
michael (VA)
what college basketball team/players do you guys root for?
Common
(2:42 PM)
I did root for Kentucky this year. John Wall, I like his game. I do like Evan Turner. He's from Chicago.
Chris Fiegler (Latham,NY)
Which Sports did you guys ever participate in?
Common
(2:43 PM)
I played basketball. I played baseball when I was very young. And because we had to play a fall sport to be on the basketball team, I played soccer. I don't know if I ever scored a goal.
Basaglia (Duke University)
Better player: Deron Williams or Chris Paul?
Common
(2:44 PM)
I'm going to have to go with Chris Paul. Everyone else says Deron Williams.
Hayden (Logan, Utah)
what is the best gift bag you have ever recieved?
Common
(2:45 PM)
I think it was getting an iPad and a good massage.
will (detroit)
The movie doesn't come out until May 14, yet you guys are already on the road a ton promoting it....so, what's more exhausting, promoting the movie or filming it?
Common
(2:46 PM)
Good question. I would say promoting has been. It's been non stop flying to different places. I also do Just Wright after parties late night and then I have to get up early to do an early morning talk show.
Evelina (Brooklyn, NY)
I'ma huge Dwade fan & so I wanted to know where do yall think he gonna end up next season? I say he gonna stay in the MIA its called Wade County for a reason
Common
(2:46 PM)
My guess is as good as yours, but I would hope Chicago.
joel (cleveland )
Who do you guys got winning the finals
Common
(2:47 PM)
I'm going with Boston. I'm going out on a limb and going with Boston.
Kyle
Do you get back to Chicago much?
Common
(2:48 PM)
I go to Chicago at least 5-7 times per year.
Hayden (Logan, Utah)
chicago or new york style pizza?
Common
(2:49 PM)
Chicago.
Common
(2:51 PM)
Thanks for all the love and support. Go see Just Wright on May 14.
Hugh (Florida)
Queen, were you a basketball fan before doing this movie?
Queen Latifah
(2:52 PM)
Absolutely. I've been a basketball fan since I was a kid. I played basketball from 7th grade to my freshman year of college. So I would definitely call myself a basketball fan. I lived over a barbershop growing up and Darryl Dawkins, the first basketball player to shatter a backboard, would come for haircuts. It was cool to see that white Mercedes roll up.
Stan (Houston)
Queen Latifah...you've had a pretty successful career, going back and forth between music and movies. Do you see yourself branching out into anything else?
Queen Latifah
(2:53 PM)
Yeah, I want to continue to further expand my brand. I have my music, movies, my brand of cosmetics under CoverGirl. We have my movie studio. A lot more philanthropy. Whatever businesses seem sensible to invest in, I will definitley do so.
David (LV)
I've heard the saying that singers want to be athletes and athletes want to be singers...does that ring true for the two of you?
Queen Latifah
(2:54 PM)
I have the good fortune to be a singer and athlete, so I feel for those that can only do one well. But that saying does ring true.
Mike (Indy)
Do you prefer making Music or Movies?
Queen Latifah
(2:55 PM)
I love both, but I would say that music is closest to my heart, because I create it from scratch. I usually write my lyrics and my songs. And I like performing live music in front of crowds. You get their energy and together you make it happen. With movies, I have to sneak into the back of the theaters.
Kevin (Dallas)
Queen Latifah....how come a Queen? Why not prime minister or count or attorney general?
Queen Latifah
(2:56 PM)
Well, Queen's usually make more money than all of those guys combined, plus I get a nice fancy hat to wear. But I think all women are queens. So, that was the right name for me to choose.
Brandon (FL)
Miss Latifah, What is the craziest thing youve done while filming a movie? On or off the set
Queen Latifah
(2:57 PM)
I did have to sit on a fifth floor ledge of a building when I was shooting a movie and it was pretty cold outside. We shot it outside Prague with LL Cool J. It was pretty scary. But my dad was not far beneath me, so I felt safe. That and shooting an uzi, that was pretty crazy.
Eric (Chicago)
Queen, back in the day, WAY back in the day you worked with Will Smith on Fresh Prince: what was it like to work with him and how would you say your career has gone from there?
Queen Latifah
(2:58 PM)
It was fantastic working with Will, he gave me my first job on a TV show and he was my inspiration to go create Living Single. We're friends. I felt like if he could do it, I could do it. And here we are.
Will (LA)
Queen, how do you feel about being a part of some great, and funny, TV shows and films, like House Party 2, Fresh Prince of Bel Air, etc?
Queen Latifah
(2:59 PM)
I think it's fun to make people laugh. I'm not a comedian, but I think I have a great sense of humor. Life can be serious enough, so I think it's great to take a break from it and laugh.
Evan (SLC)
Any upcoming roles that the general public doesn't know about that you can fill us in on?
Queen Latifah
(3:00 PM)
Yeah, I'm doing a role in this film with Vince Vaughn, called Cheaters, that shoots in Chicago this summer. Ron Howard is directing that. It will be exciting to work on that with those guys. It's going to be funny.
Basaglia (Duke )
Who makes better beats - Kanye West or Chris Brown?
Queen Latifah
(3:00 PM)
I would say hands down Kanye West makes better beats.
Queen Latifah
(3:00 PM)
But Chris Brown is a better singer.
Stuart (Brooklyn, NY)
Hi Queen. I really loved the "Bees" movie. I own it, enjoy the acting very much, love the fun and play stuff, the lessons of standing up against prejudice and cried incessantly when Sophie died. What was your favorite part of doing the movie?
Queen Latifah
(3:02 PM)
Good question. The whole movie was fun for me, getting to work with other people that have come from the music industry to the movie industry. Little Dakota Fanning, who is cool. We also got to shoot in Wilmington, NC. To wake up and see the sun rise on the east coast was my favorite part. Then coming home every night and banging on my drums.
vic (NoCal)
Queen Latifah -- what's more likely to be on your iPod? "Finding Forever" by your co-star Common, or "New Songs for the 5-String Banjo" by your former co-star, Steve Martin?
Queen Latifah
(3:03 PM)
I actually have both.
zach (Il)
were you fan of common's music before you worked with him in this movie?
Queen Latifah
(3:03 PM)
Definitely. I loved Finding Forever, but I think Be is probably my favorite album.
Queen Latifah
(3:03 PM)
Thanks for the fun questions. Please go out and support Just Wright on May 14, get some romance, comedy and action!