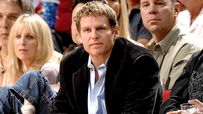 Joe Maloof runs the Kings with brother Gavin.
Welcome to SportsNation! On Monday, Sacramento Kings co-owner Joe Maloof stops by SN to chat about the NBA playoffs.
The Maloof family has owned the Kings since 1998 with brothers Joe and Gavin running the team. During the family's ownership of the team, Sacramento has won 50-plus regular season games five times, won back-to-back Pacific Division titles in 2001-02 and 2002-03, and advanced to the 2002 Western Conference Finals.
The Maloofs will be hosting the Maloof Money Cup in New York (June 5-6) and Califnornia (Aug. 4-8). The New York event will feature 48 pro skaters competing for $250,000 in purses on a brand new street course that was donated to the city by the Maloof family.
Send your questions now and join Maloof Monday at 12:40 p.m. ET!
More Special Guests: Previous chats | SportsNation
Buzzmaster
(12:27 PM)
Sacramento Kings' owner Joe Maloof will be here at 12:40 p.m. ET to take your questions!
Buzzmaster
(12:36 PM)
Joe should be here in a few minutes everybody!
Buzzmaster
(12:46 PM)
Joe's here!
Brad (Gadsden,Alabama)
Joe, What other sports do you like to watch?
Joe Maloof
(12:47 PM)
My favorite sport is NBA basketball. I love tennis. I'm a big tennis fan.
Freddie (Chicago)
You run a team with your brother...what's that dynamic like? Do you wrestle every day to see who gets to make the decisions for the day?
Joe Maloof
(12:48 PM)
Actually, we've gotten along well over the years. We're close. Normally, we both come to the same conclusion. We can anwer each others' sentences a lot of the times. We get along great. If we have a disagreement, we talk it out, bring in the other brothers.
bob (Boston)
From NBA team to casinos, how do you make the jump to skating event promoter?
Joe Maloof
(12:49 PM)
Actually, skateboarding is one of hte fastest growing lifestyles in the world. More kids now are boarding than playing Little League baseball. We originally had a basketball camp in Sacramento. We decided to do something different and do a skate camp. It evolved into the world's greatest skate camp.
Ryan (MD)
Did you decide who will represent the team at the lottery tomorrow?
Joe Maloof
(12:50 PM)
Yes, Gavin, my brother thought it would be nice to have Tyreke represent us because he's had such a huge impact on the team at an early age. He's going to get us the first pick.
Kyle (Chicago)
Where did your idea for the Money Cup come from and how did you go about starting it in New York when your a West Coast guy?
Joe Maloof
(12:51 PM)
We had such great success with the Maloof Cup in Orange County and it was so wildly accepted, we decided that to have an event for the greatest skaters, you need to have it in the greatest city. It's so hard to get an event in New York City, because you have to get it approved by so many agencies.
Evan (SLC)
Are you interested in owning teams in different sports? NFL a possibility?
Joe Maloof
(12:52 PM)
Well, if you own a casino, by the NFL's bylaws, you're not allowed to own an NFL team, so we couldn't get into football. We do have an interest in other sports, but we're going to spend our time with the Kings an dMaloof Money Cup.
Courtney Jackson (Lindenwold, NJ)
Hi joe, Are you going to aquire any big time free agents this coming season and if you are, who has your eye right now?
Joe Maloof
(12:53 PM)
We do have a tremendous amount of cap space next year, which gives us great flexibility. We definitely will look at what players are available and the best ones that can help us get to the next level and get to the playofss, that's where we want to go.
Bill (Washington, DC)
Joe, in your opinion, should sports betting be legalized outside of Nevada? The State of Delaware, for instance, has been making a strong legalization push.
Joe Maloof
(12:54 PM)
Yes, I think it should be. I think that gaming has become a part of normal activity for a lot of Americans. You have church bingo, the state lottery. You have poker now. That's a huge trend. I think that sports betting, if regulated, it has to be regulated, if it's legalized, I think you'll have the proper regulation.
CC (Atlanta)
It's no secret the Kings have struggled the last couple of years. How do you sell that to your fans and prospective season tix holders? After all NBA tickets aren't cheap.
Joe Maloof
(12:56 PM)
Thank God for Tyreke Evans. We have a wonderful player now that's 20 years old that means something in the NBA. To have a player as explosive and as humble as Tyreke, is a blessing for any franchise. We do have one of the youngest teams in the league. We have some other fun rookies. We have a great 6-11 two guard out of Syracuse in Greene. We have a very very young team that has talent. And we have the rookie of the year, so that's what we're going to be selling to our fans. Come and see us.
Frank (Dallas)
Where do you feel your team needs to improve through the draft?
Joe Maloof
(12:57 PM)
I think just getting the great player, no matter what the position. I think what you need to do in this day and age, you need to stockpile as much talent as you can regardless of the position. If you have the chance to get a player, that you have a star at, already, you need to take that player. Always go after the best available talent.
Anthony (Cali)
Joe ... BRING BACK THE BLACK JERSEYS!!!!
Joe Maloof
(12:58 PM)
Oh, I love them! You're right. I love those jerseys. Those were the good ol' days. The black and purple were the most beautiful jerseys ever made.
Evan (SLC)
Do you guys have a deal with the UFC, since they have hosted several of their TUF finale's at your hotel?
Joe Maloof
(1:00 PM)
We do a lot with them. The UFC has been a fabulous event we've had at the Palms many times. Hugely popular sport. We've even had the opportunity to host three events at Arco Arena in Sacramento, which sold out. So, we'll have as many as possible at the Palms. We just love it. It's very popular with those under 35. If you're under 35, you love it. I think if you're over 35, you love boxing, but I've found the new young and up and coming sport is UFC. That and skateboarding.
Bob (CA)
You guys had a great draft last year, do you think that can happen again?
Joe Maloof
(1:01 PM)
Yes, I do. Last year we were supposed to get the first pick and we ended up with the fourth pick. Needless to say, thank God for Tyreke Evans. We're very thankful for our other rookies. They all had fantastic years. Good things are on the horizon for the Kings.
Joe Maloof
(1:03 PM)
To the Sacramento fans, thank you for being patient the last few years. Nobody wants to get to the playoffs again more than my brother and I. We really believe that the foundation has been set with Tyreke and our young players. With the addition of another top draft pick, we're definitley one of the teams that people will have to contend with in the future. It will be the Memphis teams, the OKC's, Portland that teams will have to contend with.