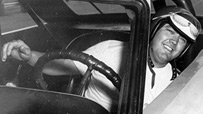 Johnson started his career running moonshine in the 1950s.
Welcome to SportsNation! On Thursday, former NASCAR driver and owner Junior Johnson stops by to chat about being a part of the sport's inaugural hall of fame class.
Johnson, who began his racing days avoiding the police as a moonshine runner, enjoyed a 13-year NASCAR career, winning 50 races and 148 top ten finishes.
Johnson went on to own his own NASCAR team, which included the three-time Cup winners in Cale Yarborough and Darrell Waltrip. Johnson was named one of the top 50 drivers in NASCAR history in 1998.
Send your questions now and join Johnson Thursday at 3 p.m. ET!
More Special Guests: Previous chats | SportsNation
Buzzmaster
(2:57 PM)
NASCAR Hall of Famer Junior Johnson will be here in a few minutes to take your questions!
Buzzmaster
(3:01 PM)
Junior is here!
Dav (Boston)
Junior, NASCAR has a long history. What does it mean to you to be in the first class for the Hall of Fame?
Junior Johnson
(3:02 PM)
The sport has been through a lot of changes. Being a part of those changes and staying in it as long as I have is great. I never thought that I would see it. I've given a lot to the sport and the sports has given a lot to me.
Jeff (RI)
from moonshine running to NASCAR Hall of Fame, eh?
Junior Johnson
(3:03 PM)
I started out pretty early on moonshine running. Racing was secondary when I started. When I could make more money racing, I gave the bootlegging up and went NASCAR full time. The bootlegging was more exciting for a time there, but that turned around.
Jamerson (Georgia)
Junior, you've really gotten to see three major eras of NASCAR. The era when you were driving, the era when you were a team owner, and the current era. Would you say that any particular era had a better or more skilled set of drivers than the other eras?
Junior Johnson
(3:04 PM)
In the mid part of my owning cars was pretty exciting. I had some fun drivers. You coudldn't have three better drivers.
Ryan (Arlington,Texas)
Junior, Congrats on the Hall of Fame induction! What was the most challenging part of Darrell Waltrip driving for you?
Junior Johnson
(3:05 PM)
His was not a real challenge, it was more or less, was he going to do his job or not do it. He's funny. He tried to antagonize the drivers.
Junior Johnson
(3:05 PM)
He was a great agitator on aggravating everybody.
Tyler D (Council Bluffs)
What did you find more exciting. Moonshine running or Darlington?
Junior Johnson
(3:06 PM)
I'd say Darlington. I fought that track for several years. When I got to where I thought I had it beat, it jumped out and bit me. I was close to winning 5-6 times and I only won once. It's too tough to tame.
Frank (Coram, NY)
What do you think is the biggest change that the sport of Nascar needs?
Junior Johnson
(3:07 PM)
I do think it needs to go back and let the mechanics be able to work on the cars more than they do. Right now, they don't have a lot of influence on the cars. When you give several people a cookie cutter car that they have no experience with, it will take some time for them to learn all the parts of the car.
Johnny (Alabama)
Put yourself in Rick Hendrick's shoes. How would you fix the problems with Dale Earnhardt, Jr. and get him winning again?
Junior Johnson
(3:09 PM)
Well, I was a big fan of Dale Earnhardt and he was an all around driver. For some reason, I think Junior runs very well on the Superspeedways, but I don't think he learned enough about how the car runs when he was coming up. He didn't get enough of an education. It looks like he's one that doesn't know what he's looking for and he can't find it.
Jodi (Asheboro, NC)
Hello Mr. Johnson, What advice would you give to a Nascar driver/owner like Kyle Busch? Would you tell him to forget owning a truck team and only focus on driving or keep doing both?
Junior Johnson
(3:10 PM)
Well, I think it's too much to do, yes. Owning a race car, that's all you need. If you're looking at it and looking at what it takes to run it right, you have no time to do anything else. I know you don't have time to drive it.
Ryan (California)
Any crazy moonshining running memories?
Junior Johnson
(3:11 PM)
I've got my own moonshine now and it's legal. I'm more interested in it than trying to get out and evade the police. I'll stick with what I got.
Don (Kenosha, Wi)
I would like to see a change in points, such as, winner scoring 25 more points than 2nd place, if a driver leads over 50% of laps in a race they get 5 or ten extra points plus the 5 for 1 lap and the 5 for most laps, total 15 or 20. What do you think?
Junior Johnson
(3:12 PM)
I think it's a good points system. When they settled on the system they have now, it's been a good one. It's easy to figure out. You know what you've got when you leave the track. You need that kind of setup so you know what you're doing.
Denny (Fl)
Do you like the Chase set up?
Junior Johnson
(3:14 PM)
No, I don't. I'll tell you why. If you're 13th and you have 12 good races, you could easily win the championship, if the leader has a lot of trouble. It needs to go back to what it was to start with. People from way back can come up and people from the top can go down. They need to just go back to the original and do away with the Chase.
Gene (Ross, Ohio)
How's your son doing in racing?
Junior Johnson
(3:15 PM)
He's doing, I think, really good. He's just 16 and won five races. So far, he's shown a tremendous bout of good driving and learning. I think he'll be fine.
Jamerson (Georgia)
Do you think NASCAR would be in a better place if they went back to running actual stock cars again instead of fabricated cars?
Junior Johnson
(3:17 PM)
I don't think it would hurt, but these fabricated cars is tough for a race for fans. When I was running, the people go see the race and they would go home as happy can be and go out and buy the car that won the race. I don't know what the car companies get out of it.
Junior Johnson
(3:17 PM)
Thanks for helping root me into the Hall of Fame.