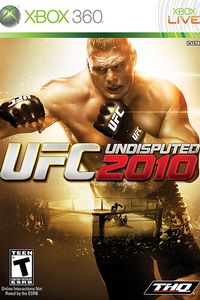 Welcome to SportsNation! On Monday, UFC president Dana White stops by to chat about the upcoming UFC 114 fight and the new UFC video game -- "UFC: Undisputed 2010."
White began his career as an MMA manager but was installed as president of the UFC in 2001. On May 29, he will oversee UFC 114 featuring light heavyweights "Sugar" Rashad Evans and Quinton "Rampage" Jackson, live from the MGM Grand in Las Vegas on Pay-Per-View.
On Tuesday, UFC and THQ, Inc. release the third UFC video game, "UFC: Undisputed 2010," which includes more than 100 of the best UFC fighters in the world.
Send in your questions now and then join White at 12:45 p.m. ET Monday!
More Special Guests: Previous chats | SportsNation
Buzzmaster
(12:35 PM)
Dana will be here in about 10 minutes to take your questions!
Buzzmaster
(12:46 PM)
We've got Dana!
Devin (Washington)
How hands on were you and your company in creating the game?
Dana White
(12:48 PM)
What we do is sit down the THQ and talk about how we can make this thing as real as possible. They make video games. We go in and tell them what we're looking for and what we want and they killed it.
Dave (CA)`
How do you and the UFC go about getting the more casual fan to be a fan of MMA?
Dana White
(12:49 PM)
Basically, it's the quality of the product. What we always want to do is put on a quality product. the fighst are what matters most and they go out and deliver.
Jason (UFC Country (VEGAS))
Do you feel that Rampage's cardio will be an issue in the fight? Evans appears to be in much better shape.. Thanks!
Dana White
(12:49 PM)
Anybody who watched primetime saw that Rampage ran a 7.5 minute mile over the course of several miles. You have to be in good shape to do that.
McCurdy (New York)
What can fans expect in this game that's different from lat year's?
Dana White
(12:50 PM)
There's tons of stuff. The head movement is awesome in this game. A lot of peopel were complaining about no southpaws. The submission game is better. It's a really really upgraded game over a year ago.
Matt ("Work")
At its worst point how worried were you about Lesnar's health? Did you really think to most popular man in MMA may never fight again!?
Dana White
(12:50 PM)
I was very worried for him. I honestly thought that he wasn't coming back.
Evan (SLC)
How many more TUF seasons do you plan on doing?
Dana White
(12:51 PM)
100.
Dana White
(12:51 PM)
Seriously. I think it can go on forever. Every season something different happens. there will be a new set of guys every season. And I think it will continue to grow.
Boyd (Nashville) [via mobile]
Do you ever ask a fighter change divisions or is that strictly a fighter/trainer decision?
Dana White
(12:51 PM)
It's a fighter decision. but if a fighter completely empties out a division, yeah, I'd be asking him to move up.
Arthur B (New York City)
Hey Dana, congrats on all of your success so far. . .. What are the obstacles that you face regarding getting MMA sactioned in New York?
Dana White
(12:52 PM)
I don't think there are that many obstacles in New York. It's just a matter of these things take time, especially when you're trying to change laws.
David (NY,NY)
Dana, Will we ever see a SuperBowl or a Wrestlemania so too speak in the UFC? One big Giant event with all the stars/champions fighting on one show?
Dana White
(12:52 PM)
Um, no. Not really.
Chris (Boston)
Dana - What are the chances of Fedor ever fighting in the UFC...
Dana White
(12:53 PM)
Everybody knows I've tried, man. I've tried and tried and tried.
John (Chicago, IL)
Hey Dana! Will the UFC implement a colored card, i.e. yellow or red, for purse deduction in order to prevent stalling tactics? Thank you!
Dana White
(12:54 PM)
That has nothing to do with us. That is the athletic commissions that control that. Trust me no one hates crappier fighters more than I do.
Kyle (Dallas)
Who do you like to fight with on the new Undisputed game?
Dana White
(12:54 PM)
I was just playing, actually, with Rampage. The guy from Maxim.com beat me.
Jack (C-Ville)
What are the expectations of UFC 114 in terms of viewing audiance?
Dana White
(12:55 PM)
I think it's going to be big. I think there's a lot of heat between those twos. A highly anticipated fight. People have been waiting to see this.
Tressor (NYC)
How confident are you that Anderson Silva "got the message" and won't be clowning around when he fights Chael Sonnen?
Dana White
(12:55 PM)
Who knows man. The only way to find out is when he fights. I hope he did and I hope we'll see the best pound for pound fighter back again.
Rick (Boston)
Will there ever be a UFC card with the likes of Gina Carano?
Dana White
(12:57 PM)
Who knows. The thing is with the women's division, it's much like what happened in boxing, you have a couple of girls really good and some that aren't. I don't know if there is enough to make an entire division with women. It could happen, who knows.
Emely (Queens)
What's your favorite moment in UFC history?
Dana White
(12:57 PM)
My favorite fight in UFC history was Matt Hughes v. Trigg II. My favorite moment, there have been so many. When you take a company that was where it was and make it to what it is today, lots of great moments.
Matt (CT)
Any update on a network deal?
Dana White
(12:58 PM)
Again, I'm in the same place I've been - if we get offered the right deal, we'll do it. But no, we're not up to chasing anything.
Patrick (Dublin)
Any plans to return to Ireland in the near future?
Dana White
(12:58 PM)
Yes! We're coming back to Ireland this year. This was the best place pound-for-pound place we've been.
Steven (Linlithgow, Scotland)
What cities and countries do you hope to take a UFC event to in the next 2-3 years?
Dana White
(12:59 PM)
We're taking this thing everywhere. I've been very vocal lately in talking about China. China and India.
Steven (Linlithgow, Scotland)
What would you think about GSP trying to compete in wrestling at the 2012 Olympics?
Dana White
(1:00 PM)
GSP is very focused on MMA right now. I don't think you'll see him wresltling any time soon.
hayden (logan, utah)
do you do any scouting for new fighters?
Dana White
(1:00 PM)
I used to in the early days, but now we have a whole team of guys that do it.
Mike (St.Paul,MN)
What is Tito's status with you guys at this point?
Dana White
(1:00 PM)
Tito and I are cool.
Rick (Boston)
You have single handedly started what will be the largest sport around the globe, is it hard to keep things in prespective?
Dana White
(1:01 PM)
Never. I keep my head down and just keep plugging forward. I never pop my head up. Just keep moving forward.
Dana White
(1:01 PM)
You know it means so much to me for everyone in the afternoon to jump on the computers and ask questions. I love the MMA fans.