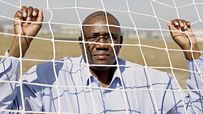 Thulani Mabaso, former Robben Island prisoner, poses for a photo in the soccer field in Robben Island, South Africa.
Welcome to SportsNation! On Monday, we'll be chatting with professor Charles Korr, the author of "More Than Just A Game" stops by, in advance of the 2010 World Cup, to chat about part of the history of soccer in South Africa.
Korr is considered the leading expert on the Makana Football Association. The league formed in South Africa's Robben Island prison in the 1960s. Sunday's "Outside the Lines" told the story about the league. Listen to Korr discuss the league.
Send your questions now and join Korr Monday at 4 p.m. ET!
More Special Guests: Previous chats | SportsNation
Buzzmaster
(3:57 PM)
Professor Charles Korr will be here at the top of the hour to take your questions! He's an expert on the Makana Football Association that was played in South Africa's prison on Robben Island in the 60s.
Buzzmaster
(4:00 PM)
Charles is here!
Dave (Boston)
Charles, were you looking to research the Makana league or did you just stumble on it?
Charles Korr
(4:06 PM)
It's more of the latter. I was teaching in Cape Town in 1993 and a friend took me into what would become the archives at Robben Island. He pointed to a collection of 70 boxes. They were labled Robben Island Sports and I knew that something was up there. I was lucky because the first box I opened up had a couple of hundred letters that the prisoners had written. Every letter had an internal address. Two things that immediately came to mind was that these guys were living together 24 hours a day and why were they bothering to write letters to one another? And why with the internal address? They were using up all that paper, so they must think it was important. I came to find out they had referee exams, schedules, results, minutes of monthly meetings of the football association, quarterly minutes. Everything that you would expect if it were the Premiere League or the NBA. That's the point in which I thought I had to do something with it. That led to the interviews. Part of it was serendipity.
Christian (Miami)
How did they get all the uniforms in prison?
Charles Korr
(4:07 PM)
Each prisoner were allowed a small account. They got paid a few cents a day for breaking rocks. They were allowed to buy things on a shop on the island. They decided to pool their money and they bought items through a shop in Cape Town. The whole team owned the jerseys and they passed them out to the players that were playing that week.
Fred (MD)
Do South Africans embrace this league and it's history, or do they try to forget about that time in their history?
Charles Korr
(4:10 PM)
Neither. Up until recently, many South Africans had never heard of it. THat's why I think the film and book are so important. I think embraces is the wrong word. I think people in South Africa want to know what was happening in the past. It's a country that's open to learning about its past. The reason that I think it's so important is if you ask South Africans about Robben Island, they'll tell you that it's where Nelson Mandela was and a few others and it was a horrible place. One of the former prisoners that I interviewed with is a guide on the island. He was known for not wanting to talk about the island, but he sat with me for 90 minutes. He told me that I was the first one that didn't want to talk about politics and misery. The response has been very good, but until two years ago, you couldn't find anyone in South Africa that knew about Makana that didn't know someone on the island or were a prisoner themselves.
Tim (Baltimore)
I heard that NElson Mandela was not allowed to even watch these games during his time in the prison...is that true? How come?
Charles Korr
(4:12 PM)
It is true, but it's slightly worse than the question. Mandela and a small group of prisoners were in the isolation section. They weren't even allowed to be seen by other prisoners. They were able to get smuggled news about the league and they became fans. People in Mandela's section were out for exercise one time and the guards mistimed it and they saw some of the others practicing. They rushed them back into their cells and built a wall so high that they could never see that again. The people who ran the prison were not very nice people.
Greg (Denver)
From South Africa's perspective, how important is the Robben Island soccer league to their country's soccer history?
Charles Korr
(4:14 PM)
Well Robben Island is one of the two iconic places in South Africa. Once they discovered that the men on Robben Island felt soccer was essential to their survival, there is almost a direct link to the present day soccer and the men on Robben Island that helped with the struggle to create a free South Africa.
Mike (Dartmouth, MA)
Did Nelson Mandela ever get an opportunity to play soccer on Robben Island?
Charles Korr
(4:15 PM)
No. Mandela and the others in the isolation section never were allowed any physical contact or allowed to see the others. They were allowed, after a while, to play sports on their own in a very limited area they had. They created their own volleyball league and Mandela, an ex-boxer, got to use a punching bag.
Charles Korr
(4:15 PM)
Mandela has said, a couple of times, that he understands just how important football was to the prisoners. On the back of "More Than Just A Game" there's a comment by Mandela about how soccer was more than just a game and how important it was to the well being of the prisoners.
Devin (Chicago)
How much time have you now put into studying Robben Island?
Charles Korr
(4:17 PM)
The work started in '93 and I would go back every other year or every year for weeks. It was basically 12-13 years worth of work, on and off. I keep in touch with all of the guys that were the subject of the book. I'll see most of them sometime during the World Cup. It's basically a 14-year project.
Steve
will you be going to the World Cup? How important is that to the county?
Charles Korr
(4:18 PM)
I think it's terribly important to South Africa. It's a coming out party. It's one of the great success stories of the 20th and 21st centuries. All of the rest of the world will see how they can do things like this and overcome the past. It will be a great event. Are there some questions of if it will cost too much? Yes. Questions about the transportation? Yes. There will be some problems, but it's essential for people to understand how special a place it is.
Charles Korr
(4:19 PM)
I'm leaving on the 13th. I'll be watching the U.S.-England game in St. Louis with two of the guys that were on the U.S. team to beat England.
Charles Korr
(4:23 PM)
First of all, I was really impressed by the questions. I hope that as many as people as possible will watch the World Cup, if you're not going to South Africa. Cape Town might be the most stunning city in the world. My hope is that the way it will be covered that the city will be shown as how great it is. My wish is that they will have some people from Makana take part in the opening ceremonies. There is no other football league that can say that it played a direct role in the struggle for democracy. The rest of the world will see the coutry's president as President Zuma, the leader of South Africa, but others will see him as Presiden Zuma, who was also a member of the Makana F.A. I hope to talk to him at some point about the league and how it important it was.
Charles Korr
(4:24 PM)
The league didn't just give them hope for the future, the fight to play football was the first time that they showed that they could beat the authorities. It took 3.5 years for them to get the league started in prison. And it took 30+ more years but they won the other fight too.