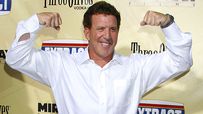 Body by Jake's Jake Steinfeld also is a big lacrosse fan.
Welcome to SportsNation! On Friday, Jake Steinfeld, fitness guru and founder of Body by Jake, stops by to chat about his other passion -- lacrosse.
While being best known for his 30 years in the fitness industry, Steinfeld was the driving force behind the creation of Major League Lacrosse, which is entering its 10th season this year.
Steinfeld also was an executive producer of the documentary "City Lax: An Urban Lacrosse Story" that tells the story of a group of 12-year-olds from Denver's rough, inner city who find a hint of salvation in the game of lacrosse. The film airs on ESPNU Saturday at 11 p.m. ET. In addition, ESPN and ESPN2 will air the final four of the NCAA lacrosse championship on Saturday (4 p.m. ET, ESPN2) and Monday (3:30 p.m. ET, ESPN).
Send your questions now and join Steinfeld Friday at 2 p.m. ET!
More Special Guests: Previous chats | SportsNation