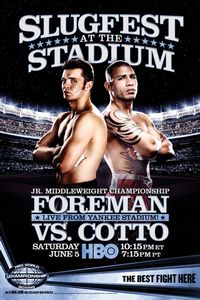 Welcome to SportsNation! On Friday, we'll go inside the boxing ring when legendary boxing writer Bert Sugar stops by to chat about Saturday's Yuri Foreman-Miguel Cotto fight from Yankee Stadium.
Yuri Foreman (28-0, 18 KOs) and Miguel Cotto (34-2, 27 KOs) square off in the first boxing match to be held in Yankee Stadium in 34 years. The fight can be seen live on HBO at 10:15 p.m. ET/7:15 p.m. PT from New York.
Sugar has written over 80 books and from 1979-83 he served as editor-in-chief of The Ring. Sugar also, according to his bio on HBO.com, founded Fight Game magazine in 1998. Sugar has also appeared in a few movies, including recently in "Rocky Balboa," the final chapter of Sylvester Stallone's Rocky boxing movies.
Send your questions and join Sugar Friday at 2 p.m. ET!
More Bert Sugar: Chats | Search | Boxing index
Buzzmaster
(2:01 PM)
We're getting Bert!
Bert Sugar
(2:05 PM)
We've got an intriguing fight tomorrow night at Yankee Stadium, sort of a throw back fight. A Puerto Rican hero and a Orthodox Jewish fighter studying to become a rabbi, in an outdoor stadium, a real throw back. All of which proves to me that boxing has come back with big fights. Let's go get 'em.
Manny (Riverisde,CA)
hey Bert, a lot of people are saying Cotto is a shot fighter although his last loss was to the P4P Champ which is destroying everyone lately. what are your thoughts on Cotto's future?
Bert Sugar
(2:06 PM)
Well, I think the fight against Foreman - not that Foreman - is a crossroads fight for him. He's got to show he's not damaged merchandise. Before Pacquiao, he was destroyed by Margarito. Loaded gloves or not (and that's still a question) he was beaten badly. He's got to show that he's not damaged merchandise tomorrow night.
Moses (Phoenix)
If Miguel Cotto Beats Yuri Foreman, will we ever get a chance to see Paul Williams vs. Miguel Cotto?
Bert Sugar
(2:08 PM)
Paul Williams is one of those biggest question marks. First of all, we don't know what division he is in. And we don't know what Paul Williams we are getting. He looked adequate against Sergio Martinez. But then again Martinez beat Pavlik, so he's no tomato can. Still, Williams doesn't use his height to his advantage and has disappointed many observers. Therefore if Cotto should win over Yuri, then that looks like a good match for both Cotto and boxing.
Patrick (Raleigh,North Carolina)
Hi bert. If Miguel Cotto beats Yuri Foreman decisively, do you think he deserve a rematch with Manny Pacquiao at 154 pounds? If so do you think Manny would be interested in trying to win his 8th title if the Mayweather negotiations fall through?
Bert Sugar
(2:10 PM)
No, but he does deserve a rematch with Margarito, since that fight is still a question mark because of the loaded gloves. His fight with Margarito was even until the 10th. I hardly think a fight with Pacquiao is in order or a draw.
Bert Sugar
(2:10 PM)
I mean, in that Pacquiao fight, I watched it with my friend Nostradamus, who after said, "what? You couldn't see that coming?"
David (Houston)
Will Mayweather allow the Pacman fight to be made or will he negotiate himself out of it?
Bert Sugar
(2:11 PM)
I'm waiting for Mayweather to ask for a mamogram as the next condition to fight Pacquiao. From what I hear, he's already asking for over 50% of the purse. You know how that will go down. Pacquiao just wants to fight, he doesn't care. Mayweather does care who he fights and how.
Sahroo (Philly)
Is Cotto Naturally big enough to hurt Foreman at 154 when he seemed to lose his knockout power at 147?
Bert Sugar
(2:13 PM)
I think he has still got KO power and now better balance under his new trainer. Cotto hits hard, the question in the fight tomorrow night is can he catch Foreman, who looks like Jesse Owens in reverse. He runs better backwards than he runs forwards. That's the problem, in order to hurt him he has to hit him. Foreman has an excellent defensive ability.
Edwin Rios (Florida)
Do you think Cotto can beat foreman under the wing of Emanuel, and Can Cotto make a thrilling come back in boxing
Bert Sugar
(2:14 PM)
Emanuel has done wonders with certain fighters, as he did with Klitchsko and Lennox Lewis. However, you're always afraid that when the going gets tough that the tough gets going back to their old style. Emanuel has tweaked, but not changed his style, so we should see a better fighter in Cotto tomorrow night. Whether he's better than Yuri, I don't know.
Mitchell (NYC)
You been around awhile and seen them all. In my opinion the golden age of the welter-weigths was the late 70's and early 80's. How do you think Mayweather and Pacquiao would have done against Leonard, Hearns, Duran and Benitez at their peaks??
Bert Sugar
(2:16 PM)
Good question. I think Sugar Ray Leonard could have beaten any of them. But I think that Duran, who was a great lightweight, would have had trouble and I don't think that Benitez and Hearns, unless Tommy hit him with the sledgehammer of a right, would have fared well. But Mayweather and Pacquiao are worthy of consideration of any of that mix of welterweights in the 80s.
Lillyjo (WPB, FL)
Bert, if Miguel loses do you think retirement is in order?
Bert Sugar
(2:17 PM)
Lillyjo, it always depends on how one loses. Many times you see an L in the column, and it was a close or split or controversial decision and doesn't really call for a man to retire just because he lost the fight. However, if it is one sided or devastating, it might be a call for retirement. I want to see what he has before I pass judgement on what he does.
Bert Sugar
(2:18 PM)
Otherwise, I'm guessing somewhat along the lines of how many angels are dancing on the side of a pin, and I don't think I'm up to it.
Peter (El Segundo, CA)
Mr. Sugar, People are asking question about Cotto's health and performance based upon his tough battles in the ring with Pacman and Margarito. What will you be looking at Saturday night to see if Cotto is a "shot" fighter?Thanks!
Bert Sugar
(2:20 PM)
The first problem is that he's fighting a totally different fighter in Foreman than he fought in Margarito and Pacquiao. Foreman's style is to come in and use his right hand and get out of there. He's a powderpuff puncher and his strength is his fleatness of foot. That said, I might have trouble to find something new that Cotto is doing, because he's going to have one job and that's to find and catch Foreman. So, I don't know what I'll be watching for that's new, outside of his balance. This is an intriguing bout, but previous efforts by Cotto don't really relate to this fight.
Omar Saleh (London, England)
Bert, i've heard you say numerous times that you feel mayweather is scared of losing his 0 as apposed to Manny Pacquiao. Can you elaborate?
Bert Sugar
(2:22 PM)
Floyd Mayweather is a very proud fighter. He will tell you that he's the greatest fighter in history. While Ali and Robinson lost, he has never lost. It is my belieft, knowing him for a long time, that his being proud and almost obsessed with the zero is that he's afraid of losing it. It's not Pacquiao that he's afraid of, it's that zero and being afraid of not being called "the greatest." No fighter who climbs in those ropes is afraid. I think he is overly protective, even obsessed, with that zero in the L column.
Bert Sugar
(2:23 PM)
Sugar Ray Robinson lost once in his first 123 professional fights. And that was to a guy much bigger than him. That said, Robinson in a return bout 3 weeks later (not months, not years, weeks) beat him in the same ring in a rematch. There's no question about who's greater, 1 loss Robinson or no loss Mayweather.
Brian (Brooklyn)
Uh, Bert, I know it's in the media's best interest, but don't you think Foreman is getting a little too much hype here, really, how many people even knows who he has fought?
Bert Sugar
(2:26 PM)
Granted, his opponents aren't even household names in their own households. Foreman is getting hype because he has a large following in New York. By that I mean that before political correctness came en vogue, great boxing matches that drew the fans always pitted ethnic pride against ethnic pride. It's great matchmaking and that's what Bob Arum is doing here. To do that, he must build up Foreman in the press for those that don't know who he is and be able to see a Puerto Rican fighter, Cotto, against a Jewish fighter, in a battle which will bring out followers of both fighters cheering for ethnic pride. This is why there is great hype and it sure as hell is great marketing.
chris (DC)
Do you know of any young american heavyweights?
Bert Sugar
(2:27 PM)
My first question is, what heavyweight division? I don't know what the heck is happening there. You have to be 6-5 and 290 to be a member. American athletes who are gifted and weigh over 250 are playing football. The two best American heavyweights today are Ray Lewis and Brian Urlacher, unfortunately, they're both in the NFL.
Bert Sugar
(2:28 PM)
To tell you how much I think the Klitchsko's have sucked the life out of the heavyweight division, I was at a fight at Madison Square Garden and one of them was fighting and someone in the press section was saying to quit snoring because I was keeping him awake. I don't know an American who wants to put peopel to sleep that much.
Ron (Duluth, MN)
Big fan of your work Bert.. When are you coming out with another boxing book??
Bert Sugar
(2:30 PM)
I have a book coming out in the fall with Tedy Atlas, entitled, "The Ultimate Book of Boxing Lists." We pick out who is the best in certain categories. The best left hook, the best jab, the best fighters over 40, the best chins. We also have included several lists by boxers like "Hardest punches I ever threw," "My hardest fights," and many others. I think it will be a fun read, even if it's a bathroom read.
Bert Sugar
(2:31 PM)
Gang, I thank you for putting up with me. You're always fun and I look forward to the next time on ESPN.com.