Chat with Andrew Bernstein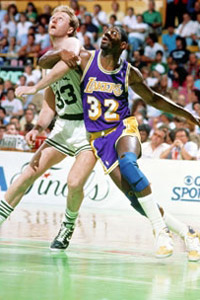 Welcome to SportsNation! On Tuesday, we will be chatting about the NBA Finals with legendary NBA photographer Andrew D. Bernstein.
Bernstein has been with the NBA since 1983 and since 1986 as the league's senior official photographer. He captured some of the iconic images of the Celtics-Lakers championship series in the 80s, like the one to the right.
Bernstein grew up in Brooklyn, N.Y. as an avid sports fan. His photography portfolio earned him a scholarship to attend the Art Center College of Design in Pasadena, Calif., where he earned a degree in 1981. As a student, Bernstein devoted himself entirely to sports photography, working full time as a studio assistant and part time as an assistant for Sports Illustrated.
Send your questions now and join Bernstein Tuesday at 1 p.m. ET!
More Special Guests: Previous chats | SportsNation
Buzzmaster
(12:54 PM)
Longtime NBA photographer Andrew Bernstein will be here at the top of the hour to take your questions!
David (Boston)
What's your favorite NBA Finals moment behind the camera?
Andrew Bernstein
(12:58 PM)
Good question. Probably last year when the Lakers won in Orlando. There was a moment between Phil and Kobe right after the buzzer. They embraced each other and right when they broke the embrace, they shared a father-son type of look. It was an amazing look of accomplishment.
Andrew Bernstein
(12:58 PM)
If we're talking overall finals, it would be the '85 finals. I got my first SI cover from that finals. It was exciting.
STeve (NH)
Were you always a fan of the NBA, or did you grow as a fan due to your work?
Andrew Bernstein
(12:59 PM)
Definitely grew to love the NBA as I started shooting it in the 80s. I grew up a huge hockey fan in Brooklyn. I was a huge Rangers fan, my family had tickets. When I moved to LA to finish school, I was introduced to people with the Lakers and I gravitated toward the NBA.
Braden (LA)
How has your work changed since moving from film to digital?
Andrew Bernstein
(1:00 PM)
Well, we like to say that it's now a case of instant gratification. We can see the photo as soon as we shoot it. Instead of dropping it off and seeing if we got it. It takes away a lot of the anxiety. But now a lot more is expected of us. In terms of how many photos we have to produce. The photography is still the same. The creative process is still the same.
Greg (Chicago)
How many pictures have you taken over the years?
Andrew Bernstein
(1:01 PM)
Ooh. Great question. This is my 28th NBA season. I would say probably in the neighborhood of 5-7 million pictures. If you count everything NBA related.
Paul (FL)
Who's been the most photogenic player you've come across?
Andrew Bernstein
(1:03 PM)
That's a real close one between Kobe and Jordan. But I think I would have to give the nod to my old friend Magic Johnson. He was just so spectacular to photograph as an athlete. I was just glad to be there to photograph the showtime era.
Harry (Buffalo)
We always hear about how the Internet has changed the newscycle. How has it changed things for photographers?
Andrew Bernstein
(1:04 PM)
Well, the Internet is now the main vehicle for our photography. We now do live coverage of main events. As the game is going on, you are now seeing images appear on our website and the teams' websites. There are photos of players arriving and in the lockerroom even before tip off. The Internet has made it possible for fans all over the world to tune into an NBA game, all-star game, Olympics and see what's going on immediately.
Jack (C-Ville)
What would you say was the best action shot you ever took or witnessed?
Andrew Bernstein
(1:05 PM)
The Michael Jordan changing hands in the '91 Finals against the Lakers. That was a significant moment to capture in one picture. To see him changing hands in midair was kind of cool. That would probably by my No. 1 photo that came to mind.
Alex Smith (Joliet, Illinois)
Andy, you took the famous MJ/dad trophy shot in 1991 at the Great Western Forum-- site of MJ's first NBA title -- any back story there?
Andrew Bernstein
(1:07 PM)
Yeah, I'll try to be brief. That was just an amazing coming together of elements. I was in the lockerroom when they were presented the trophy. As soon as the trophy presentation was over, TV went to commercial. They wanted to interview MJ live. They were looking around for him. I happened to be standing on a table and saw him sitting in a locker with his dad crying his eyes out. I shot two frames before the producer came over and took him away for the interview.
Tyler (Indy)
Andrew in your eyes what is the nicest venue in the NBA?
Andrew Bernstein
(1:08 PM)
Well, I have a real soft spot for Staples Center, where I work most of the year. It's a great venue. I love a lot of the people there. You have a lot of space to work. The fans aren't on top of us. I love going up to Portland. That's a fun place to shoot. I haven't been to too many arenas in the East lately, but Boston is a good place.
Brian (Richmond, Ky.)
What's your usual setup to shoot a game? How many bodies/lenses are you carrying, and what are you shooting: Nikon or Canon?
Andrew Bernstein
(1:10 PM)
For a regular season game, we do a setup of about 7 remote cameras which are controlled by remoted controls and 3 handheld cameras. For an all-star game or Finals, that gets ramped up considerably. In the old days, we used to do around 30 cameras. Now, it's more like 18 and 12-13 are remote cameras and 3-4 in front of me.
Andy (Olathe, KS)
What is your favorite type of photograph to take (Action shots, Bench/reaction shots, PR-type shots, etc)?
Andrew Bernstein
(1:11 PM)
Well, I make my living doing action shots, but my real love is doing behind the scenes, being a fly on the wall with the players on road trips, practices, on the planes. The documentary photography. That was my passion in school and what I like now. That's what's great now is I get to travel with the Lakers all through the playoffs and Finals.
Woody (C-Ville.)
Who had the best dunk that you ever photographed?
Andrew Bernstein
(1:13 PM)
The guys who are the famous dunkers all had their own style. Karl Malone had the "pretty boy dunk" where he put his hand behind his head when he dunked. Jordan, Kobe. But I would say Dominique wilkins comes to mind. He was an amazing artist with the ball. Especially with the slam dunk competitions when he would do things that no one could believe.
Marcus (C-Ville)
Have you ever been tackled by a player out of control?
Andrew Bernstein
(1:14 PM)
That happens nightly, without exaggeration. Luckily, I say this with my fingers crossed on game night, I haven't been hurt. A friend of mine got hurt and had to get taken off in a stretcher. I've had some bumps and bruises and Shaq landed on me about three times. Luckily nothing serious.
Andrew Bernstein
(1:14 PM)
Our main responsibility is to keep the players from getting hurt. So, we have to protect our equipment and ourselves, but also them from getting hurt by our equipment.
Andrew Bernstein
(1:15 PM)
Thanks for your interest. Keep checking out our photography on NBA.com and ESPN.com. Hopefully I have a lot more photos left in me!