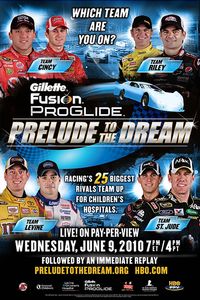 Welcome to SportsNation! On Wednesday, we'll be chatting with NASCAR driver Joey Logano who gets set to race in the 2010 Prelude to the Dream benefitting several charities that support children's hospitals around the country.
It will be the sixth year for the Gillette Fusion Prelude to the Dream at the Eldora Speedway in Ohio and can be seen Wednesday live on HBO Pay-Per-View at 7 p.m. ET/4 p.m. PT. For the first time at the race, the drivers will be grouped into four teams.
Logano, the reigning Sprint Cup rookie of the year, sits in 17th place in the points standings with two top 5 finishes. He began his racing career in Middletown, Conn., before moving to Atlanta. Fans can follow him on Facebook.
Send your questions now and join Logano Wednesday at 11 a.m. ET!
More Special Guests: Previous chats | SportsNation
Buzzmaster
(10:59 AM)
Joey will be here shortly to answer your questions!
Buzzmaster
(11:00 AM)
Joey's here!
Shane (Piqua Ohio)
Joey... Looks like its going to be a muddy rainy prelude tonight... Your thoughts on doing this event?
Joey Logano
(11:01 AM)
I don't know much about the conditions, but I know they watered down the track. Last year, I know it got rained out and we had to come back. Hopefully it dries out so we can race.
Dana (Jacksonville, FL)
Joey, what is the best and worst thing about driving on dirt? Who gave you the best advice about racing on dirt?
Joey Logano
(11:03 AM)
Last year, I took a lot of time out and took a couple of tests. Tried driving these things. I did learn a lot. Chris Walls has been racing for years. I picked his brain. I talked to Tony. It's completely different how you drive a NASCAR car. It's so different.
Shawn (Gastonia, NC)
Hey Joey! Tony has Prelude, Kyle Busch has his foundation, so does Jeff Gordon. Kyle Petty has Victory Junction. What does Joey Logano have in his charitable pipeline?
Joey Logano
(11:04 AM)
We joke around about it a little bit and think about stuff. It's still new right now. When you put on big projects like that, you have to do it right. If you do it, you want to make sure you do it the right way. The foundation is around the corner, but we want to put the time into it.
Ken (Atlanta, GA)
How do you feel your team compares to the others?
Joey Logano
(11:04 AM)
I feel like we've been doing OK. I feel like we started out good. Lately, the speed is there and we've been fast again. We need to work on that. Joe Gibbs Racing as a whole has been doing a good job.
Marvin M (NC)
What's the biggest difference bewtwen the car you will race on the dirt and the car you race in NASCAR?
Joey Logano
(11:05 AM)
Everything. I don't think there's one thing that's the same. They both have a gas pedal and steering wheel. There's not much the same. The way they move, the way they drive. It's still mindboggling to me that they can go that fast. how they get that grip is beyond me.
Debi (atlanta)
Do you follow any other sports? If so what are your favorite teams?
Joey Logano
(11:06 AM)
I don't do a good job of following other sports. My TV is always on the Speed Channel. I wish I did. Every once in a while, I'll put on ESPN and watch the highlights. I like hockey, but I don't really follow it.
Brianne (Nova Scotia )
are you excited to be on a team with racers your not used to having for teamates? like, tony for instance? bytheway. good luck tonight. : )
Joey Logano
(11:07 AM)
I think it's going to be cool. It's cool for a good cause. That's the good part. I think that will be really neat and add a new element. It's amazing and it will be a little twist. It will be different. It will make you fight for each spot a little harder.
Fred (Charlotte)
How different is it driving at a place like Eldora compared to a regular track?
Joey Logano
(11:08 AM)
I thought it was fun. When we first got there and the mud, you race right up against the edge. It's pretty crazy. That place is definitely a lot faster. Everyone says that it's one of the coolest dirt tracks. I haven't been to a lot to know, but it's definitely fun out there.
Tracy ((a town close to Middletown) CT)
Are you going to be making any aperances in this area anytime soon?
Joey Logano
(11:09 AM)
I went up there and did a thing for Gilette, but I haven't had much time to get up there recently. I know New Hampshire is coming up soon. I don't know when. All of my family still lives up there so it's cool to go up there.
Valarie W. (Bay City, MI)
Hey Joey, have you practiced on dirt since last year prelude??good luck this weekend at Kentucky and MIS!!!
Joey Logano
(11:10 AM)
No, I haven't. I need to practice after last year, so I needed to practice. Yeeeaaah. Last year we were fast. I feel like we were going to be OK.
Matthew (Columbia, NJ)
Hey Joey, what is your favorite type of race track to race on?
Joey Logano
(11:11 AM)
Kinda like them all. It depends. I like the mile and a half stuff. It makes it fun. It's a lot of room to race and makes it fun for the driver. We're not doing the same thing every week.
Dave (Chicago)
Joey, you were supposed to be on the same team as Kevin Harvick tonight. How awkward would that have been, do you think? What are you looking forward to the most?
Joey Logano
(11:12 AM)
It probably would have been a little awkward. Going up there and running the dirt car is the best part. It's going to be pretty crazy. I enjoy it and it's definitely different than what we do.
Dave (Boston)
What do you eat before a rrace?
Joey Logano
(11:13 AM)
Whatever I can. I don't have much on my bones, so I have to eat all I can, because I will be starving at the end. Pork chops. Drink whatever I can. If I'm stuffed I keep eating.
Juan (Orlando)
Joey, how would you rate your season at the end if you don't get a win? and if you did get one?
Joey Logano
(11:14 AM)
A win would be really cool. That's what we shoot for. It depends on how we do. If we run top 5 a lot and make the Chase but don't get a win, I think that would be good.
Dakota (Tampa)
Joey, i've always wanted to be a nascar racer, tell me, how does it feel to be behind the wheel driving that fast trying to win?
Joey Logano
(11:15 AM)
It's pretty neat. It comes down to the end of the race it's pretty fun. You have the best race drivers out there. You're out there to win and they're doing the same thing. When I started racing at 6-7 years old, I never thought I'd be out there with Jeff Gordon and Mark Martin. Not many people can say they've done that. I appreciate it a lot. It's not easy though.
Joey Logano
(11:15 AM)
Thanks for the support. Thanks for following. Thanks for rooting me on tonight. Hopefully I don't crash!