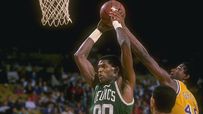 In 1996, "The Chief" was named one of the 50 greatest players in NBA history.
Welcome to SportsNation! On Wednesday, basketball hall of famer, and long time Boston Celtic, Robert Parish stops by to chat about the NBA Finals.
Parish spent 14 of his 21-year career with the Celtics, winning three championships with Boston's great teams of the 80s. Also, as a 43-year-old, Parish won a fourth title as a member of the 1996-97 Chicago Bulls in his last season in the league. He was elected into the hall of fame in 2003.
For his career, Parish averaged 14.5 points and 9.1 rebounds, making nine all-star teams, including seven straight from 1981-87. With 14,715 rebounds, he stands in seventh place in NBA history and he's also first in games played with 1,611.
Send your questions now and join Parish Wednesday at 2 p.m. ET!
More Special Guests: Previous chats | SportsNation
Buzzmaster
(2:00 PM)
We're getting Robert Parish!
Woody (C-Ville)
How was playing with Larry Bird? Was he a leader like Kobe or Lebron?
Robert Parish
(2:03 PM)
It was great playing with Larry because he subscribed to the same philosophy that I did, that we were better collectively than individually. Larry wasn't a vocal leader. It seems like Kobe and LeBron are more vocal.
Kevin (Chicago)
Robert, what do you make of the NBA Finals so far?
Robert Parish
(2:04 PM)
I think it's very interesting series thus far. I think both sides are playing relatively good basketball. Paul Pierce and Ray Allen came up short last night. Both sides need to get all of their guns playing well at the same time. It's tough to do this time of year. Everyone has aches and pains. They're tired. It will come down to a question of wills more than skills. Who wants it the most.
Will (Baltimore)
Is there any particular moment or game that sticks out in your mind over your 21 year career?
Robert Parish
(2:05 PM)
Two impressive moments for me. The first one was being selected to my first all-star game. That stood out. And my first championship.
Greg (Washington)
How weird was it for you to leave Boston and play for Charlotte and Chicago at the end of your career?
Robert Parish
(2:06 PM)
For me, it wasn't strange at all. I wanted to continue to play basketball and Boston was headed in another direction with youth. I was just grateful that a team was interested in someone my age. I was able to play 3 more years. That was a testiment to what we achieved in Boston.
James (Southfield,MI)
Hello Parish, Do you think the celts are going to pull off this series? And if they do, how do you think they would fare against the greats celts of the 80's?
Robert Parish
(2:06 PM)
I think the Celtics will win the championship for one reason, they are the better team. I think they'll pull it off in 7 games. I believe that.
Robert Parish
(2:07 PM)
I think they would compare with the starting five, but we had a better bench then the current Celtics. We had all-stars coming off the bench. We would have taken the series.
JAck (C-Ville)
What was your faveorite championship to win?
Robert Parish
(2:07 PM)
The first one. You can't duplicate the feeling. No matter how many you win after the first one, you can't quite duplicate the first one.
Raymond (CA)
As a die hard Laker fan, I have to admit I hated you much less than I hated the rest of the Celtics. That said, I'm curious if you share in the hatred of your opposition as much as us fans do?
Robert Parish
(2:08 PM)
First of all, thank you for your support of my career. I don't think we hated any team in particular. I think we had a strong dislike for the Detroit Pistons. We didn't particularly like them, but I don't think we hated them.
Terry (MI)
If kobe wins the championship, where do you think he would rank into the all time greats category?
Robert Parish
(2:10 PM)
Well, I would have to say that he already ranks among the all-time greats. Everyone judges on statistics and championships and he is already impressive in those categories. He ranks right up there. If he wins this year or another one down the line, he will just further separate himself as another player.
victor (monroe)
robert you played against kareem abdol jabbar what was it like?and my congractulations on being inducted into the college basketball hall of fame.
Robert Parish
(2:11 PM)
I have to say that playing against Kareem was challenging. In my opinion, he had one shot that was the most difficult to guard and contest, the skyhook. He shot it with accuracy. He was challenging for me defensively. He brought out the best in me when I played. I always enjoyed the challenge. I always remind Kareem that he never took a night off. He didn't care if you were a contender or pretender, he came to play every night.
Marcus (C-Ville)
Is Pau Gasol the best offensive big man in the game?
Robert Parish
(2:12 PM)
In my opinion, Pau is the best center offensively right now. He has all of the tools to make himself a tough guard on the offensive end. He's tough for any team to stop. He's a handful. Plus he seems to have gotten a mental toughness that he didn't seem to have a couple of years ago.
Jason (Santa Barbara, CA)
You played with both Larry Legend and MJ. One shot to win the game, who do you want taking it?
Robert Parish
(2:13 PM)
Well, I have to say that I consider myself to be honored. Not only did I get to play with two of the best to have ever played the game, but playing with those guys made me better. I was motivated and inspired to get better.
Robert Parish
(2:14 PM)
I would have to go with Larry. If we needed a basket, I would pick him. The only reason is that I went to battle with Larry. But either way, you have a chance of winning the ball game with those guys.
james (miami)
Have you and Bill Laimbeer ever hashed out your anger for each other? You both were fierce competitors, and its never good to hold a grudge too long.
Robert Parish
(2:15 PM)
We haven't verbally had an exchange where we say we have forgiven each other. But we do talk when we see each other. It was a healthy respect for each other. There were no formal apologies, but we do talk. So maybe we apologized without apologizing.
Marcus (C-Ville)
Who is the ultimate factor in the Celtics winning? Rondo's play or Ray allen with his shooting?
Robert Parish
(2:17 PM)
I think whoever will win the series boils down to who wins the battles of the loose balls, the long rebounds, best defense, who runs the offense with efficiency, fewer turnovers. That team will win the championship. The team that takes care of those areas always seems to win. It certainly helps if you're shooting the ball well. But even if your offense is rolling, if you're not coming up big with those hustle plays and good defense, you're not going to win, especially this time of year.
Jes (NC)
Last night was the C's first loss of the postseason when allowing less than 100 pts. I honestly don't think they can win unless Pierce can step it up and carry his team. Rondo and KG having big games isn't enough for them.
Robert Parish
(2:18 PM)
Well, other than last night, he has been playing well in the postseason. He had foul trouble last night. It hindered his contribution to the team. And they have to get Ray Allen going. Garnett and Rondo won't be enough. Glenn Davis played well too. They need all cylinders going well. It has to be a team contribution. If they're going to win a championship, that has to continue.
Robert Parish
(2:19 PM)
I just want to thank the fans for remembering me after all of this time. And for ESPN.com for remembering me and having me on.