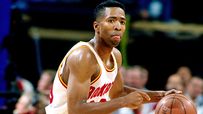 Smith won two titles in his career.
Welcome to SportsNation! On Wednesday, former NBA player, and current TNT analyst, Kenny Smith stops by to chat about the NBA Finals.
Smith played 10 years in the NBA, winning two titles with the Houston Rockets in 1994 and 1995. He entered the league as the Sacramento Kings' sixth overall pick in the 1987 draft. His record of seven 3-pointers in one Finals game was just broken by Ray Allen in the 2010 NBA Finals.
Smith is working with Taco Bell to petition the Federal Reserve to circulate more $2 bills to celebrate the new $2 Meal Deal. For those that want to support this campaign, go to Facebook.com/TacoBell.
Send your questions now and join Smith Wednesday at 3 p.m. ET!
More Special Guests: Previous chats | SportsNation
Buzzmaster
(2:57 PM)
Kenny Smith will be here to take your questions in a couple of minutes!
Mike (Philly)
Why isn't Rondo CONSTANTLY attacking Kobe who is sagging about 8 feet off of him? Isn't this matchup the key to the series?
Kenny Smith
(2:59 PM)
It is the key to the series. The reason he's not attacking is he's not hitting his jumpshot to make him come out. And Kobe is 6-7.
Don (California)
Kenny I like the Taco Bell $2 bill idea. How about Taco Bell circulate some "funny money" with Charles & your face to promote their meal? That'd be better than the "yo quiero Taco Bell"
Kenny Smith
(3:00 PM)
It would be a $3 then. Real funny money. Not a bad idea. The Taco Bell reps are sitting here as we speak.
Kenny Smith
(3:00 PM)
My jump shot was money, so I should be money!
Will (LA)
What do you make of Ray Allen's change of events? The guy went from Jordanesque to Morrisonesque. He set a record for most threes made in the Finals and then followed that up with almost breaking the record for the absolute worst performance in the Finals.
Kenny Smith
(3:00 PM)
I just think he became very aware of the defense and became reluctant. Confidence separates good players from great players.
Marcus (C-Ville)
How do you feel about Ray Allen breaking your record?
Kenny Smith
(3:01 PM)
Actually, if it was my only record, I would be sad, but I have a couple of more.
Ben (NK)
Hakeem was better than Shaq!! Agree? Much better defender and rebounder
Kenny Smith
(3:02 PM)
Hmmm. I would say that Hakeem and Shaq are hard to compare. They really did play different positions, even though they listed him at center, he was a hybrid. They were the first of their kind to do other things. As a true center, Shaq. As a basketball player, Hakeem.
Big D (Houston, TX)
When will people realize that we may be watching the best player in history in the Black Mamba? Isn't it time to take off the Jordan goggles and see Kobe for who he really is?
Kenny Smith
(3:03 PM)
No. A great player is always going to be compared to other great players and it's always done with championships.
Matt H (Boston)
What have you thought of the Refs so far this series?
Kenny Smith
(3:03 PM)
A little to be desired. As good as the NBA officials are, I thought they've been just above average instead of very good.
Kevin
Any pickets or protests to demand more $2?
Kenny Smith
(3:04 PM)
Well, no protests, just a petition. Go to Facebook.com/TacoBell to sign my petition. If you were here, you'd probably get one. We have a bunch of $2 sitting right here.
JO (L.A.`)
Kenny, what's the key to game 4?
Kenny Smith
(3:05 PM)
Adjustment. The team that's able to make adjustments from game to game because no game has been similar. That will be the team that wins.
Joyce (LA)
If I were to tell you Fisher would win a game, especially in the way he did it through dribble penetration, what would you think of me?
Kenny Smith
(3:05 PM)
I would have said, I don't believe you. How he played was very uncharacteristic of how he's been playing. Yesterday he was beating people off the dribble. Usually he's a spot up shooter.
Nick (Boston)
JET! U were the man back in the mid 90's for Houston! Do you think Boston can still win this series?
Kenny Smith
(3:06 PM)
Yes. I think they're right where they want to be. They know it's going to be a long drawn out series.
Freddy (Los Angeles)
Why doesn't Perkins have any post moves?
Kenny Smith
(3:07 PM)
He's a defender first. His job is to defend. Secondly, it's to score and finish. Not to make moves. They have four guys who can make moves and go to the basket. He's there to defend and rebound.
Vinnie (ATL)
Is Charles as funny in person as he is on TV? You two crack me up.
Kenny Smith
(3:07 PM)
Who says he's funny? I don't think he's funny. He's obnoxious and rude sometimes. We're like the odd couple on TV.
Marc (Charlotte)
Kenny, what was your favorite place to eat in Chapel Hill? I'm partial to a cheeseburger at Sutton's.
Kenny Smith
(3:08 PM)
Oh man, there's nothing like Timeout. Late night, early day. Timeout. Nothing like it.
kevin (va)
Do you think the Lakers will take another game in Boston?
Kenny Smith
(3:08 PM)
No. I don't think so. I think the Celtics take these two and go to L.A. Lakers take 6.
J (Milwaukee)
Are you surprised that Kobe hasn't gone down on the blocks more?
Kenny Smith
(3:09 PM)
I think he's getting his share of shots. I don't think that's the issue.
Aristotle (Honolulu)
Aloha Kenny! Do you really blame the refs when one of your stars are in foul trouble? I mean you do have the rest of the teams and it didn't help that the 2/3 of the big three played bad.
Kenny Smith
(3:09 PM)
Every losing team complains about the referees. I've never heard the winning team say, "Man the refs were terrible tonight.
Cody (Michigan) [via mobile]
Is Paul Pierce really this hit or miss, or is it the lakers defence?
Kenny Smith
(3:10 PM)
The Lakers defense. Paul Pierce, when they won the championship, had good matchups. This series, he doesn't have good matchups. He's up against guys that play good defense.
J (Milwaukee)
Should the Lakers keep feeding Ron-Ron behind the 3p line? Would you?
Kenny Smith
(3:11 PM)
If Ron's open, he has to shoot it. It hurts the team when you become a reluctant shooter when you're open.
J (Milwaukee)
I know you were a better scorer than Fisher, but does his role/play remind you of yourself? I remember in 94,95 playoffs, when Dream kicked the ball out, he was looking for you. When Kobe is in crunch time, he looks for Fish. And both of you seem to really seize the moment. Don't know if you had any thoughts about that?
Kenny Smith
(3:12 PM)
I would say it's similar, especially at this stage of his career. To bring leadership to the team. Hit timely shots. Very similar. I think I was maybe a better scorer. Scoring wasn't difficult for me.
eric (nowhere)
if great players are compared by championships, why is lbj in any conversation?
Kenny Smith
(3:12 PM)
Because you can see the storm coming. A lot of times when you're sitting around, you can see it through your window.
cary (aiken, sc)
Is there reason to be concerned about Ray Allens poor performance last night or will he come out on fire the next game?
Kenny Smith
(3:13 PM)
I think he's going to bounce back. He's too good of a player to have two bad games. He'll bouncee back.
Aristotle (Honolulu)
Kenny if you make it a $3 meal deal, it will be $4 here in Hawaii. So please don't do it. But could you do more of the trying to jump over the car scenes, man that still cracks me up til today.
Kenny Smith
(3:14 PM)
I have some more things in the works, but the $2 Meal Deal is the priority now.
Don (California)
They're printing milk cartons with R.Allen & P.Pierce missing logos here in L.A. Will they both show up together
Kenny Smith
(3:15 PM)
I think each game is going to produce a different star. If you look at the Lakers, there haven't been two Lakers who have shown up together either and they've won. It doesn't matter.
Kenny Smith
(3:16 PM)
Thanks for joining me on the chat. I had a lot of fun. And be sure to check out the Taco Bell Meal Deal. Go to Facebook.com/TacoBell and sign that petition for more $2 in circulation.