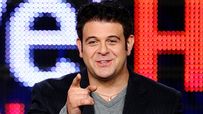 Richman began hosting "Man v. Food" in 2008.
Welcome to SportsNation! On Wednesday, we're going to welcome in someone who should fit right into our chat, when "Man v. Food" host Adam Richman stops by.
Richman's third season hosting "Man v. Food" begins Wednesday night with back-to-back episodes on the Travel Channel starting at 9 p.m. ET/PT. In the two episodes, he will visit San Diego and Boulder, Colo.
In Man v. Food, Richman, a Brooklyn native, travels the country in search of the best places to do some serious indulging. After hunting down the can't-miss flavors that make up each region's unique culinary history, he takes on the city's toughest food challenge.
Send your questions now and join Richman Wednesday at 12:30 p.m. ET!
More Special Guests: Previous chats | SportsNation
Buzzmaster
(12:19 PM)
Adam Richman, host of "Man v. Food" on the Travel Channel, will be here at 12:30 p.m. ET to take your questions! The new season of "Man v. Food" starts tonight at 9 p.m. ET.
DC (PA)
Hey Adam! Thanks so much for the great show...my wife and I can't wait for the new season. How long are you in each city to tape a show? Are you on a rigid time schedule between cities or do you get a chance to hang out and explore for a few days?
Adam Richman
(12:32 PM)
Great question. We have taped episodes in as few as three days and as many as six. But the schedule is extremely tight, because we shoot the show and a web series and additional content. We shoot 12-14 hours a day. The off days are spent resting or working out with my trainer. Thank you and your wife for watching!
Lawrence (san diego, ca)
Drinking that much liquid is dangerous!!! Your brain can expand with excess liquid and kill you!!! Didn't you hear about the radio contest that had a challenge to see how much water people could drink and a woman died? Stop Adam! You are a too good of a guy to lose!
Adam Richman
(12:35 PM)
Yes. It was hold your "Wee" for a "Wii." Yes, I am well aware of the impact of excessive food or drink, but I will assure you that I will never take any challenge too far that it will impact my life. Thank you for your concern and thank you for watching.
J.B. (Dunmore, PA)
Adam: How do you choose the cities and challenges? Are different eateries contacting you or is someone doing research on your end?
Adam Richman
(12:35 PM)
We find about 40-60 challenges through our own research, fan submissions and so on. WE narrow it down to 20 and we try to figure out which 20 make the best season. Then we add locations to each city after that.
Terry (Madison)
How much time do you take off between those eating challenges?
Adam Richman
(12:36 PM)
Because of our shooting schedule, I don't get that much time off, sometimes a day and then we travel to the next city. We shoot three episodes at a time, so there's not much rest.
Tyler (Indianapolis)
Adam at the Brickyard this past year I ate a turkey leg covered in hot sauce in 2 minutes. Ever think about having a prodigy waiting in the wings to take over?
Adam Richman
(12:37 PM)
Young padawan, the Force is clearly strong with you. Right now, much like in the Hangover, I am a one-man wolfpack.
Brian (Milwaukee)
What do you typically eat in the days before one of the "volume" challenges (ie: 7.5 lb breakfast burrito in Denver)? How much time after such an event until your next meal?
Adam Richman
(12:38 PM)
I focus primarily on sprint work, leg workouts and back workouts to get my metabolism going. I hydrate. I do cleanses. I also do probiotics to make sure I am in balance.
Randy (Portland)
What is your favorite city you've visited with the show?
Adam Richman
(12:38 PM)
I love them all. Right now some of my favorites include: Portland, OR; Austin, TX; Boulder, CO; Charleston.
Knish (New Brunswick)
AdamHow sick were you after trying to throw down 5 fat sandwiches? My chest hurts after 2.
Adam Richman
(12:39 PM)
I was actually pretty good. I ended up hanging out with my friends that night and signed autographs and took pictures with the assembled crowd. Then again, there's no way in hell I'm doing that again.
Greg (Ellicott City)
Adam, save me from another $5 footlong. What do I want for lunch?
Adam Richman
(12:40 PM)
Go to Linthecum, MD. Go to G+M. Eat crab cakes. Thank me later.
Adam Richman
(12:40 PM)
Crab cakes and football. That's what Maryland does.
Jacob (Minneapolis)
Hey Adam...great show! You said trainer earlier. We are wondering what you do in order to not gain so many pounds that you do so well at ingesting. Thanks!
Adam Richman
(12:41 PM)
I elevate my metabolism before challenges with leg and back workouts and sprints. I train pretty consistently when I'm on the road. The main trick is caloric restriction when I'm not on the road. Plus, I'm a single man, so I need to try to get my sexy on.
Graham H (London, England)
Hi Adam, Love the show, Big fan, Have you ever thought about bringing the show to England? We could do with some awesome challenges over here.
Adam Richman
(12:42 PM)
As someone who is part English, I would love that and have been contacting Nick Frost on Twitter about this very thing. I don't know what the future holds, but I'm ready take on the 5-pound Pastie with one liter of HP Sauce. (See, I went metric.)
Lanita Eckford (Romulus, MI)
How long does it take to recover from a spicy challenge?
Adam Richman
(12:44 PM)
All of the challenges, pretty much a day later, I'm good. The trick to recover is adequate preparation ahead of time. Spicy challenges require the most prep.
Hayden (Logan, Utah)
how much beer can you drink?
Adam Richman
(12:44 PM)
I wouldn't like to find out, because of my dignity, my waist line and because my mom watches the show.
DaisyE37 (Romulus, MI)
What do you enjoy most about being host of Man v. Food?
Adam Richman
(12:44 PM)
Meeting great people like you, Daisy.
Vicki (Indiana)
Is there a food challenge you researched but decided not to try?
Adam Richman
(12:45 PM)
There are some that we have discovered through the course of our research that are repetitive due to the types of challenges or ingredients. The point of Man v. Food is to showcase delicious food. As big as some of the challenges are, they are incredibly delicious. It's better to give you guys what you want to see.
Brett (Myrtle Beach, SC)
Is there anything better than french fries piled on top of a sandwich?....I think not!
Adam Richman
(12:46 PM)
Sharing said sandwich with someone you love. Plus, if you add avocado, that sandwich could run for state.
Jon (Syracuse)
I hear you were just in my hometown! What did you think? Little cities often get overlooked when it comes to having good restraunts!
Adam Richman
(12:49 PM)
Not only did I love Syracuse and stand in awe of its beautiful campus, but as a life long New York City resident, it filled me with pride to be connected to a beautiful state. I now believe the 11th Commandment should be "Thou shall have Mac 'n' Cheese."
John (LA)
How many new episodes can we expect this season?
Adam Richman
(12:49 PM)
20.
Adam Richman
(12:50 PM)
And you have my personal guarantee that every episode will surpass every one prior.
Adam Richman
(12:51 PM)
Today is the first day of our third season and we've only made it this far because of you guys. I only go into battle every week because of you guys. I want to know from the bottom of my heart that I appreciate you sticking by me and supporting me. This season will be the best yet.