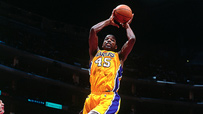 Green was an all-star in 1990.
Welcome to SportsNation! On Tuesday, former NBA player, and three-time champion with the Los Angeles Lakers, AC Green stops by to chat about the NBA Finals.
Green entered the NBA as a Laker, who took him with the 23rd overall pick in the 1985 draft. He went on to win three titles with the Lakers - two with the Magic Johnson-led teams (1987 and 1988) and one with the Kobe Bryant-Shaquille O'Neal 2000 team.
Despite playing for four teams in his career, Green still set the NBA record for most consectutive games played with 1,192. He missed three games in his second year, but then played every game for the next 14 years of his career. Fans can follow his work during his post-playing career at ACGreen.com.
Send your questions now and join Green Tuesday at 1 p.m. ET!
More Special Guests: Previous chats | SportsNation
Buzzmaster
(12:57 PM)
AC is here!
daniel (90744)
WANT YOU THING ABOUT LAKERS GAME6 WIN OR LOSS
AC Green
(12:59 PM)
I think it's a great Game 6 set up. It reminds me of how us playing Detroit in '88. We came back, down from being in Detroit and we had to win two games. I think it's a perfect set up. They just play different at home. The road games are over. It's a different game. I think they'll do well tonight. Game 7 will be one that the whole world will be watching.
anthony (burbank,ca)
a.c. you played with kobe in the 2000 finals is he a better player now or back in 2000. What are the differences in he's game? thanks
AC Green
(1:01 PM)
Kobe was pretty raw 10 years ago. He hadn't learned the full magnitude of the game and to get other players involved. Plus he had another key teammate in O'Neal and keeping the pressure off of him. He's come to get a better feel for the game itself. He has really matured. He's more refined. And I've told him that he's come a long way. I'm proud to see the changes.
Sam Meredith (Torrance, CA)
I read that Kobe cussed out his team mates in the locker room after game 5 for not "stepping up" and stated if they needed to be talked to, they don't deserve to be champions. How would you have motivated your teamates as a leader coming back to LA to win Games 6/7 in that situation?
AC Green
(1:02 PM)
Basically, I would show a little film and show them some examples of positive plays. Let them see that this is how we played in Game 1 in key situations. Say we play better at home and that we can win the game and dominate the game. It's a gut check and guys go ahead and do what they do. With perimeter shooters knocking down shots. Help defense. Rebouding the ball. Do what you do.
Matt (Long Beach, CA)
What do you think about Magic shamelessly talking Celtics all over ABC? I know he's trying to be objective to further his broadcasting career, but this is rediculous! Have a little pride...Magic is now Tragic in LA!
AC Green
(1:04 PM)
TV, that's how you have to announce the game and analyze the game and be honest. There aren't nice ways to say it if the team got their behinds kicked. I wasn't shocked by anything he said. He knows the guys have to come back to L.A. and take care of Game 6 and put the Celtics' backs against the wall.
daniel (Bronx NY)
A C do u ever see ur streak being broken
AC Green
(1:05 PM)
Is it possible? Yes. It's definitely possible. It will take a big challenge. Someone who has a tremendous work ethic and passion for the game. It might not happen for the next couple of years, that's all.
david (encino,ca)
are you suprised ron artest is having so much trouble guarding paul pierce? Why havent artest and odom showed up for this series?
AC Green
(1:07 PM)
Paul really has had one break through game, in Game 5. I don't think Ron has had a bad job on Paul at all. They have multiple weapons on that team and you have to keep the guys on their averages. Ron is a very good defensive player, but at the same time, the Lakers as a whole, they're going to be fine if they get to a point of playing as a team and covering each others' backs. Ron and Lamar, they are not Kobe in the sense that they're going to have the ball and take over the game. That's not who they are in this system. They have to be aggressive minded so that when the time comes, they can take advantage of it. The tendency is to watch Kobe and what he does. That becomes crippling for them. That's why Kobe tries to get everyone involved early in the game.
Paul (Lithuania)
Hey AC! Who was the toughest post player you ever had to guard? Akeem?
AC Green
(1:09 PM)
I had guys like a Rasheed Wallace, who was extremely tough at his position. Karl Malone, Charles Barkley, Adrian Dantley, Shaq, those are names that come to the top of my head of guys in the post that I had to guard.
Chris Utley (Columbus, OH)
AC the Lakers bench is clearly being outplayed by Boston. Who do you see possibly being the guy to step up for the Lakers if the can pull off the win?
AC Green
(1:10 PM)
It depends on if Lamar is coming off the bench. Lamar, Shannon Brown - he has the potential to come in there and have some positive moments to match the energy and effort of the Celtics. You want to at least hold par with the bench matchups.
Jesse W. (Knoxville, TN)
Brother AC, have you ever considered getting into coaching? And if you have, what level?
AC Green
(1:12 PM)
I don't think coaching is a bad move. I sort of like the idea, but it all depends on the whole situation. The organization, the team. I like teaching. I like constructing. I've worked with kids for the last number of years. It's something to keep in mind, if something interesting comes along.
Hamilton (Garden Grove, CA)
Hey AC, how do you toughen up Gasol and Odom to battle against Garnett and Perkins?
AC Green
(1:14 PM)
Good question. To me, the key is you do your work early. You get guys off of their favorit spot. If you can only move them a foot off of that spot, that's a foot in your advantage. You have to get guys in a place that they don't want to be to start with. The first is the catch. Secondly, you have to be able to, once they do catch the ball, get them to go in a direction they don't like to go. Do everything in your power to force them to their weaker side. That's where you have to rely on the team defense. Once that shot is taken, you have to contest that shot. You have to play the percentages at that point.
AC Green
(1:15 PM)
Great talking to you. I look forward to our next chat. Keep watching the Finals. If you want to reach out to me, you can go to ACGreen.com.