Chat with Freddie Ljungberg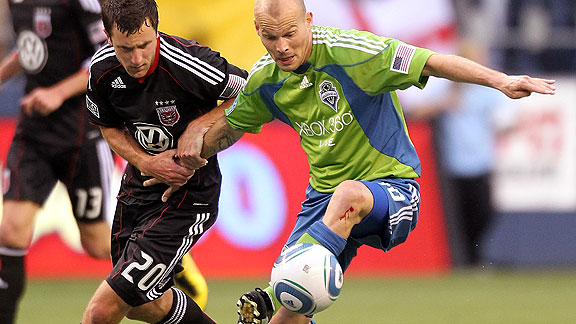 Ljungberg helped Seattle win the 2009 Lamar Hunt U.S. Open Cup.
Welcome to SportsNation! On Wednesday, Seattle Sounders FC midfielder Freddie Ljungberg stops by to chat about the 2010 World Cup.
Ljungberg is in his second season with Seattle, after playing the first part of his career in Europe, the majority with Arsenal. He has scored 60 goals in over 350 appearances during his career. He also spent 10 years on the Swedish national team, earning 75 caps.
Ljungberg signed with Seattle following the 2008 MLS season, making him a member of the inaugural Sounders team in 2009. In his first year in the MLS, Ljungberg was selected to Best XI and MLS All-Star Team and was a finalist for newcomer of the year.
Send your questions now and join Ljungberg at 1:30 p.m. ET!
More Special Guests: Previous chats | SportsNation
Buzzmaster
(1:21 PM)
Freddie will be here at 1:30 p.m. ET to take your soccer questions!
Buzzmaster
(1:39 PM)
Hang on folks. Freddie should be here shortly.
Buzzmaster
(1:42 PM)
Freddie is here!
Bill (Boston)
What do you think of the MLS taking a 2 week break for the World Cup?
Freddie Ljungberg
(1:43 PM)
I think it's great that all leagues that I'm used to, stop. In Sweden, they're not even in the Cup, they have a six week break for their league. It's very good.
Steven (Chicago)
What is the one thing you enjoyed the most about representing your country on the national team?
Freddie Ljungberg
(1:44 PM)
It's just a massive honor to wear your country's colors. Your proudest moment is when you're singing your national anthem, or as a kid, the first time you put your shirt on.
Kyle (Virginia)
The Swiss just best Spain 1-0. How big of a win was that for Switzerland?
Freddie Ljungberg
(1:44 PM)
It's abosolutely humongous. I don't think many people saw that coming.
Shane Hagy (Oklahoma)
Hey there freddie Im recently trying to get excited about "futball" and im starting with this world cup, im seeing alot of ties and 1-0 scores. And im sure thats exciting to most fans, not so much to me. Is it going to get more exciting??
Freddie Ljungberg
(1:46 PM)
You need to understand that you're watching the best teams in the world at the moment and they're doing everything they can to stop the opponent from scoring goals. There is national pride at stake. The scores might not be so big at the time, because if they lose 3-0, it will hurt them down the line. But later in group stage play, there will be more scoring. THere is a lot more to soccer that's beatiful besides goals.
Andy (Olathe, KS)
What an upset over Spain! Now that we have finished the first round of games, what other teams really impressed you with their play in their opening game?
Freddie Ljungberg
(1:47 PM)
In general, I don't think any team has played their best football in the first round. I think the big boys are coming. Germany, people were worried about them, but they won 4-0. So, I would say them.
Ryan (MD)
You made a big impact on your team in your first year in the MLS. How excited were you to come and help your team as much as you did?
Freddie Ljungberg
(1:48 PM)
Of course it was exciting to be able to match the expectations that were asked. We did a lot better than most people thought. But it's all a team effort. I'm very proud of my team.
Kevin (Dallas)
What do the Sounders need to do after the break to get back on track?
Freddie Ljungberg
(1:49 PM)
I think it's been quite obvious all season. We need a person to put the balls in the net. We've been creating a lot of chances. I think the management group saw that in the winter and made some moves. Hopefully we can put the ball in net. We're missing a lot of chances.
Tom (LA)
How much of the World Cup have you been watching?
Freddie Ljungberg
(1:49 PM)
I try to watch as much as possible. But of course, the time difference doesn't make it easy, especially the early morning games.
bob (georgia)
who is your favorite team in the world cup?
Freddie Ljungberg
(1:50 PM)
Before today, I would have said that I thought Spain would win it. But I'm going to stick to my guns and say they're still a great side even with the loss.
Colin (Miami)
How do you compare the MLS to some of the other leagues you've played in?
Freddie Ljungberg
(1:51 PM)
I played for 10 years in the Premier League, which is about the best league in the world, so there will be differences. But I think the MLS is doing well and getting better and better every year. I think a good MLS team would play with a good Dutch team.
David (Chicago)
What did you think of the U.S.-England tie over the weekend?
Freddie Ljungberg
(1:53 PM)
I think it's horrible when a mistake like that happens to someone. I feel horrible for Robert Green. In England you get crucified for a mistake like that. He's had a hard couple of days which I don't wish on anyone. Apart from that, I felt the game was how I thought it would be. America was very good defensively and tried to hit the counterattacks. Altidore hit the post on one of those breaks. England didn't look as sharp as they should. That's one of the things that I said before the Cup, the big teams have had a break for a month and sometimes aren't sharp in the first game.
Scott (Indiana)
Will the U.S have a better chance to advance out of the second-round if they finish 1st or 2nd in group play?
Freddie Ljungberg
(1:54 PM)
I think it would definitely be better for them to finish first. Easier draw.
Mika (St. Paul)
How many languages do you know how to talk trash in?
Freddie Ljungberg
(1:55 PM)
I don't talk that much trash with opponents, but of course, I know a lot of swear words in a lot of different languages. But I don't on the field. If I swear, I swear in my own language.
Matt (Chinatown)
I've been very disappointed by the sloppy play and lack of passion in this year's world cup, especially after campaigning to passionately to my non-soccer-watching friends of its merits. Is this just jitters, and will the play pick up? Because there has not been one well played game yet so far.
Freddie Ljungberg
(1:56 PM)
I think a lot of people are nervous in the first game and there are a couple of teams and players that it could be their first time in the Cup and they'll be extra nervous. In general, the first round is a bit sloppy and things get better as they calm down.
Dilpreet, Toronto Ontario [via mobile]
what kind of impact does having a player like having Thierry Henry come and play in the MLS for the fans and league?
Freddie Ljungberg
(1:57 PM)
Thierry is a great guy. Of course it will be a great thing if he comes. Us guys that come over from Europe try to help with attention and awareness of the league. He has good speed and is a good goalscorer. I think he will do very well.
Dyllyn (washington)
who do you think has been the most impressive in the world cup so far? meaning a player?
Freddie Ljungberg
(1:58 PM)
Not a specific player that I want to highlight. But I was looking forward to the Portugal-Ivory Coast game. I don't think any of that three in that group should be knocked out. Ivory Coast impressed and showed they are a very good and stable team.
dante (nj)
how far do you see the USA going?
Freddie Ljungberg
(1:59 PM)
I think the next game for them is very important and will probably decide if they go through or not. I've said all along that if they get through the group, anything can happen, it all depends on the draw you get. We'll have to wait and see.
John (Mequon)
How is working for Drew Carrey? I hear he is a nice guy and likes to have fun.
Freddie Ljungberg
(1:59 PM)
Drew's a great guy. We don't see him day-to-day, but he's at the games. He's a great guy.
Brian (Seattle)
Freddie, we've loved having you in Seattle. How do you feel about the reception the Sounders have received as a new franchise here?
Freddie Ljungberg
(2:00 PM)
I think the reception for both me and the team has been abosolutely exceptional. It's been amazing. I don't even have words to explain how great it's been. Just to tell people in Europe that we have 36,000 for every game and people can't get a ticket, it shocks the people in Europe. Seattle has set a very good standard.
Freddie Ljungberg
(2:01 PM)
Thanks for the questions!