Chat with Patrick McEnroe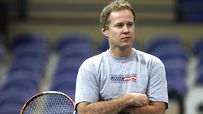 McEnroe led the U.S. to a Davis Cup victory in 2007.
Welcome to SportsNation! On Thursday, the captain of the U.S. Davis Cup team, Patrick McEnroe, stops by to chat about the upcoming Wimbledon tournament as well as his new book, "Hardcort Confidential."
McEnroe has served as the U.S. team's captain since 2001, winning the Davis Cup in 2007. As a player, McEnroe won 16 doubles titles and one singles titles, reaching No. 3 in the world as a doubles player. He will bring his expertise to ESPN's Wimbledon coverage starting Monday.
In his new book, McEnroe tells stories about the players he has run into during his 25-plus years in the game. He talks about how the game has changed and what the future holds in store for American tennis. McEnroe takes an unapologetic look at the men, women, and events of the past three decades, right up to the epic Federer-Nadal rivalry that dominates the game today.
Send your questions now and join McEnroe Thursday at 1:30 p.m. ET!
More Special Guests: Previous chats | SportsNation
Buzzmaster
(1:11 PM)
Patrick will be here at 1:30 p.m. ET to take your tennis related questions!
Buzzmaster
(1:30 PM)
Patrick is here!
Paul (Chicago)
Patrick, do you ever joke with your brother about how people didn't like him for his outbursts back when he was playing, but now he's making TV commercials because of those outbursts?
Patrick McEnroe
(1:31 PM)
That's a good one. He's making a living off of "You can not be serious" but I think he has a healthy dose of humor that he brings to his antics. It's a far cry from his days of the stories I tell in my book about how can John have such a bad temper and do your parents approve? I tell the story about my dad saying, "John what are you doing out there!"
Master Ace (Alabama)
What is your favorite story that was told in your new book with Pete Bodo?
Patrick McEnroe
(1:33 PM)
It's hard to choose because there are so many. You need to read the book. My favorite story is...so many good ones. It would have to be the long journey of the team that stayed together for 7-8 years to finally win the Davis Cup when we beat Russia in the finals in Portland. It was the culmination of a long journey together. Each of the players contributed to the final win.
William (L.A.)
We saw a lot of rain at the French Open. We always seem to see a lot of rain at Wimbledon also. How much does the weather and moving around of matches distract players?
Patrick McEnroe
(1:34 PM)
I would say not too much. The players are pretty used to that now. The bigger issue now is how it affects the conditions of play. When it rains at French, it makes the conditions heavier, so it makes the ball harder to move through the air. It changes the tension on the strings. Now they can just chat and go online, tweet or read my book.
Steve (Miami)
How long have you been saving your stories for your book?
Patrick McEnroe
(1:34 PM)
I've been saving them up for well over 20 years. That's why I thought it was a good time to tell some of them while they were still fresh in my mind while giving an overview of the state of tennis. Combining them is a good read.
Javier (San Diego)
How intersted are you in the World Cup??
Patrick McEnroe
(1:35 PM)
Very interested. Having traveled all over the world for several years, I've seen the popularity of soccer in those countries. Tennis is second in some of those countries too. They're popular globally. Trust me, tennis players are very interested in the World Cup.
Zachary Benziger (Lawrenceville, NJ)
Hey Pat,I really like the game of Marin Cilic, but what part(s) of his game do you feel he could improve that would help him get over that hump to win a Grand Slam?
Patrick McEnroe
(1:37 PM)
Good question. First of all, his forehand is a weapon, but he can also be inconsistent. For his size, being 6-5, 6-6, he doesn't have a big enough serve. He could get some more power and get some cheap points. He's a great competitor. Moves well and is a very hard worker. He has a great future ahead of him.
Kevin (VA)
Do you enjoy the Davis Cup? How long can you see yourself leading the U.S. team?
Patrick McEnroe
(1:38 PM)
I love the Davis Cup. It's been a total passion of mine and honor to be the captain for 10 years now. I don't know how much longer I'll be there, because I have other irons in the fire, including 3 little girls. As long as my passion is there, I'll continue to do it. It's been an amazing 10 year run so far.
Shaun (North Carolina)
Patrick, do you think that Rafa is the second favorite, or equal favorite with Roger at Wimbledon this year?
Patrick McEnroe
(1:39 PM)
Good question. Tough one. I would say it's a very very close, second favorite. I think you still have to give the edge to Roger based on the surface and his success. I think that Nadal, there are more guys that can beat him on grass that can beat Federer. But the longer Nadal stays around, the better chance he has as he gets more comfortable.
Dan (Vancouver, Canada)
What do you think of Richard Gasquet's chances of making a deep run at Wimbledon since he likes to play on grass?
Patrick McEnroe
(1:40 PM)
I think his chances are of getting to the second week are very good. It will depend on his draw. He has a lower rank. I thought when he came back 2 sets down to beat Roddick that it would be the turning point of his career. He's underachieved with his talent level.
Trevon (Silver Spring, MD)
Everyone talks about the state of U.S tennis and I think you are the perfect person to answer this question. How many more slams do you see left for the Williams and Roddick to win? Who will be the next U.S. slam champion out of these 3?
Patrick McEnroe
(1:42 PM)
Another tough one. I happen to think that Serena has quite a few more majors left in her. Venus, maybe one or two. Roddick, partly I saw with my heart, he has a chance to win Wimbledon this year. I would put Serena No. 1. Venus and Roddick might be their best chances in the next two weeks.
Andrew (Eustis)
Hey Patrick, what do you think of Robin Soderling's chances at Wimbledon?
Patrick McEnroe
(1:42 PM)
I think they are similar as they were at the French. He's dangerous and he's a guy that can reach the end of the tournament. I don't know if he has the flexibility in his game. But he's certainly capable of reaching the final four.
Beau (State College, PA)
Who's your pick to win the Wimbledon title on the women's side?
Patrick McEnroe
(1:43 PM)
On the women's side, I'm going to have to go with Serena, which isn't a huge shock to anybody. For Venus, it's her best chance to win a major. Kim Clijsters too. She's athletic. She likes the grass. I would look out for her as well.
victor (monroe.la)
who were some of your favorite tennis players?
Patrick McEnroe
(1:44 PM)
I really admired the great Australian players like Rod Laver. Growing up and being able to see my brother and his group. Borg and the rivalry he had with my brother. As a kid, I would play imaginary 5-set matches against the wall.
Dave (Boston)
Patrick, with your brother having all of his outbursts on the court, did people sort of expect you to have the same kind of outbursts?
Patrick McEnroe
(1:46 PM)
It's funny you should ask that. I tell this story in my book. When I was 15 and playing in a big junior tournament and a photographer was on the court, but not taking any pictures. At the end of the match, I tossed my racket to the ground after losing a point and he started taking pictures and the next day in the paper was that picture with a headline "Just like his brother." It made me more aware of my behavior.
Sam (Austin, TX)
Was it hard to play with your brother knowing how intense and competitive the two of you were in playing tennis?
Patrick McEnroe
(1:47 PM)
It was hard in some ways. It's very hard to play against him, because I always played against him. It was difficult, because he was a lot better than me. I did learn a lot from him when we played doubles togheter. I learned about that great instinct that the players have and to pick it up in the heat of the battle. That helped me later in my career.
Shaun (North Carolina)
Patrick, do you think that Roddick should have been seeded above Djokovic and Murray? I mean he has had better results than either of them at Wimbledon
Patrick McEnroe
(1:47 PM)
I think he should have been seeded ahead of Djokovic. Murray has had a good record at Wimbledon. I think it will be very interesting to see how the draw works out. Being No. 4, it would have been good for Roddick. At No. 5, he could meet Nadal or Federer earlier.
Joe (Dayton, OH)
How far do you think Isner and Querrey will go at Wimbledon? It seems like the big guys always have more trouble on the grass.
Patrick McEnroe
(1:49 PM)
The big guys have to adjust to the movement and sometimes that can be tricky. Querrey had a good win at the Queen's Club. I think the Americans will do well. Fish, Ginepri, Roddick, Querrey, Isner, I thikn we'll have a good showing by the men. Isner is the question mark, because he hasn't played a lot on the grass.
Jeff (Philly)
Patrick, why is it that there are more clay court "tune up" tournaments and only one grass tournament? ...doesn't seem fair.
Patrick McEnroe
(1:50 PM)
It's not fair. It's not fair to the grass court players. Roddick has made his feelings known on that. It's the way it's always been. Doesn't mean it's right. There aren't that many tournaments. There's no time. There are no other grass court tournaments in the year. It is what it is. It's obviously a very short turnaround to make that adjustment.
John (Minneapolis)
Patrick, do you think Rafa can win the US Open this year?
Patrick McEnroe
(1:51 PM)
I think he can win the U.S. Open and that's his huge goal. It's the toughest for him to master, because it's the fastest. It's hard on his body with the way he runs and it's hard on his knees. When he's not 100% he's made the semifinals. It wouldn't shock me if he won it at some point in his career.
Brian (Richmond, Ky.)
Are there particular players you make a point to watch when they're on the court?
Patrick McEnroe
(1:52 PM)
I love to watch Federer play because he's got the most complete game we've ever seen. I enjoy seeing him out there and seeing what kinds of shots he comes up with. I like to watch a great match and watch the contrasting styles. There's a great variety of games on the men's side. A great matchup is what it is in tennis versus a particular player. You could watch Federer hit against a wall and it would be fun to watch.
Patrick McEnroe
(1:53 PM)
Thank you fans. Enjoy Wimbledon. Pick up a copy of Hardcourt Confidential. All tennis fans will enjoy the tales I tell from my years in tennis. Go USA tomorrow!