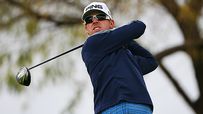 Mahan was on the U.S. team that won the Ryder Cup in 2008.
Welcome to SportsNation! On Tuesday, golfer Hunter Mahan stops by to chat as he prepares for this weekend's PGA Tour event, the Travelers Championship in Cromwelll, Conn.
Mahan, in his seventh season on tour this year, won the Travelers Championship in 2007 for his first tour win. His second career win came back in February when he won the Waste Management Phoenix Open.
At 28, Mahan has quickly shown his ability on the links, helping Team USA win the Ryder Cup in 2008.
Send your questions now and join Mahan Tuesday at 11 a.m. ET!
More Special Guests: Previous chats | SportsNation
Buzzmaster
(10:51 AM)
Hunter will be here at the top of the hour to take your questions!
Buzzmaster
(11:03 AM)
Hunter is here!
tim (chicago)
was pebble an unfair tricky or was it fair?
Hunter Mahan
(11:03 AM)
It was very fair. I think we had perfect weather, which allowed the course to get hard and fast. Even is the perfect score for the U.S. Open
Kevin (Ohio)
Hunter, how excited are you to go back to the place where you had your first tour win this weekend?
Hunter Mahan
(11:04 AM)
Extremely excited. It's a course I've had a lot of success at. It's a fun course for all of the pros. We all enjoy coming back to Connecticut. So much can happen the last four holes. Fun course to play.
Dave (Chicago)
You have a cool first name. How many fun nicknames did you have when you were growing up?
Hunter Mahan
(11:05 AM)
My name was kind of a nickname for myself. I didn't have a whole lot of nicknames. Hunter has become more popular the last few years. Everyone asked me if I was a hunter, but I didn't do a lot of hunting when I was a kid.
Nicole (Miami)
Hi Hunter, what part of your game let you down the most in the Open? I was looking forward to watching you on the weekend.
Hunter Mahan
(11:05 AM)
Really, all of it. There wasn't really one thing that hurt me. It was everything. Nothing clicked. It was the U.S. Open. If you make a couple of bad swings and it's hard. Not one part of my game was that bad. Just bad timing for everything.
Woody (Tifton, GA)
Now that we see golfers like Kenny Perry and Tom Watson have success later in life do you see yourself playing the game for the next 20 years.
Hunter Mahan
(11:06 AM)
I see myself playing until around 50 like Kenny. To 60 like Tom, I have a hard time seeing that. But that's the neat thing about golf, we can play for so long and have different success at different points in our careers.
Rob (Baltimore)
Hunter, what tournament do you want to win the most?
Hunter Mahan
(11:07 AM)
Probably the Masters. The list of great champions, the history of the event. The amazing shots. The amazing finishes. The Masters is kind of our Holy Grail for golfers. As soon as you get through the gates, you know you're somewhere special.
Jayson (Arlington)
Are you a Cowboys fan? Would love to have you out to a practice or something?
Hunter Mahan
(11:08 AM)
I am a Cowboys fan. Growing up in Dallas since I was 13, you had no choice. There it's Cowboys 24/7/365. I have season tickets to the games and with the new stadium and the way the team's playing it's exciting.
Woody (Tifton, Ga)
What advice do you have for Romo? It would have been fun to see him at Pebble..
Hunter Mahan
(11:10 AM)
Being a Dallas Cowboys QB, he needs to be a Cowboys QB. I don't think people want him at Pebble when he should be in the film room. He's a great golfer. I think it's great for him to get away from football and play golf. It's hard for him to focus on golf when he has OTAs and camp is getting ready to start.
Hayden (Logan, Utah)
charcoal or gas?
Hunter Mahan
(11:10 AM)
Oh, charcoal. you have to do charcoal. Not the Kingsford's bricks. The natural charcoal. You don't want the briquettes. Don't use lighter fluid.
Jeff (Chicago)
What's the one course you'd love to play that you haven't yet?
Hunter Mahan
(11:12 AM)
Whistling Staits. My caddy has said I'll love it. I've heard it's a beatiful golf course. I'm looking forward to playing there. I've heard good things about it.
Kevin (Atlanta)
How awesome was your Ryder Cup experince?
Hunter Mahan
(11:13 AM)
It's the most fun you'll ever have playing golf and the most pressure. Just the history of the event. Just the last 15 years of the event, it's grown and the meaning for the players and what it means to us and to golf. It's so much fun. You have match play, a partner, a team. It's fun because you're playing for that one match to get that one point. That's all you're worrying about. It's like when you're a kid, playing for every ounce of good golf in you.
Jeff (Chicago)
Hunter, Big fan of your composure on the course! Was wondering...Is it cool to just give cash as a wedding gift than some mixing bowl off their registry list they'll probably never use?
Hunter Mahan
(11:14 AM)
It depends on how well you know the couple. As any kind of wedding gift, I'm sure a lot of people get the same stuff over and over again. I don't think cash is a bad gift and you know them. I don't think it's a terrible gift as well. Cash has never been a bad gift.
Kyle (Keller, TX)
First of all congrats for the Phoenix victory! It's great to see a Texan winning on tour! How was #14 at Pebble...looked brutal?btw...keep up the good work on your rides, their sweet!
Hunter Mahan
(11:16 AM)
The green is borderline, back in 1919 when the course was just opened. Now we have greens like 11, 12, 13, 14, it's a small green to hit. They shaped the left side of it, so if you put too much spin on it, it can roll and roll. Four or five is a great hole there. You have to be careful with how you play it.
Marc (Charlotte)
Cash Bar or Open Bar?
Hunter Mahan
(11:17 AM)
I would say open bar. It's a celebration. People want to have a good time. You want it to be a party. You're not going to the library.
Duane (Dallas)
Do you contribute Sunday's struggle at the Open of basically the entire field, especially the leaders, to the course setup and conditions or nerves. It was suprising to me with all the big names a top the leaderboard that not one stepped up and played good golf. Your thoughts.
Hunter Mahan
(11:19 AM)
It's a lot of both. Sunday of any kind of major, espeically the U.S. Open, it's draining, the week. Every hole out there, there's potential for disaster. If you're coming down the stretch, the pressure's jacked up. The course is playing at its fastest. You see all the trouble instead of the good shots. The course couldn't have played any harder. I would contribute it to the course. You're so tired playing the last 9 holes on Sunday and using all your energy to hit your best golf shots.
Hunter Mahan
(11:20 AM)
I want to say thanks for all of the support. I hope all of those answers helped everyone out there. I can't wait to answer some more down the road. Good luck to everybody. Keep playing golf and having fun.