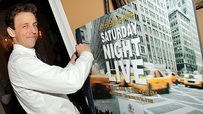 Meyers has been on SNL since 2001.
Welcome to SportsNation! On Thursday, "Saturday Night Live" cast member/writer and 2010 ESPYS host Seth Meyers stopped by to chat with SportsNation.
Meyers, who joined the "SNL" cast in 2001, hosts the ESPYS on July 14 at 9 p.m. ET on ESPN.
A native of New Hampshire, Meyers began his improv comedy career at Northwestern University. He took over as lead writer of "SNL" in 2006 and anchors the Weekend Update segment of the show.
Send your questions now and join Meyers Thursday at 1:30 p.m. ET!
More Special Guests: Previous chats | SportsNation
Buzzmaster
(1:16 PM)
Saturday Night Live's Seth Meyers will be here at 1:30 p.m. ET to take your questions! He'll be hosting the 2010 ESPYS on July 14.
Buzzmaster
(1:28 PM)
Seth should be here in just a few minutes!
Buzzmaster
(1:38 PM)
Here he comes!
Seth Meyers
(1:39 PM)
Hey, everyone. I'm here for my first ever on-line chat. Be gentle.
Bri (Portsmouth, NH)
Do you ever have a chance to get back to New Hampshire?
Seth Meyers
(1:40 PM)
Yep. Folks still there. Try to make it to Fenway a few times a summer and then home to look through my old baseball cards.
Sabah (WV)
What's your favorite part about SNL?
Seth Meyers
(1:41 PM)
Different host every week. Keeps us on our toes. Plus, the show takes on the personality of the host which makes it exciting.
Ginny (Chicago)
Seth, you went to Northwestern, did you ever do any time with Second City?
Seth Meyers
(1:42 PM)
I performed my two-person show at Second City but I was never lucky enough to work there. But I used to go all the time when I was in college. Saw Carrell and Colbert there my Freshman year. One of the best nights of my life.
Ana (Oklahoma City, OK)
How has your work on SNL prepared you for hosting the ESPYS?
Seth Meyers
(1:42 PM)
Having to adjust to stories as they change. We're live again this year for the first time since '03. I think live is better. Award shows are weird when people know who the winners are before they watch.
Courtney (Dallas, TX)
Will Amy Poehler host an episode of SNL this season?
Seth Meyers
(1:43 PM)
If I have anything to say about it, yes.
hugh (nyc)
Seth, you're a New Hampshire guy, so I'm guessing that you're a boston area sports fan. how hard is it to live and work in new york with your sports loyalties?
Seth Meyers
(1:43 PM)
Pre '04 Red Sox a lot harder than post.
zeke (New York)
who is someone that you weren't too sure that would make a good host, but actually ended up doing a great job?
Seth Meyers
(1:44 PM)
None of us knew what to expect the first time Timberlake hosted. And now I would say he's one of the all-time greats.
Wilson (New York)
I've heard plenty of stories about people on the show staying up late to get jokes and skits done. Is that true? Are you really there overnight working?
Seth Meyers
(1:45 PM)
We do the lion's share of the writing on Tuesday night. A good amount of us will stay overnight and turn stuff in an hour before the 4PM table read. It's not a good smelling bunch to begin with so by Wednesday morning it's no party.
Gregory (Indiana)
Which athlete, who hasn't hosted yet, would you most like to have on your show?
Seth Meyers
(1:45 PM)
Tiger?
Dan (Vermont)
When Fred and Kristen (first name basis here) do their singing duo on Weekend Update, how do you not bust out laughing? (they make up the 'songs' on the spot, right? sure seems like Kristen doesn't know exactly what's about to come out of Fred's mouth) Same question when Fred does Gov. Patterson.
Seth Meyers
(1:47 PM)
The longer I do Update the better I get at doing my laughing off-camera. With that said, I don't mind getting caught enjoying my fellow cast members. They're the funniest people on Earth and I'm playing myself so it's safe to laugh a bit.
Donnie (Indy)
Favorite musical guest since you've been on the show?
Seth Meyers
(1:48 PM)
Great question ---This is a quick list.Lady GagaThe KillersPrinceSpringsteenWilcoAnd Beck when he performed with Beck puppets
Lieke (The Netherlands, Europe)
Just wanted to say: greetings from Holland! It's great that you've watched the Netherlands playing against Denmark although, that game was poor.. Are you following the Worldcup? If yes, which team is going to win?
Seth Meyers
(1:49 PM)
I actually flew back to Am'dam to watch Denmark game. I lived in Holland in '98 and that's when I fell in love with soccer (can't bring myself to say "football.")I'm hoping for a US/Holland final and then I imagine my patriotism will kick in.
Donnie (Indy)
When you were picked to fill the Weekend Update chair, did you contact former anchors (Norm McDonald, Dennis Miller, etc.)?
Seth Meyers
(1:50 PM)
I didn't contact them but I've been lucky enough to run into them over the years. I did Dennis Miller's radio show recently and he actually gave me great advice on how to turn to the camera after "here are our top stories..." It's awesome to get tips from the greats.
Sebastian Saarloos (Delta Jct. Alaska)
Whats your best baseball card?
Seth Meyers
(1:51 PM)
1956 Roberto Clemente. My dad loved Clemente and I love the horizontal 56 Topps cards.
Dave (Austin, TX)
When do you find out who the host will be for SNL? And do you write specifically for that person or do you make the host fit into your skits?
Seth Meyers
(1:52 PM)
We can find out anywhere from a week to four months in advance. The best sketches are ones designed for the host's specific strengths. If it would work just as well for someone else it's always a little less special.
Marc (Charlotte)
Why don't the SNL writers have the stones to make fun of Nancy Pelosi?
Seth Meyers
(1:52 PM)
I would wager we have done as many or more sketches about her than any previous Speaker of the House.
Freddie (Alabama)
Is there someone out there that the show has tried to get to host but haven't been able to get yet?
Seth Meyers
(1:53 PM)
All I know is my dream host is President Clinton.
Evan (Detroit)
Do you like writing for Weekend Update or writing skits more?
Seth Meyers
(1:54 PM)
They each have their joys. A great Update joke is incredibly precise while a sketch has more wiggle room for performance. I most like writing something that works.
Steve (Miami)
How many skits do you guys prepare for an SNL show compared to how many actually make it?
Seth Meyers
(1:54 PM)
We write 40 for the table read which we cut to 10 for dress that goes down to about 7 on air.
Mike (Evanston)
Is this the year NU hoops finally makes the tourney?
Seth Meyers
(1:55 PM)
Aw man...I certainly hope so.
Mike (Evanston)
What happens first, Northwestern win the BCS or the US wins the world cup?
Seth Meyers
(1:55 PM)
Pains me to say it as a proud Wildcat but I'd bet on US.
Amy (Ireland)
I did an interview with Bobby Moynihan and he mentioned that you wrote a Lost sketch that was cut from the finale. (a) How on earth was that cut?! (b) Can you spill any details about the sketch itself?
Seth Meyers
(1:56 PM)
Alec Baldwin played a guy who was on the flight but had kept to himself since the crash because he didn't like how no one ever answered any questions. It was fairly cut.
Seth Meyers
(1:56 PM)
But thank you for your support!
Carolina (Connecticut)
What's your favorite thing about living in NYC?
Seth Meyers
(1:56 PM)
I love me a walking town.
Donnie (Indy)
Who was your favorite Red Sox player growing up?
Seth Meyers
(1:56 PM)
Mike Greenwell!
Ryan (NY)
New Jerseyyyyy. Why do you never partake in any of the sketches? Don't get me wrong, you are great at weekend update, but it'd be nice to see you in some of the other, esp what's up with that.
Seth Meyers
(1:57 PM)
As Head Writer it would be too hard to also be in sketches. With that said, the sketches are better off with the rest of the cast than they would be with me.
Matt (KC)
Has there ever been a sketch that got cut week after week and then became a big hit?
Seth Meyers
(1:58 PM)
Will Forte did a Spelling Bee sketch that is one of my all-time favorites. He probably read it at the table five times. And Cowbell famously went to dress a handful of times before Walken showed up and made it his own.
Jenn (San Jose)
Has DiCaprio ever hosted? You oughta get him. Or Kobe. LA BABY
Seth Meyers
(1:59 PM)
I'd take 'em both.
Will (Dallas)
How will you prepare for your hosting gig?
Seth Meyers
(2:00 PM)
We've got a solid combination of ESPN and SNL writers working on it. The trickiest part is making jokes about sport stories that everyone knows.
Brian (Richmond, Ky.)
So, when can we expect Conan to host SNL again?
Seth Meyers
(2:00 PM)
We'd love to have him. But thankfully, for all of us, he's going to be too busy.
Michelle (New York)
Everyone misses you acting in sketches. Is there a chance that you will ever do another sketch on SNL in the future?
Seth Meyers
(2:01 PM)
I'll show your post to Lorne and see what I can do.
Donnie (Indy)
Were you surprised that Peyton Manning did so well in his appearance?
Seth Meyers
(2:01 PM)
More delighted than surprised. We had high hopes and he surpassed them.
Jake (Chicago)
Seth, I'm a FIJI, you're a FIJI... we should hang out sometime.
Seth Meyers
(2:02 PM)
Just give me a time and a place.
Donnie (Indy)
Has there ever been a host that just rendered you completely star-struck?
Seth Meyers
(2:02 PM)
Not a host, but when I shook Bruce Springsteen's hand I was shaking.
Anna (New York)
Will Angelina Jolie ever get to host? I think she'd be interesting to see. Has she ever hosted SNL?
Seth Meyers
(2:03 PM)
She never has but that would be amazing. If you have her # will you call her and ask?
Dan (Vermont)
I'm with Ryan from NY. Bring back the Zingers!
Seth Meyers
(2:03 PM)
I love you Ryan from NY!
Ryan (NY)
Who wrote the Peyton Manning sketch with the kids? That was classic.
Seth Meyers
(2:04 PM)
I wrote it with Akiva but it was Peyton's idea. The guy was made to host SNL.
Ryan (NY)
Is Kristen Wiig as hot in person as she is on TV?
Seth Meyers
(2:04 PM)
3 times hotter.
Beth (Canada)
What is your favourite sketch you were ever a part of?
Seth Meyers
(2:06 PM)
Donald Trump's House of Wings. I was dressed as a chick in an egg and we sang a song to the tune of "Jump" by the Pointer Sisters. It was so ridiculous. On my way to rehearsal I was walking down hall in costume and I passed NBC news anchor Brian Williams who cooly intoned "Living the dream, Meyers?" Good times.
Amy (Ireland)
Will John Mulaney be making more appearances on Update next season? Also Hannibal Buress & Jessi Klein need to do Update editorials!
Seth Meyers
(2:06 PM)
I hope so. All 3 are huge winners.
Seth Meyers
(2:07 PM)
All right, folks, I'm getting dragged away to do ESPN News live so that proves I'm not ditching you for a fake reason. Thanks, all!