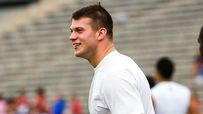 Locker has 36 career TD passes.
Welcome to SportsNation! On Monday, Washington quarterback Jake Locker stops by to chat about the upcoming college football season.
Locker enters the 2010 season as one of the top players to watch. He is coming off a 2009 campaign in which he threw for 2,800 yards with 21 TD. He also rushed for 388 yards at 7 TDs.
Many, including ESPN's Mel Kiper Jr., are predicting Locker as a potential No. 1 overall pick in the 2011 NFL draft. He is also on many preseason Heisman Trophy watch lists.
Send your questions now and join Locker Monday at 1:30 p.m. ET!
More Special Guests: Previous chats | SportsNation
Buzzmaster
(1:20 PM)
Washington QB Jake Locker will be here at 1:30 p.m. ET to take your questions!
Josh (LA,CA)
Which aspect of your game are you working on the most this offseason? Pass accuracy, Conditioning, Film work, etc?
Jake Locker
(1:35 PM)
I would say film work and pass accuracy.
Paula (Lacey WA)
Do you ever get time to go home to Ferndale and visit your family?
Jake Locker
(1:36 PM)
Yeah, I actually get during the summer, one or two weekends of every month.
SF Husky (San Francisco)
Jake - would you rather score a goal in the World Cup, or lead a last-minute comeback win over the Ducks in Eugene?
Jake Locker
(1:36 PM)
The second one by far.
Erik (Seattle, WA)
Jake, what do you foresee at the greatest hurdle facing the Huskies in the upcoming season?
Jake Locker
(1:36 PM)
That's a good question. I would say becoming comfortable with being at the top of the league. Learning how to play from that position.
KJ Arnold (Jacksonville Florida)
How dod you pick the number ten, my son would like to know?
Jake Locker
(1:37 PM)
I always wore No. 5 and then I was given No. 10 my freshman year in high school and didn't change it.
Steven (Camano Island)
Jake, any truth to the rumor going around that you will take over Robert Pattinson's role as Edward in the 4th movie of the Twilight series Breaking Dawn?
Jake Locker
(1:37 PM)
Yeah, my sister would love that, because she's a huge Twilight fan. But no, I'm not taking over that role!
Jake (Boulder)
How was the transition from Willingham to Sark?
Jake Locker
(1:38 PM)
It was a change of pace. Just different style and different approach. But it was well received within out team and the whole organization.
coach kelly (eugene, or)
it's well documented that you don't have a perfect record against my team. tell me, what's so difficult about playing my Pac-10 championship defense?
Jake Locker
(1:39 PM)
They have good athletes. They do some more advanced, exotic defenses. It takes some gameplanning you have to make sure you know what you're doing. We'll have to do some film study and be ready to go.
Kyle (Seattle)
Jake, are the Seahawks your favorite NFL team?
Jake Locker
(1:40 PM)
Yeah, I would have to say the Seahawks are right pu there. But I'm also a big Brett Favre fan. I would have to say I root for him as well.
Joseph (Bremerton)
What was your thought process on deciding to reurn to Washington rather than declare for the NFL Draft?
Jake Locker
(1:40 PM)
I was able to get my degree and I think the team we have coming back is a team that has a great opportunity. We return a lot of starters. Have a lot of experience and have the chance to be the first team in a while to go to a bowl game for Washington.
sean (san diego)
Jake, thanks for the chat ! how have off-season workouts been with the team, and are most of the players attending (voluntary) workouts? Good luck this season!
Jake Locker
(1:41 PM)
Yup. Pretty much everyone is here for the summer. Working hard and making the team better.
Brandon (Seattle)
Which Touchdown is more fun for you: a 50 yard pass to Kearse, or a 56 yard run like you had against Arizona last year?
Jake Locker
(1:42 PM)
They're all good when you can score. I would say the pass probably. It was really well executed. Everyone did what they were supposed to do. We had a great result.
Rahul (Terre Haute, IN)
Hello Jake,It is likely that you and Stanford QB Andrew Luck will be compared often this upcoming season. What are some qualities you admire in him? Thanks!
Jake Locker
(1:42 PM)
For a young kid, he's got a lot of composure. He doens't make a lot of mistakes and completes passes.
Nick (Seattle)
I'm assuming you are a Mariners fan, so how was it getting drafted by the Angels?
Jake Locker
(1:43 PM)
It was a little different. It was a great organization with the Angels. I am happy to have worked with them.
Derek (Seattle)
Who are the funniest guys on the team and what kind of pranks do they pull?
Jake Locker
(1:44 PM)
Oh gosh....Our WR crew is pretty animated. Pretty funny. They'll do some pretty funny things. Hide guys' shoes. Put their clothes in the fridge. Tape guys' lockers up, completely closing them up with athletic tape. Put funny pictures from the internet up there.
Dennis (Seattle)
Who were your favorite football/baseball players growing up as a kid?
Jake Locker
(1:44 PM)
Brett Favre is my favorite football player. My favorite baseball player, I was a big Bo Jackson fan too. He did both.
Jake Locker
(1:44 PM)
Griffey. Big Griffey fan.
Weston Busch (Florida)
Adam Schefter called you a "a bigger, taller, right-handed version of Steve Young." What is your reaction and take on that comparison?
Jake Locker
(1:45 PM)
It's an honor to be mentioned with a player like Steve. At the same time, I think everyone's their own individual players. They created a name for themselves and I hope to do the same thing.
Tyler (Quantico, VA)
How much pressure did you feel lifted from your shoulders having Polk line up behind you and did it allow you to settle down and play better football?
Jake Locker
(1:46 PM)
Chris had a great year last year. Ran really hard. Made some plays for us. Jump started our running game. That always makes it easier to get under center and make the passing game more efficient.
Mike (Renton, WA)
What kind of advantage is playing at Husky Stadium and how does it rank compared to other venues you've played, noise, atmosphere, weather, etc?
Jake Locker
(1:47 PM)
Husky Stadium when the crowd is in there rocking and rolling, it's louder than any place I've been in. It's a big advantage for us. Some of the other cool venues we've played in: Oklahoma, Notre Dame are two cool places. Oregon too.
Aaron (Port Orchard)
What is your favorite Seattle restaraunt?
Jake Locker
(1:48 PM)
I like to get a sandwich real quick at Subway. I Portage Bay for breakfast. Great breakfast place. There are a lot of good steakhouses. El Gaucho's is really good. Expensive, so you can't go there all hte time.
Myron (Seattle)
Jake- Have you ever changed a play in the huddle or thought about it? ie: the quarterback sneaks at Notre Dame.
Jake Locker
(1:49 PM)
No. I call the play that's given to me from coach.
jason (los angeles)
hey jake what r some of ur personal goals for the season??
Jake Locker
(1:49 PM)
Well, I want to be a part of a team that goes to a bowl game. Then outside of that, I just want to go out and have fun, play hard and let any of those other awards take care of themselves.
fred (seattle)
Dick's or Schultzy's? (burgers)
Jake Locker
(1:49 PM)
Dick's.
Brett (Anacortes, WA)
Have you taken Nick Montana under you wing, so to speak?
Jake Locker
(1:50 PM)
Yeah, I've tried to help him out with our offense. He's a good kid. Works hard. It's fun to be able to spend time with him and work with him.
Brett (Anacortes, WA)
How has the offensive line looked so far this offseason?
Jake Locker
(1:50 PM)
Really good. Guys are working hard in the weight room and conditioning. They're looking really good. They're in great shape right now. Getting to be a strong group for us this year.
Robert (U-District)
Would you have beaten Tui in the passing competition during the spring game?
Jake Locker
(1:51 PM)
I don't know. I think I might have had a chance to. We might have to set it up and see if I can take him.
91 Dawg (Olympia)
Please Jake....please....beat Oregon this year....badly....with prejudice. Please....
Chris (Los angeles,ca)
besides opponents what will be your biggest obstacle(s) in reaching the Rose Bowl?
Jake Locker
(1:52 PM)
Just learning to play from that position. Learning to play when people know who you are instead of being the underdog.
chris (seattle)
Jake-A lot of us are over from bob condotta's Seattle times blog. Do you follow his blog and how much do you pay attention to the media during the off-season and during the season?
Jake Locker
(1:53 PM)
I don't really read the paper. Watch the news. I really don't pay attention to a whole lot of that stuff. It doesn't change that much for me in the offseason.
Dan (Roseburg, Oregon)
When you see off the field stuff going on like what has gone on with Oregon what goes through the teams mind and discussion?
Jake Locker
(1:54 PM)
You don't know those situations at other places. For us, we focus on protecting our team and making sure we try to eliminate as many off the field distractions as we can. You do that by controlling where you are, who you're with, always have a buddy with you.
Brett (North Carolina)
If you could credit last years success/turn around on one thing what would it be?
Jake Locker
(1:55 PM)
I think that everyone bought into the same system. We're all on the same page. We believed in one goal and one way. But don't get me wrong, 5-7 isn't successful, but we showed improvement.
Nate (Spokane)
How do you feel about the new teams joining the Pac - 10?
Jake Locker
(1:55 PM)
I think it will make for some new rivalries and a competitve league. I'm looking forward to it.
Nate B. (Seattle)
Jake, how fast are you?
Jake Locker
(1:55 PM)
No, I haven't timed myself recently, so I can't get you an accurate number.
Mike (Auburn, WA)
If I was a recruit considering Washington, can you tell me why I should play for UDub and what should I expect on and off the field?
Jake Locker
(1:56 PM)
This program's on the rise. It has a great coaching staff in place. They'll allow you have to have success at this level and prepare you for the next. It's a great fan base. Great city. I think it's a great program and really fun to be a part of.
Jake Locker
(1:57 PM)
I appreciate all of the support. I hope you're rooting on the Huskies this year.