Chat: Reckless Kelly's Cody Braun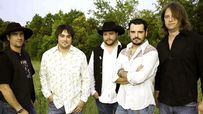 Reckless Kelly's latest album is in honor of legendary singer and songwriter Pinto Bennett.
Welcome to SportsNation! On Thursday, July 8, Reckless Kelly co-founder, Cody Braun (pictured at right, middle), will stop by to chat about the band, their love of baseball and much more.
Cody, along with brother Willy, formed the country-rock foursome in the mid-90s in Bend, OR before relocating to the live music capital of the world, Austin, TX. They have since released eight studio albums including their latest, "Somewhere in Time." "This is a record we have been talking about making for over ten years and are so excited to have finally gotten it done," says Braun. "These "Hardcore Cowboy" songs are what Willy and I grew up listening to and were some of the first tunes we learned as Reckless Kelly."
In addition to making music, Reckless Kelly recently held their second annual Celebrity Softball Jam in Round Rock, TX to raise proceeds for various children's organizations in the area. When not playing baseball games on the tour bus PlayStation, Cody is cheering on the New York Yankees while Willy is backing the Boston Red Sox.
Send your questions now and join Cody in chat on Thursday, July 8 at 3:30 p.m. ET!
Visit the music page in the Life section for more music chats, features and videos.
Buzzmaster
(3:32 PM)
Cody Braun will be joining us soon! Keep your questions coming!
Cody Braun
(3:49 PM)
I'm here and ready for your questions!
Sharon P (Denison Tx)
Which on of the Braun brothers is the best athlete - which one thinks he is?
Cody Braun
(3:50 PM)
(Laughing) I'm the best but Willy thinks he is.
Jay (las Vegas)
What Yankee highlight in your lifetime was your favorite?
Cody Braun
(3:50 PM)
Let me think for a second ... how about just counting the rings everyday.
Henry Reardon (Dunedin Fl)
Did you play ball as a kid?
Cody Braun
(3:51 PM)
I did. My brothers and I built a field behind our house and played mostly with friends. I did play Little League for one summer. But because of our schedule we were on the road playing music all the time so not much organized ball. I was usually pitching.
Daniel (Kansas)
How would you guys characterize your band? Do you like the "roots rock" label? Rather just be called country?
Cody Braun
(3:52 PM)
We've always called ourselves Hick-Rock but roots rock also works. Rock n roll with fiddle.
Andy (TX)
How did you guys come up with the idea to do a celebrity softball game?
Cody Braun
(3:53 PM)
We were actually at a Round Rock game and were talking about how much fun it would be to play on that field with friends and then we just came up with the idea to do it for charity. We were standing with some of the Round Rock guys and it became a reality pretty quick.
Graham Kelly (New Haven)
What is your opinion of A-Rod? Did you like him when he joined the Yankees or did you have to learn to like him? Or do you still not like him? A-Rod is an enigma wrapped in a riddle.
Cody Braun
(3:54 PM)
I've always liked A-Rod. He's just such a great player. In baseball and music I try to put the personal lives aside and just look at the talent and what they do. As a player he is one of the best and I've always been happy he is a part of the Yankees. He has come a long way since he joined the Yankees. He's grown a lot and become a better player.
Peter (Orlando, FL)
Since everyone else on the planet has weighed in, can we get your opinion on where LeBron is going?
Cody Braun
(3:55 PM)
Who cares? I'm a baseball fan!
Timo (San Diego)
Do you guys ever have time to check out other bands or go to other concerts? If so, what is the best one you have been to recently?
Cody Braun
(3:55 PM)
We do when we are at home in Austin. We go out a lot to see other bands. So much great local music there. I've been playing with Dale Watson and Hayes Carll quite a bit.
Peter (New Haven)
Would you trade your music career to be a pro baseball player?
Cody Braun
(3:57 PM)
That's a tough question. I don't think I would. I was talking to my friend Matt Lebisle and he said the biggest difference is we win everynight and he gets his ass handed to him every couple nights.
Paul Augeri (Torrington, CT)
If you are a Yankees fan, what do you do if they are playing in Game 7 of the World Series and you have a gig at the same time?
Cody Braun
(3:58 PM)
I would probably be recording it and watch it later. We've had that happen before. We were on a plane in NY during the All-Star game one time and the show had to go on!
Mark Reilly (Tulsa, OK)
How would you say you guys have grown as a band since you first started?
Cody Braun
(3:59 PM)
We weigh twice as much! Seriously, just playing together as long as we have has allowed us to feel really comfortable on stage and we've just gotten better as musicians playing some 200 shows a year.
fred crane (tetonia idaho)
Howdy Cody, If you could reincarnate which major league player would you come back as?
Cody Braun
(4:00 PM)
I would want to come back as Mickey Mantle. It seems like he had a pretty good time.
Wendy Wenszell (Fort Worth, Texas)
What is your favorite venue to play?
Cody Braun
(4:01 PM)
Gruene Hall! It's one of the oldest dance halls in Texas so it's one of the few places that has that old vibe and all our heroes have played there at one time or another.
Jay (Las Vegas)
Being a Yankee fan could you play a show at Fenway?
Cody Braun
(4:01 PM)
I already did it! Did the national anthem there about four weeks ago. Yes, it was hard. But cool.
Shelly (Boston)
Who is a music artist that you like that might surprise people?
Cody Braun
(4:03 PM)
I'm a meat and potatoes guy in that I listen to pretty much all old stuff. I was on a big reggae kick for awhile and jammed with a band over there. It's a little weird for a fiddle player but a lot of fun.
Ryan Vaughan (Mercedes, Texas)
Cody - I saw a picture of you at the Softball Jam that you put on last month and you were wearing a pair of good looking cowboy boots with your baseball uniform...what kind of boots do you wear and how do they do rounding first?
Cody Braun
(4:04 PM)
I hit a dribbler to the SS so limped over to first. But the boots tied the room together nicely.
Andy (TX)
Favorite BBQ place in Texas?
Cody Braun
(4:05 PM)
Cooper's BBQ. They are in Ft. Worth and a few other locations.
Cody Braun
(4:05 PM)
Or the Salt Lick in Austin.
Katy (Charlotte)
What was the last argument you guys had?
Cody Braun
(4:05 PM)
Geez. 15 minutes ago maybe? Burger King or Wendy's.
Lauren (Baton Rouge)
When are you coming back to Baton Rouge? We had a blast when yall came to Lucy's! - COME BACK!!
Cody Braun
(4:06 PM)
Yeah. We hope to come back to Lucy's in the Fall.
Jay (Las Vegas)
Did you put in your vote for Swish to go to the All Star game? What did your parents do differnt with Willy to make him SETTLE for Boston? poor guy
Cody Braun
(4:06 PM)
I didn't get to cast my vote this year. We were just on the road too much and our computers weren't working. We got to go to the game in St. Louis last year which was great.
scott kirk (grenada ms)
You played a song in Steamboat that I can't find of itunes anywhere. The chorus went something like "Don't worry _____ we'll make it on time" What is the name of song and where can I find it? Thanks
Cody Braun
(4:07 PM)
It's called Desolation Angel.
fred crane (tetonia idaho)
Hey Cody, what similarities have you discovered between professional baseball players and professional musicians lifestyles and pressures?
Cody Braun
(4:08 PM)
The traveling around is the big one. We're both in the entertainment business really. We're just trying to make people forget about their troubles for awhile and have fun.
nicole and richard (San Antonio, TX)
Our 2 year old daughter loves your song "Guacamole"!!! She's always asking us to put in on for her. In fact Reckless Kelly was one of her first shows (@ Floores Country Store).
Cody Braun
(4:09 PM)
That's pretty funny. Thanks. It's an old Texas Tornadoes song.
Sharon (Denison Tx)
You play several musical instruments-which is your favorite?
Cody Braun
(4:09 PM)
The fiddle for sure.
Ky (NM)
how many songs does Recklass Kelly have in your catalog (recorded and not recorded)?
Cody Braun
(4:11 PM)
Well, we have 8 records worth of original stuff. Well, not all original I guess. 7 and a half maybe. We do have some that we've written but not recorded. They're not that great or we would have recorded them. Having been together for 14 years, we have hours and hours of stuff to pull out.
Chad (TEXAS)
Who pulls off the best pranks RK or Ragweed?
Cody Braun
(4:12 PM)
Jay is the best prankster.
Jay (Las Vegas)
what changes do you think the Yankees need to make to get to the World Series, and who are they playing?
Cody Braun
(4:13 PM)
I think they are looking fine. If they stay healthy I think they have as good a shot as anybody. A lot of teams are coming out of nowhere though. It should be an interesting second half.
Sharon (Denison Tx)
When I was growing up my parents said they didn't like the Yankees because they won all the time and I didn't understand it. Now I totally understand it-HOW CAN YOU LIKE THE YANKEES!!!
Cody Braun
(4:14 PM)
My dad was a Yankee fan and that was the only team on TV during that time. Me being the oldest son I just followed him. My mom is from Massachusetts so that's how Willy ended up being a Red Sox fan.
Big Neil (NYC)
What are your thoughts on a duet with Miley Cyrus. I think you guys would sound great together.
Cody Braun
(4:15 PM)
I love duets. If you were there to produce it, we would definitely give it a shot.
Cody Braun
(4:16 PM)
Thanks for the questions! Keep supporting live music and baseball!