Chat with Crystal Langhorne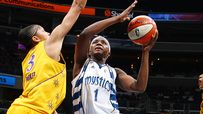 The Mystics' Langhorne leads the team in points and rebounds.
Welcome to SportsNation! On Tuesday, we'll have Washington Mystics forward, and current WNBA Eastern Conference Player of the Week, Crystal Langhorne stopping by to chat.
Langhorne's Mystics are off to a 9-5 start to the season, including 2-1 this past week, when Langhorne averaged 27.7 points and 12.3 rebounds per game. For the season, she is averaging team highs in points (17.1) and rebounds (9.9), which is also fifth in the league.
Langhorne, the sixth overall pick in the 2008 WNBA draft, was a key part of Maryland's 2006 NCAA championship team. She was the first player in the university's history, on either the men's or women's team, to record 2,000 points and 1,000 rebounds.
Send your questions now and join Langhorne Tuesday at 1 p.m. ET!
More Special Guests: Previous chats | SportsNation
Buzzmaster
(12:58 PM)
Crystal is here!
Brad (Gadsden,Alabama)
Crystal. Do you have any pre-game rituals?
Crystal Langhorne
(12:59 PM)
Actually, no. I try to stay away from all of that stuff. Superstition can only mess you up and not help you. So, I don't have anything.
Jocelyn (Maryland)
Congratulations, Crystal! You have been working so hard! One of the things that stands out about you most is consistency. How do you maintain such a reliably excellent level of play?
Crystal Langhorne
(1:00 PM)
I just really try to take high percentage shots. That's what I focus on. People know me as a rebounder and rebounding is about hustle. That's the way I've become a consistent player.
Alex (dc)
Could this be the year for a long run in the Mystics playoff chase
Crystal Langhorne
(1:00 PM)
I definitely think so. I think we're doing really well right now. If we get better defensively and offensively, we can make a run in the playoffs.
petra ujhelyi (columbia, sc)
what is your favorite food?
Crystal Langhorne
(1:01 PM)
Pizza. I love pizza. I could eat that a lot. Or Italian food. I like alfredo and stuff like that.
Sabe (Alabama)
How was your transition to the WNBA? Like how long were you in awe before you were able to get settled into your "new shoes"?
Crystal Langhorne
(1:02 PM)
I did a little USA Basketball stuff before that. So, that at first was a little of a shock. So, when I came to the WNBA, I had gone through that a little bit already and didn't feel uncomfortable around those players.
jackie (los angeles)
at what age did you become a fan of basketball?what was your favotite nba team and wnba?
Crystal Langhorne
(1:02 PM)
I started playing in the 8th grade. I'm kind of weird in that I don't have a favorite team. I wasn't watching only one team. I just watched basketball. Not one team specifically.
amber oneal (Boston, MA)
does playing with a old teammate like marrisa coleman help ur transition frm the college stage 2 da pro stage
Crystal Langhorne
(1:03 PM)
Definitely does. Just the comfort level in playing with someone you knew for a few years. It's always easier to play when you know what someone is going to do on the court.
James (Bowie, Md)
With having to play basketball in Europe when the WNBA season is over, what's the hardest part about playing basketball without having any time off.
Crystal Langhorne
(1:04 PM)
Exactly that. You don't have a lot of time off. When you're overseas, you're away from your family and friends, so that's tough.
Helen (NY, NY)
What's the strongest part of your game? The weakest?
Crystal Langhorne
(1:04 PM)
I would say the strongest is my rebounding. My weakest would be, I'm working on it right now, my 3-point shot. I'm trying to get that on track. It will be harder for people to guard me if I start hitting threes.
Adam R (Brookfield)
Crystal, what was t like to be part of the youngest team to ever win an NCAA National Championship?
Crystal Langhorne
(1:05 PM)
That was one of the best experiences in my life. To win the championship and the people I did it with, we enjoyed everyone's company. No one expected us to win. We were the underdog and that made it that much better.
Pepe (MD)
Hello Lang. We're loving your game! Did you practice shooting the 3's while in Europe?
Crystal Langhorne
(1:06 PM)
I started working on it, yeah. And I'm working on it with my coaches now. Trying to get that better.
Rich (London)
All-Star appearance or ten days of mid-season rest - which would you prefer?
Crystal Langhorne
(1:06 PM)
Hmmmmmmmm. It would really be great. I think I would rather be in the all-star game. It's such a great honor. I know that 10 days off would be great, but a lot of people are practicing anyway, so it's not a break at the end of the day. I choose the all-star game.
AMBER ONEAL (BOSTON MA)
DO U N COLEMAN JOKE AROUND WITH HARDING SOMETIMES ABOUT UR MARYLAND SQUAD BEATIN HER DUKE SQUAD 4 DA NATIONAL CHAMPIONSHIP
Crystal Langhorne
(1:07 PM)
I did it a lot my rookie year with Curry. Before those other two were on the team, I would joke around with her, before those other two. We did it some more later, but we stopped.
Stephen Bristol (Delray Beach, FL)
Family I could not be any more proud of you! Crystal keep doing what you do, there's so much more in store for you.
Crystal Langhorne
(1:08 PM)
Thanks!
Crystal Langhorne
(1:08 PM)
Cousin!
Jackie (New York, NY)
Crysal,As a fellow Terp, I just wanted to tell you how proud I am of you - you're a fabulous representative of our alma mater. I was wondering how you developed your amazing footwork (every MD fan I know talks about it)?
Crystal Langhorne
(1:09 PM)
I did a lot of work with my high school and AAU coaches. They had me working on a lot of up and unders and pivots.
Terrell (Salisbury, Maryland)
How are you helping Marissa cope with the frustration that comes with a lack of playing time? Has to be hard for a player's confidence.
Crystal Langhorne
(1:09 PM)
Yeah, I know. That was my whole rookie season. I just tell her to stick to it and keep her confidence. Basketball is physical, but it's also a mental thing. You just have to have patience and always be ready.
Alicia (Pittsburgh)
who is your favorite team to play?
Crystal Langhorne
(1:10 PM)
Hmmm. Let me think......I don't really have a lot of favorites. This is the WNBA and there are a lot of talented teams. You know there's going to be a game every night. You won't be blowing anyone out. It will be competitive.
AMBER ONEAL (BOSTON MA)
CAN U DUNK IF SO WILL WE C A DUNK FRM U THIS SEASON
Crystal Langhorne
(1:11 PM)
No, I can not junk. I was not blessed with that kind of jumping ability.
Ria W. (DC)
Congrats firstly!!! You make it look so easy, getting the ball in the hoop when rebounding..you go gurl!!! Do your teammates have any nicknames for you? How do you react to the hype, surrounding you right now?
Crystal Langhorne
(1:11 PM)
My nickname that everyone knows is C-Lang, but everyone shortens it to Lang. Even people I don't play with or old teammates call me Lang.
Diane James (UMCP College of Ed)
I watched you play last year and you were great. This year you are awesome! What is your motivation when you walk out on the court?
Crystal Langhorne
(1:12 PM)
Just to do the best that I can. And to win. Whatever I need to do to help our team win, that's what I'm going to do. Plus, I want to get better. I don't want to stay in one place.
Crystal Langhorne
(1:13 PM)
Thank you for checking out the chat. I really appreciate it that you took the time out of your day to listen me and what I had to say.