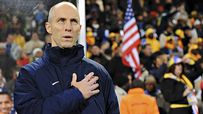 Bradley's current U.S. Soccer contract expires in December.
Welcome to SportsNation! On Wednesday, we will have U.S. men's national soccer team head coach Bob Bradley visiting SportsNation to chat about the team's performance at the 2010 World Cup and the future of U.S. soccer.
Bradley's squad finished the World Cup with a 1-1-2 record, losing to Ghana in the Round of 16. The U.S. won their group for the first time since 1930, the first year of the World Cup.
Bradley has served as the leader of the U.S. team since being named the interim manager in December 2006. In his first five months, Bradley led the U.S. to a 10-0-1 record, after which the interim tag was removed. Overall, Bradley is 38-20-8 leading Team USA.
Send your questions now and join Bradley Wednesday at 1:30 p.m. ET!
More Special Guests: Previous chats | SportsNation
Buzzmaster
(1:20 PM)
U.S. Soccer coach Bob Bradley will be here at 1:30 p.m. ET to take your questions!
Buzzmaster
(1:33 PM)
Coach is just a few minutes away!
Ericka ((Anchorage, AK))
Are you still hearing the vuvuzela ringing in your ears or has it gone away? Are you pro vuvu or anti vuvu?
Bob Bradley
(1:36 PM)
They are still ringing in my ears. I'm pro-vuvuzela, as long as the game is in Africa. No where else.
Conor (Cary, NC)
Do you see Tim, Clint, and Landon all having one more world cup in them?
Bob Bradley
(1:37 PM)
I think that there is a good chance that that group of guys will be there again in 2014.
Matt (Chicago)
Bob, really enjoyed watching the run! Is there a player that Jozy (at age 20) reminds you of? He's still a little raw, but I am very excited to see him grow for 2014. Thanks again for making a country proud!
Bob Bradley
(1:39 PM)
We're excited about Jozy as well. We talked to him about some top strikers like Drogba, because we feel he can learn from players like that.
Davis (Alabama)
Do you want to continue to coach the United States national team? With your contract up in December, what will that process be moving forward?
Bob Bradley
(1:40 PM)
At the end of every World Cup, there is an assessment on both sides. I've had a preliminary conversation and I'm sure there will be a follow up in coming weeks.
Gregg (Philly)
How difficult is it to get guys to play for the National Team right after a WC Finals trip? Who can we expect to see vs Brazil later this Summer?
Bob Bradley
(1:41 PM)
I have talked a little bit about our game with Brazil. That's a game the players are looking forward to.
Thony (Chicago)
How soon do you bring Charlie Davies back into the mix? Will we see him versus Brasil in a few months?
Bob Bradley
(1:41 PM)
We're hoping that Charlie will be back on the field and that will give us a good chance to consider him again with the national team.
Gregory (RI)
Bob, you made some starting lineup changes going into the Ghana match that went away from what you had done leading up to that game. What led to you making that decision?
Bob Bradley
(1:42 PM)
As a coaching staff, we discuss our options before evey game and it was no different than against Ghana.
Andrew (Chicago)
After coaching our USMNT for the last four years, and having now coached at the World Cup, what two or three areas do you recognize as needing the most improvement if we are to be consistently successful at the highest level?
Bob Bradley
(1:43 PM)
I would say this World Cup we created a lot of chances, but our finishing wasn't as good as it needed to be.
Joey (Cincinnati)
How far do you think you guys could've made it in the tournament?
Bob Bradley
(1:44 PM)
We believed that we had the chance to do something big in this World Cup, based upon our first round performances.
Brad (Gadsden,Alabama)
Bob, What player were you most impressed by at the WC?
Bob Bradley
(1:45 PM)
I would say that Mesut Ozil has been very good so far.
Brandon (Baltimore)
Is it true that the players on the US Soccer team get frustrated/upset with goal keeper Howard when he chews them out after defensive breakdowns? Or do they react well to that leadership style?
Bob Bradley
(1:45 PM)
Yes. Tim is very well respected and is an important leader on our team.
JASON (Michigan)
How do feel about our home grown talent? MLS and lower levels.
Bob Bradley
(1:46 PM)
U.S. soccer continues to work hard with programs like the development academies. Our residency programs and Generation adidas. We'll hopefully see the results in the future.
Brian (Cleveland)
How excited do you and your players get with the buzz you create around the sport here in the US based on your successes at the world level?
Bob Bradley
(1:47 PM)
Since we're back, we've all felt that excitement and it makes us feel great.
Thomas Bailey (Dallas, Texas)
How hard is it to bite your tongue after the game when you know you got completely hosed by the refs? Don't you want to just go off?
Bob Bradley
(1:48 PM)
It's just part of the responsibility after the game.
JC (Ohio)
Bob, now that the US is out of the mix (albeit a great run) who are you rooting for to win the Cup? Or are you impartial at this point?
Bob Bradley
(1:49 PM)
I'm impartial. I watch the games as both a coach to see how things are done and as a fan to enjoy it.
David
how do you keep the excitement going?
Bob Bradley
(1:50 PM)
It's important for our national team to continue to play top teams and for MLS to continue its great improvement.
Bob Bradley
(1:50 PM)
Also, our World Cup bid for 2018 and 2022 would go a long way for continued development in the United States.
Jared (East Brunswick)
What are your feelings on reply? The United States was involved with one too many instances where replay could have saved alot of energy and panic.
Bob Bradley
(1:51 PM)
I believe that we need to use replay or goal line technology to make sure that we don't miss good goals.
Kevin (Columbus, OH)
Bob, where was your favorite place to hang out in your time at Ohio University?
Bob Bradley
(1:51 PM)
That's a great question. There were so many places on State Street, I can't remember their names.
Paul (Washington DC)
How important do you feel it is for Landon, Jozy, Clint, and especially the younger guys to earn quality minutes in major European Leagues such as the EPL, La Liga, and Serie A in order for them to play against the top competition day in and day out?
Bob Bradley
(1:52 PM)
That's the most important part of our continued improvement.
Bob Bradley
(1:53 PM)
Everyone with the U.S. national team appreciates the tremendous support that our fans have shown us in this World Cup.
Buzzmaster
(1:53 PM)
Thanks Bob!