Chat with Timothy Bradley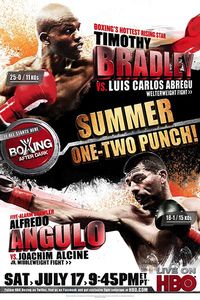 Welcome to SportsNation! On Wednesday, we will go inside the ring when light welterweight belt holder Timothy Bradley stops by to chat about his fight on Saturday.
Bradley (25-0, 11 KO) moves up to welterweight to face Luis Abregu (29-0, 23 KO) Saturday from the Agua Caliente Casino in Rancho Mirage, Calif. and can be seen on HBO at 9:45 p.m. ET/PT.
Bradley, 26, successfully defended his WBO light welterweight title in his last bout. In April 2009, he unified both the WBO and WBC light welterweight titles in a 12-round decision over Kendall Holt, though the WBC later took his belt because he did not face the WBC's next challenger.
Send your questions now and join Bradley Wednesday at 1 p.m. ET!
More Special Guests: Previous chats | SportsNation
Buzzmaster
(1:11 PM)
Timothy's here!
Courtney Jackson (Lindenwold, NJ)
Hi timothy, Are you looking to stay up on welterweight?
Timothy Bradley
(1:11 PM)
No, I'm not looking to do that. I'm looking to get a feel for the welterweight division and go back down to 140 and take on the guys there.
Chris (Mount Vernon, NY)
What do you think about Zab Judah moving down to 140? Does he pose a threat in the division or is he a shot fighter?
Timothy Bradley
(1:12 PM)
Hmmmm. He's a veteran, of course he poses a threat. You have to look at his track record. He is a bit older now. It sounds to me like he needs a different motivation.
robb (north andover, ma)
i've read that you both box and brawl well, which will it be on saturday night?
Timothy Bradley
(1:13 PM)
Maybe a mixture. I'm not sure what his gameplan is. If he looks to stay outside, then I'm looking to brawl.
Chris Fiegler (Latham,NY)
What is the Best & The Worst Sports Facitity that you fought at?
Timothy Bradley
(1:14 PM)
That's tough. I would say the best facility that I've fought in is Agua Casino. The worst? That's a tough one. I would have to say when I fought in Mississippi.
Chris (Mount Vernon, NY)
How many fights at Welterweight will you need before you go after the upper echelon of the division, such as, Floyd or Manny?
Timothy Bradley
(1:15 PM)
It sounds great, but there is a lot of things involved in boxing that fight fans don't see. But I still have unfinished business at 140. If they were willing to fight me at 147, I might think about it.
Rob (Texas)
what kind of crowd are ya'll expecting on Saturday night ?
Timothy Bradley
(1:15 PM)
Packed house, rowdy crowd.
John H (Augusta GA)
Hi Tim, good luck Saturday. Whats the biggest advantage you think you will have over Abregu. I never heard of your opponent before but his record is impressive, did you know of him much before you signed the fight or before it was presented to you?
Timothy Bradley
(1:16 PM)
My speed. That will be my biggest advantage.
Timothy Bradley
(1:16 PM)
I knew a little bit about him. I saw him fight against Garcia and that night I knew I could beat him. That was a long time ago.
JD (DC)
How many weight classes do you feel you can compete in at the same time? Will moving back and forth hurt your preparation?
Timothy Bradley
(1:17 PM)
I'm not sure yet. This is my first time that I've done this. I'm not sure how I'm going to feel. I put on some muscle, so I'll have to tear down some lean muscle to get back to 140. I'll let you know when I get back to 140 how I feel. I know this weight feels comfortable. I think the highest weight I could probably go is 154.
Jake (Richmond, VA)
Carlos Abregu says that it was a mistake for you to move to welterweight, his natural division. How are you feeling at the weight, how has your speed translated to the new division?
Timothy Bradley
(1:18 PM)
Still the same. Still quick, still strong, if not stronger. If anything, my footwork probably slowed down a bit. But they don't know my history. The boxing world don't know my history. In amateur, I fought most of my fights at 147. I fought big, tall, strong guys. I fought over 150 amateur fights and most of them were at 152. Big guys don't bother me.
robb (north andover, ma)
do you think punching power will be an issue at 147? if you aren't putting on the weight to keep it on, do you think it leaves you at a disadvantage?
Timothy Bradley
(1:20 PM)
It's not really a disadvantage. I think he'll have some pop that I'm not familiar with. But you can isolate that punching power by breaking him down to the body. I'm going to see how it feels in the first round and then judge what I can and can't do.
Kolbe (Lancaster)
Tim, what do you see being the keys to victory this Saturday against Abregu?
Timothy Bradley
(1:20 PM)
Great jab movement and just isolating this guy. Every time he makes a mistake, make him pay.
Courtney Jackson (Lindenwold, NJ)
hi timothy, Who was your biggest challenge in your division that your faced already and why?
Timothy Bradley
(1:21 PM)
I would say Kendall Holt and Lamont Peterson.
Courtney Jackson (Lindenwold, NJ)
Hi timothy, When you win, who do you want to fight next?
Timothy Bradley
(1:21 PM)
I want to fight Maidana or Alexander, or if I can get Manny or Floyd.
Chris (Mount Vernon, NY)
Your aggresive style is very exciting for fight fans, and I look forward to seeing you prove yourself as one of the pound for pound best. I think you are ready to go after Berto. Your style will give him trouble. How do you see yourself fairing against him?
Timothy Bradley
(1:23 PM)
Berto's a good friend of mine. We share secrets with each other. We've talked about it and one day we might take each other. Business is business and we might have to put friendship aside when we get in the ring. It would be a heckuva fight. It would be a tough challenge. But that's what I'm about. I'm a risk taker. I would be excited for that. A lot of fireworks in that fight.
Chris (Fredericksburg VA)
Hey Tim, what is you predicition for this fight? If its a k.o, which round
Timothy Bradley
(1:24 PM)
Man, I don't know. I'm pretty old school. Whatever happens, happens. I'm ready to go 12 rounds. If it doesn't, then I'll be excited. I haven't had a knockout in over three years. If I can pull out a KO, it will be another miracle.
Chris (Mount Vernon, NY)
Have you thought about unifying the titles at 140?
Timothy Bradley
(1:25 PM)
I thought about it, but unifying the titles isn't really important. It's about fighting the best. If they have the titles, then we'll unify them. It's hard to fight all these mandatories. You're going to be stripped. It's not that important to me. It's for the fight fans and for boxing.
Jonny (Fallbrook, CA)
Tim what are you thoughts on Marcos Maidana backing out of the fight?
Timothy Bradley
(1:26 PM)
It bothered me, due to the fact that I hadn't fought in a long time then they said that they were going to fight a little later because he hurt his back. It frustrated me. I felt like coming off a victory on Peterson hurt my career. That makes no sense to me.
robb (north andover, ma)
as a fighter, do you also watch other fights/fighters unrelated to you? if so, who's your favorite to watch?
Timothy Bradley
(1:27 PM)
All the time. I always watch other fighters. I love to watch Floyd, Manny, Hagler, Holyfield, Sugar Ray, Roy Jones, James Toney, Shane, Cotto. I watch them all. The youngsters I like to watch, Ward, Berto.
Timothy Bradley
(1:27 PM)
To all my fans out there, say a prayer for me. Hold it down and we'll get a victory on Saturday.