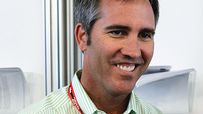 Randy Bernard took over the reins of IRL in March.
Welcome to SportsNation! On Wednesday, new Indy Racing League CEO Randy Bernard stops by to chat about his first few months on the job.
Bernard took over as the IRL's top executive March 1, replacing Tony George. He came to the IRL after serving as the Professional Bull Riders CEO since 1995.
While having no racing background, Bernard was hired due to his successful background as a sports marketer and promoter. In his 15 years at PBR, he increased sponsorships and the number of events more than 50-fold.
Send your questions now and join Bernard Wednesday at 4 p.m. ET!
More Special Guests: Previous chats | SportsNation
Buzzmaster
(3:55 PM)
New IRL CEO Randy Bernard will be here at the top of the hour to take your questions!
Buzzmaster
(4:09 PM)
Hang on folks. Randy should be here shortly.
Buzzmaster
(4:15 PM)
We've got Randy!
John (San Antonio, TX)
Without even having a concept car built. How do you that Dallara will be able to build, test, crash test, and build enough cars and backup cars in time for 2012?
Randy Bernard
(4:16 PM)
There is a distinct timeline in place, that's why we had to make the announcment by mid-July so all the chassis had the time to follow through on all of their committments.
Ray (Flemington, NJ)
When does Dallara plan on having the first of the new rolling chassis' done and when will the teams be allowed to test the new chassis with the aero kits?
Randy Bernard
(4:17 PM)
The timeline is in place, and I don't want to give false information. I apologize that I don't want to answer that right now.
Big A. D. (Indianapolis)
What are your thoughts regarding a potential name-change for the IRL and when would you see that possibly happening?
Randy Bernard
(4:18 PM)
My goal is to have that in place by January 1. There is a lot of legal ramifications to make sure that can happen, because of the contracts and obligations for IRL. That needs to go away. We are known by IndyCar. The IRL has a negative connotation from the divorce in the mid-90s.
Tom Marshall (Indy)
I'm curious if Randy has been surprised by the passion of the fan base. Also, what does he see as the series greatest strength right now and in the future?
Randy Bernard
(4:20 PM)
I've been blown away with the passion of the fan base. To hear so many folks say that they've been coming for 30, 40, 50 years and to see it every day from Indianapolis is fantastic. I think the greatest strength...great question...is our sponsors. IZOD coming on and our other great sponsors. Our passionate fans. They will help us grow faster. I'm hopeful that our fans think that our announcement today stays with our culture and tradition.
Dave (Chicago)
Randy, with your name, I have to ask....are you a fan of the TV show "The Office"? I figured you have to be, since they have a character named "Andy Bernard." And if you are a fan, do your friends call you "Nard Dog" like Andy does in the show?
Randy Bernard
(4:21 PM)
I am offended by that question....just kidding. To be honest with you, I had a nickname over at PBR that was Nardo. In the first week that I moved here the staff here told me that they had heard my nickname was Nardo and they were changing it to Nard Dog. If you call me that an event I won't stop, but I find the humor. I don't watch the show. I don't watch much TV. I hope he's a nice guy.
Drew (Bloomington, IN)
Randy, as a lifelong fan I believe you've done a tremendous job thus far. How did you feel about taking over as CEO during such a crucial time for the sport, from selecting new formulas to adding more events?
Randy Bernard
(4:23 PM)
I love the opportunity. When the George family asked me, I wanted to do my due diligence. The more I learned, the more I got excited. I see the challenges as an opportunity. It's my job to bring it back. I don't think there's an easy answer or that there's a quick solution. I need to make sure I listen to people. I think that we can make a difference. It's a "we", that's my philosophy.
Emmanuel Goussot (France)
Dear Mr Bernard, what are the main differences between running the a bull riding series and a motor sports series?
Randy Bernard
(4:24 PM)
I went from bull power to horse power. To be honest, I didn't realize how much danger there was in IndyCar, because in PBR one out of every 13 athletes was injured. Both have phenomenal athletes. Both are very accessible to fans. They're completely in two different spectrums of the world. There's not much comparison. The first thing I wanted to do is learn the culture. The last thing I want to do is insult the fan base. I'm still a huge fan of PBR though. Love it.
Ryan (Indianapolis)
Afternoon Randy, how many different aero packages are you expecting in 2012? Also, will the limit of 2 count for Indianapolis or will that be different?
Randy Bernard
(4:26 PM)
Great question. We don't have expectations right now. Because we want to keep everything confidential, we were very concerned with how much information we gave. We didn't take a vote to ratify the reccommendation until today. We made everyone sign a confidentiality agreement. I think we will have companies step up and make aero kits, but I don't know how many in 2012.
Sam (Charlotte)
We have the same last name. Maybe we're related. Any chance the Indy Racing League goes back to Charlotte? Also, has there been any discussion about possibly having an all-star event in the future?
Randy Bernard
(4:27 PM)
We've discussed Charlotte, but there are some other tracks that we are a little more interested at this time. But that's not to say that in 3-4 years that Charlotte wouldn't be one that we are interested in.
Ryan (Indy)
Are the new chassis and engines going to bring the speed and mos importantly the vibe back to Indy? How so?
Randy Bernard
(4:28 PM)
Ryan, I believe that we will be able to create a lot of great hype and buzz. I believe that we will see the speed increase with the lighter car and extra boost in turbo. But our first priority will be to make sure safety is crucial.
Bigdcart (Chardon, Ohio)
Good job having the guts on making a hard decision Randy. Will Teams like Penske and Ganassi be able to make skins for the new cars?
Randy Bernard
(4:28 PM)
Yes. They will be able to make aero kits for their new cars, but you're only allowed two sets of kits in one year. And if you make a set, you have to be able to sell them to any other team for a max price of $70,000.
John (Lafayette IN)
Have you looked into making other races 400 or 500 miles long? I would love to go to Iowa or Kentucky but it is hard for me to rationalize driving 6 hours to Iowa and 6 hours back for a race that is only going to last a couple hours. I think longer races would sell more tickets.
Randy Bernard
(4:30 PM)
John, very valid question. But right now, we feel that a lot of fans have asked for entertainment in a two hour period. And that plays well to TV. Not to say that we won't add some 500 mile events. We want promoters to be creative in their events. If Iowa came to us and asked about a 500 mile event, it would be in serious consideration.
Paul Houchens (Indianapolis, IN)
What is being done to bring more young american drivers into the series?
Randy Bernard
(4:31 PM)
That is a big question for me everywhere we go. I don't disagree with them. But as a sports property and racing property, we have to ensure that we have the best drivers in the world. If they're from America, that's the icing on the cake. We have to do a better job with our ladder system that allows our young men and women from America to easily move from series to series. We have some fantastic ideas on this and I look forward to sharing them at a later date.
Ray (Flemington, NJ)
I have heard that you are going to Europe in a month to talk to European auto makers. Whats your plan for the engine manufactures? Will there be an announcement about which engines will be building engines for 2012?
Randy Bernard
(4:33 PM)
We will discuss the opportunities with IndyCar with as many European manufacturers as we can. We can create an aero kit that they can create a brand and identity for them and that's important. We've heard from a lot of European manufacturers that would like an inline four and others that want a six turbo. If they came over to participate, we want them as a partner and figure out how to help them sell cars. That will be my message to all of them either in America or Europe.
Lee (Toronto)
Randy, should we be expecting a lot of changes for the 2011 schedule? Is it still expected to be released by the end of this month?
Randy Bernard
(4:33 PM)
It's more important to get it right. I would like to think that it would get done by the end of August.
Jon (Indiana)
What is your opinion on scheduling "The" 500 so that Nascar drivers can do the double. Have you actually had dialogue with the other side of the fence on that one?
Randy Bernard
(4:35 PM)
We've had dialogue with Bruton Smith. We love the concept and we're working on it. But there is tremendous amount of hurdles that we have to address prior to getting it done. We have a long ways to go yet. I'm optimistic, but we have a long ways to go. One of the key things is to make sure that we can move our time from 1 to 11. There are other hurdles, but I'm optimistic.
Randy Bernard
(4:36 PM)
I just like to thank everyone for their support. We're getting e-mails and it looks like the response is very positive. They're saying that I must be relieved that this is over, but it's just the beginning. Getting in touch with our fan base is the best thing we can do. Hope to see everyone at an IndyCar race soon.