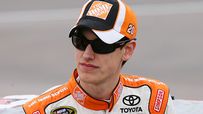 Logano is the youngest driver to win a NASCAR event.
Welcome to SportsNation! On Wednesday, NASCAR's reigning rookie of the year, Joey Logano, stops by to chat about this weekend's Brickyard 400, which airs Sunday at 1 p.m. ET on ESPN.
Logano currently sits in 19th place in the Sprint Cup standings, nearly 200 points out of the Chase. In just his second year racing full time in the Sprint Cup series, Logano has made a big impact. He became the youngest race winner in Sprint Cup history when he won at New Hampshire last year. He had already become the youngest driver to win in the Nationwide Series in 2008.
After taking over the No. 20 Toyota car in 2009, Logano has earned 13 top 10 finishes and one pole win.
Send your questions now and join Logano Wednesday at 1 p.m. ET!
More Special Guests: Previous chats | SportsNation
Joey Logano
(12:59 PM)
Hey guys, what's up?
Shawn (Gastonia, NC)
Hey Joey! Which of the seven pre-Chase races do you look to capitalize on? Which do you want to just survive?
Joey Logano
(1:00 PM)
I feel like we can capitalize on Indy. Pocono, we should be able to capitalize on. We ran good there. The Glen, we need to survive. We should be OK in Richmond.
Jason (Boston)
If you could change one thing about racing what would it be?
Joey Logano
(1:01 PM)
I'd like to have more of it! I like racing, honestly. What's wrong with it? I'd say more testing last year, but it's all good now.
Ken (NJ)
What's it like driving for Joe Gibbs? Does he ever give inspirational speeches that you would hear in a football locker room?
Joey Logano
(1:02 PM)
It's cool racing for him. He's a great guy. It's cool running for someone who's won championships in multiple sports. He does give inspirational speeches every once in a while if you have a bad day. It keeps your confidence up. He's a good motivator.
Paige Nash (Corbin ky)
If you could meet one driver, past or present, who would it be?
Joey Logano
(1:03 PM)
I've met a lot of them, but Dale Earnhardt would have been cool to meet or race against.
Neenah (Charlton, MA)
Hey Joey! Do you feel like you have a change to make the chase despite your 108 points away from the final spot? I'm saying you definitely can. Love you much and remember to keep it real!
Joey Logano
(1:04 PM)
Yes I do. I feel like it's getting tougher and tougher every week. I feel like we can't afford to have a bad race, and finish with a strong run.
Mike (Cincinnati)
What's the biggest challenge Indy presents for you?
Joey Logano
(1:05 PM)
The biggest challenge is passing. Qualifying is huge. It took me all day to finish 12th last year, so it goes to show how hard it is.
Brianne (NS)
what is your favorite kind of music, and favorite musician/band ?
Joey Logano
(1:05 PM)
I like all kinds of music. Sometimes it's country, sometimes it's rock. I like Billy Joel a lot.
anthony leandro (manteca,california)
what video games do you play,joey?
Joey Logano
(1:06 PM)
Luckily, one of my sponsors is GameStop. Usually it's either hockey or racing games, iRacing. That's about it. Mostly sports stuff.
Jay (Miami)
I always wondered how you feel after a long race. Meaning is it actually a workout for your body because of the friction and G forces, etc. How does it compare to working out(running/lifting)?
Joey Logano
(1:07 PM)
Different places bring different challenges. If you're in Bristol, it's one of the more physically demanding races because you're fighting g-forces. By the time you're at full throttle, you're off the gas again. Plus the heat is a big deal. Physically, a place like Talladega doesn't kill you, but it does mentally. The heat and being in there for a long time is a big deal in terms of focus.
Austin (Memphis)
Do you like weekends that you run double duty? Or do you prefer running just the Cup race?
Joey Logano
(1:09 PM)
I like running both. I enjoy running Gamestop/Toyota. I'm a racer, so I like to race. Cup cars, Nationwide cars, it's all good.
Deanna (St. Petersburg)
I just started watching Nascar racing last year and you are my top driver I have noticed a difference in the way you've been driving...Do you think that you have become a little aggressive in your driving skills
Joey Logano
(1:10 PM)
There are times when you need to be aggressive, but there are times where you need to have some give-and-take out there. That's something I've learned a lot the past few years.
Joey (Charlotte)
What kind of car do you drive on the street?
Joey Logano
(1:11 PM)
I drive a Toyota FJ Cruiser, which I love, and beat the living crap out of. It's still going, so that's impressive. I have a Tundra that I bomb around in. I made one of my old race cars, my ASA car, street-legal, so that's fun to drive around. I get a lot of looks in it.
Gary (NFLD)
What's it like having Zippy as a crew chief?
Joey Logano
(1:12 PM)
Zip's good to work with. Our relationship has definitely grown over the past few months. We've learned a lot about one another--what I want in a racecar and what he needs from a driver, so we're definitely picking it up. He's a good guy who's been there a long time with a lot of experience.
Mary (ON)
Which driver have you learnt the most from in Cup?
Joey Logano
(1:14 PM)
Obviously my teammates have helped me out a lot, just from talking to them and being close to them. Mark Martin has helped me a lot in my career, at the Sprint Cup level and before. He's there to give me advice all the time.
Sabrina (Chicago)
Joey, why are you afraid of heights? Will you ever go sky diving?
Joey Logano
(1:15 PM)
I am not afraid of heights as much as I used to be. I've gotten over it a little bit, but I'll never jump out of a perfectly good airplane, unless I absolutely have to.
Stephanie (Connecticut)
Would you ever consider racing in another racing series, such as Indycars or Formula 1?
Joey Logano
(1:15 PM)
Not right now. I'm happy running NASCAR and it's a great series. I've raced stock cars my whole life and it's what I know. But I'll never say never, because you never know.
Mike (Nijmegen, Netherlands)
Was it difficult for you to switch from the lower ranks where you won everything to Sprint Cup series where the competitors are so competitive it's even hard to win one race a year?
Joey Logano
(1:16 PM)
It was tough. It was definitely a rude awakening to see how tough it was and how good those guys are. These are the best drivers in the world racing every weekend together. It's more gratifying when you do win.
Connie (Orlando)
How fast would you be willing to go if they lifted a lot of the restrictions.
Joey Logano
(1:17 PM)
As fast as I can! The fastest guy wins, so as fast as I can.
Sabrina (Chicago)
Joey, do you think that the feud between Carl and Brad is good or bad for racing?
Joey Logano
(1:18 PM)
For racing, it's part of the sport. Things happen. I wasn't in the cars and I don't know what both guys were thinking. It's frustrating when you feel you're going to win a race and it's taken away, but it is what it is. Fans seem to love it.
Dustin Rossell (Cadillac, MI)
Joey, as a young driver trying to gain respect from all the veteran drivers how hard is it for you to keep racing everyone clean when some of them don't race you clean? It's got to be difficult. By the way, good luck this weekend, you need a great run! Proud to be a Logano fan!
Joey Logano
(1:20 PM)
There's two ways to earn respect out there: by giving respect, or through fear. Different situations take different approaches.
Joey Logano
(1:20 PM)
Thanks for writing in all the questions. I enjoyed talking to you guys. Wish me luck in the Brickyard!