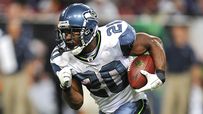 Forsett led Seattle's RB's in receptions in 2009.
Welcome to SportsNation! On Monday, Seattle Seahawks running back Justin Forsett stops by to chat about the upcoming NFL season. He reports to camp on Friday.
Forsett led Seattle in rushing TD's last season (4) and yards per carry (5.4), while also providing the team with a pass-catching threat out of the backfield, leading the team's running backs with 41 receptions.
The Seahawks selected Forsett in the seventh round of the 2008 draft before releasing him just one game into the 2008 season. The Indianapolis Colts picked him up off waivers, but then released him a month later, before the Seahawks picked him up again.
Send your questions now and join Forsett Monday at 4 p.m. ET!
More Special Guests: Previous chats | SportsNation
Buzzmaster
(4:01 PM)
We're getting Justin right now!
Brad (Gadsden,Alabama)
Justin, Do you have any pre-game rituals?
Justin Forsett
(4:03 PM)
Just prayer.
cole (goldendale, washington)
pete carroll said that the players had the offseasons of there lives would you say that is true about your offseason.
Justin Forsett
(4:04 PM)
Yeah, I would say that's very true.
Nathan (Missouri)
Hey Justin, what is it like playing for Coach Pete Carroll?
Justin Forsett
(4:04 PM)
He has a lot of energy. He's an exciting coach.
E.Martin (Brattleboro, Vermont)
Do you and the team feel that a division championship is not out of the question?
Justin Forsett
(4:05 PM)
Definitely. That's one of our goals is to definitely try to take the division back.
Nathan (Missouri)
Hey Justin, what is your favorite hobby outside of football?
Justin Forsett
(4:05 PM)
Bowling, movies and church.
Daniel (Marysville, WA)
With the addition of both Russell Okung and Ben Hamilton, do you believe your offensive line is better than last year?
Justin Forsett
(4:06 PM)
Yeah, I believe that those two guys and just the maturing of the rest of the guys in the system, we'll be better.
Terry (Anchorage, AK)
Justin, do you feel the Seahawk's back field is a little over crowded right now or are you just using the situation as a motivator to prove to the rest of NFL you are truely the #1 back in Seattle right now?
Justin Forsett
(4:06 PM)
No, I don't think it's overcrowded. Coach Carroll's big thing is competition. The best guys will play. That's all you can ask for.
Drew (Seattle)
A lot of improvements and changes have been done in the off season. Talented rookies, new head coach, healthy veterans, so how has the team chemistry been?
Justin Forsett
(4:07 PM)
It's been great. The new coaching staff did a good job of coming in with energy and meshing everyone together. We've been doing well.
CFraychineaud (Federal Way, WA)
Forsett, love how you play the game. What's the funniest thing guys are talking/joking about in the locker room so far?
Justin Forsett
(4:08 PM)
There is so much stuff that goes on. I can't think of any specific one right now, but I would say Deion Branch is the funniest guy in the lockerroom.
Ben Shanley (London, Ontario, Canada)
If your running the ball, and there a linebacker in front of you, would you rather plough him or juke him.
Justin Forsett
(4:08 PM)
I would say I would like to run through him.
peter (sf)
how do you honestly feel about the turnaround in arizona? do you believe the cards can be effective at all?
Justin Forsett
(4:09 PM)
I think everybody's looking good. San Francisco, the Cardinals, even St. Louis has made some upgrades. We'll have to be our best in every game.
Matt (IN) [via mobile]
Has Golden shared any of those maple bars with you? Are they really that good?
Justin Forsett
(4:10 PM)
He hasn't shared any, but they're really that good.
Brodie (Iowa)
Where did you want LeBron to go?
Justin Forsett
(4:10 PM)
I wanted LeBron to stay in Cleveland, just because my father in law is an assistant coach there.
David (Renton, WA)
What area of your game did you focus on the most this off season?
Justin Forsett
(4:11 PM)
Strength and speed.
Rohan (san jose, ca)
Do you miss Berkeley???
Justin Forsett
(4:11 PM)
I just came from Berkeley. Sometimes I do miss it.
Brodie (Iowa)
I see you went to Cal.. have you noticed Coach Carroll doing anything different then his days at USC?
Justin Forsett
(4:12 PM)
It's not weird playing for him now, but we go back and forth with the games we played against each other. Everything that I've seen from him is things I saw from him at USC.
drummerseahawkboy81 (seattle wa)
Justin, why do you think your rating in Madden 11 went down ? Your rating should have went up to an 80 +
Justin Forsett
(4:12 PM)
I would have hoped that it went up, but I have more to prove.
chris (IN)
what are your impressions on mike williams during this offseasons OTAs? does he look like a good contender for a starting job at wide receiver?
Justin Forsett
(4:13 PM)
Mike Williams looks great. He's doing well. He's jumping high and catching passes. He's doing everything that coaches ask him to do.
David (Renton, WA)
What do you think about the Dez Bryant situation when he didn't take williams pads?
Justin Forsett
(4:14 PM)
When you're a rookie, it's best to probably come in as humble as possible.
Tou (MN)
Justin. . .u gonna start? my draft is this friday man. ps. carry any pads lately?
Justin Forsett
(4:14 PM)
Please put me on your team.
Brodie (Iowa)
Who do you try to pattern your game around?
Justin Forsett
(4:14 PM)
There's no guy in particular. It's a combination of a few people.
Ryan (NY)
How's your relationship with Leon?
Justin Forsett
(4:15 PM)
It's a great relationship. We met each other in college. He was in college and I was a senior in high school at a Florida State camp.
AZ (Minny)
What's your typical week like during the season? How many hours do you put in to everything? 40 hour weeks like us? 80?
Justin Forsett
(4:16 PM)
I don't know what the schedule will be like with the new coaches, but normally we're there 8-5.
brian (seattle)
Justin, What is the loudest stadium you have played in? other than Quest Field of course (BTW lets get that place rockn this year and more false start penatlies)
Justin Forsett
(4:16 PM)
I would say Minnesota.
AZ (Minny)
What's the best thing about living the dream in the NFL?
Justin Forsett
(4:17 PM)
I think that the game days, the people that you meet.
John Huston (wilmington, ohio)
I was wondering how tj has had an impact on the seahawks?
Justin Forsett
(4:17 PM)
He's one of our leaders on the team.
AZ (Minny)
Justin, I lived in Seattle for a few years. Have you gone to Aladdin Gyrocery by UW? If you like gyros, it's a must!
Justin Forsett
(4:19 PM)
I have not had that experience yet. I'll have to check it out.
David Heng (Renton,wa)
First of all I want to say is i can't wait to see you in action every Sunday. It seemed like to me last year you improved your overall game really well. I want to know what was in your mind the area of your game you wanted to improve this off season?
Justin Forsett
(4:20 PM)
I think I did pretty well. I want to make sure I'm getting better every year. I want consistency.
Justin Forsett
(4:20 PM)
Thanks for all the questions. Hope to see you guys out at some of those games.