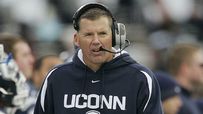 Edsall is in his 12th season at UConn.
Welcome to SportsNation! On Thursday, UConn football head coach Randy Edsall stops by to chat about the upcoming season.
Edsall enters his 12th year as UConn's head coach, including eight or more wins the last three seasons. He led UConn's move from I-AA to I-A and the Big East. He also helped the Huskies win their first ever bowl game - a Motor City Bowl win following the 2004 season. Overall, UDonn is 3-1 in bowl games.
Edsall began his coaching career under current New York Giants coach Tom Coughlin. Edsall coached with Coughlin at Syracuse, Georgia Tech and the Jacksonville Jaguars.
Send your questions now and join Edsall Thursday at 1 p.m. ET!
More Special Guests: Previous chats | SportsNation
Randy Edsall
(1:01 PM)
I'd just like to say hello to everybody. Glad you're on the chat and I look forward to spending time with you.
Ian Bethune (Newington, CT)
As a lifelong UConn fan, could this be the year that the UConn goes to a BCS game.
Randy Edsall
(1:02 PM)
Our goal each and every year is to be able t win the Big East championship which would put us into a BCS bowl game. We feel good about our team coming back. If we can play to our capabilities and stay healthy as a team, we have as good a shot as anybody to win the Big East, which would accomplish our goal of getting to a BCS game.
Michael (West Hartford, CT)
Will the 2010 Husky defense continue the blitzing philosophy that it adopted in the bowl game last year? It really seemed to mask some of the deficiencies in the young secondary. Fight on, Connecticut!
Randy Edsall
(1:03 PM)
I feel good about our athleticism on defense. We are a year older on defense, and what we will continue to do is do what our players do best. Based on the scheme we're playing, we'll determine how much pressure we'll play during the game or during the season.
Rob Lambrecht (New Britain)
Who is your team to beat this year in the Big East?
Randy Edsall
(1:03 PM)
All of them.
Chris (Seattle)
What's it going to take for the Huskies to beat UM in the Big House in the opener?
Randy Edsall
(1:04 PM)
It's going to take a offense that will score points, a defense that will eliminate big plays against and control the spread offense of Michigan, and a special teams that will create field position and make some big plays for us as well.
Rodney (New York City)
I know the schedule is set by the AD but is there a team outside of the Big East that you would like to start an annual series against?
Randy Edsall
(1:05 PM)
Yes, Boston College. I think that us playing Boston College would be a great thing for northeast football, and one that could be a big hit. I would like to see that game played in Gillette Stadium, see the tickets split 50/50, and have some kind of trophy go to the winner of that game. I'm sure the World Wide Leader would love to put it on TV.
Matt (Brookfield)
Coach, what's the status of Greg Lloyd's knee injury from last year? Will he be able to play this year, or will he redshirt?
Randy Edsall
(1:06 PM)
Greg is progressing with his rehabilitation. I will make a decision after practice starts, in terms of what we will end up doing with Greg. If Greg would be able to play and know that he will not have any kind of issue, he will play, but if I feel it will be in our best interest to redshirt him, we'll go ahead and do so.
Rigidy (Hartford)
Any freshmen that you are particularly excited to see out on the field this season?
Randy Edsall
(1:08 PM)
It's gonna be difficult, I think, for our freshmen to get some playing time this year, based on the number of veterans that we have returning to our team. There are still a few positions where we need to have some depth, and some freshmen could contribute. If you take a look at our depth chart, we need depth at DB and LB, and if there are any freshmen who display their talents during August that would show they're better than other people we have playing, we'll go ahead and use them if we feel their contribution will be of significance to us.
Mark (NYC)
Hey Coach Edsall, great to see you get a chance to talk with us. What do you see as the Huskies' biggest challenge to overcome this season?
Randy Edsall
(1:09 PM)
The biggest challenge is to always make sure you understand that this season is a new season. Even though we finished with four straight wins in 2009, we have to understand that 2010 is new, and we have to have more intensity and better production in all phases of the game to achieve our goals that we need to achieve this year.
BigIrishPotato (NJ)
How do you think Donald Brown will do this year in the NFL?
Randy Edsall
(1:10 PM)
I think Donald will have a good year. The Colts used him in a way to get him comfortable in his rookie year, and Donald being the intelligent young man that he is, has benefited from that. He is hungry and eager to have a better year this year.
john (branford ct)
Coach, How do you keep the preseason accolades from going to the players heads?
Randy Edsall
(1:11 PM)
We constantly tell our players that games are decided through preparation and what you do on the field, not in terms of praise heaped upon you. They understand that you're only as good as your last game. We don't have any games with this team yet. Our first game is our most important yet, and how we do will be determined week-to-week, not on what people write about us.
John (New Canaan)
Coach, I know you can't comment on unsigned recruits specifically, but how do you feel recruiting as a whole is progressing for the 2011 class?
Randy Edsall
(1:12 PM)
I think we've got a good start in our recruiting for 2011. We'll continue throughout the year, and then into the winter, culminating on the first Wednesday in February. We won't have many scholarships to give this year, so it won't be a particularly large class.
Larry (New Jersey)
What was the best part of beating Notre Dame last year?
Randy Edsall
(1:13 PM)
The best part was to get the pressure off the shoulders of our players after going through the tragic loss of Jasper Howard, and the team getting a win for him and his family to honor him in such a way that we saw fit.
Hayden (Logan, Utah)
what do you say to people who think the big east is weak?
Randy Edsall
(1:14 PM)
I say, look at our non-conference schedule. Look at our bowl records over the last few years. From top to bottom, the Big East is as strong as any conference in the country, when you look at the eight teams and how competitive it is each and every week.
Joe Hanson (Manchester, CT)
How do we turn those narrow losses last year into wins this year?
Randy Edsall
(1:15 PM)
We have to finish games and make sure that when the opportunities arise, that we make the plays we have to make, offensively, defensively, and on special teams, to be able to secure the wins.
Ryan (Sanford, ME)
Coach, what are you most looking forward to in this upcoming season?
Randy Edsall
(1:16 PM)
I'm really looking forward to seeing how this team goes out and plays. I'm very excited about this team and the experience and leadership that I've seen out of them since January. I see a team that is extremely focused and hungry to achieve at the highest level this year. I just want to do everything I can to help them obtain the goals we have set for our team this year.
Randy Edsall
(1:17 PM)
I appreciate all the questions today, and all the support from UConn Husky fans as well as college football fans. It's great that football season is right around the corner. I as well as you am excited to get the season started!