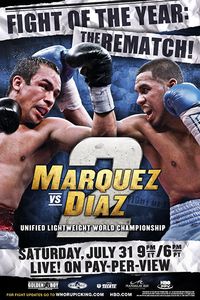 Welcome to SportsNation! On Tuesday, we're going inside the boxing ring when we have Daniel Jacobs stopping by to chat about his WBO middleweight title fight.
Jacobs (20-0, 17 KO) fights Dmitry Pirog (16-0, 13 KO) for the vacant WBO title belt from the Mandalay Bay Resort & Casino in Las Vegas Saturday at 9 p.m. ET/6 p.m. PT on HBO PPV. Jacobs-Pirog is an undercard to the Juan Manuel Marquez-Juan Diaz lightweight title fight rematch.
Jacobs has gone the distance in just two of his last 10 fights. The fight is his first major title fight. He last fought in May, knocking out Juan Astorga in the second round.
Send your questions now and join Jacobs Tuesday at 3 p.m. ET!
More Special Guests: Previous chats | SportsNation
Buzzmaster
(3:02 PM)
Daniel Jacobs will be here shortly to take your questions!
Buzzmaster
(3:06 PM)
Daniel is here!
Matt (Brooklyn)
Hey Danny. Pirog has gone 12 rounds before and you haven't. How big of an advantage is that? BTW, think you'll be wearing the belt after 8 round.
Daniel Jacobs
(3:07 PM)
I wouldn't think it's a big advantage, mentally. It's a small advantage if any at all. It could be a confidence booster. But physically, I am ready. I don't think it's that big of a deal.
Brendan (Cherry Hill)
Daniel, Do you think you will be a middleweight for a longtime or could you see yourself moving up to 168 when the time is right?
Daniel Jacobs
(3:08 PM)
Well said. When the time is right. I don't see any rush now. I'm still young. I'm still an up and coming fighter. I want to take my time and move up when it's right. I want to move up and make history. I want to make the hall of fame one day. I want to be a well known fighter that dominates.
Will D (Cumberland, RI)
My condolances for your loss. I'm sure with a heavy heart there will be more motivation to win this title for your grandmother. Best of luck!
Daniel Jacobs
(3:09 PM)
Yeah, it will be more motivation. I know my grandmother will continue to follow my dreams. I know she wants that for me. Her funeral is this Sunday, so right after this fight, I will go see her for my final goodbyes.
Daniel Jacobs
(3:09 PM)
I want to be able to bring her that belt. This fight is really a big deal for me.
Jake (Richmond)
Has it been difficult to handle getting recognized in public, due to all the hype you are building in boxing? I met you in the Richmond, VA airport and you were cool to talk to and pretty down to earth.
Daniel Jacobs
(3:10 PM)
I remember you, actually! It was about a month ago or two. I appreciate that. I just want to be what I can be. I want to go out there and do the best I can do. I don't want to do anything else. I want to make sure my family has a future. I'm comfortable with that.
Courtney Jackson (Lindenwold, NJ)
How often do you train per week?
Daniel Jacobs
(3:11 PM)
I train only two days....just kidding. I train every day except for Sunday. That's my rest day, though I might go for a run. Right before the fight, we will take it down and just stay toned.
Jonno (Adelaide)
How much preparation into your training do you put into the analysis of your opponent leading into a fight?
Daniel Jacobs
(3:12 PM)
Just the sparring. That's pretty much it. We have a gameplan that we want to execute. I have three sparring partners that emulate his power, speed, movement. That's the most important area that you want to mimic of your opponent.
Earn (Bay ArEa)
You've had the honor of fighting on various PPV undercards but is there a part of you that wishes you could develop more of a hometown following in New York like a Cotto,Diaz and Ward have.
Daniel Jacobs
(3:13 PM)
That's always in the back of my mind. But our team has a plan for me. The plan in the beginning of my career was to get me out into the public, to the fans and let me show my skills and then bring me back to New York, where my fans want to see me. Hopefully I can be a world champion on a main event card back in the new building in Brooklyn.
William (Brooklyn)
Good Luck Danny! How important is it for you to be the next great champ from Brooklyn, which has produced guys like Tyson, Bowe and Judah and so many others?
Daniel Jacobs
(3:14 PM)
It's very important. If you're a good amateur, then the pressure started early. But it's not pressure. You just have to know that people want you to do your best. My Brooklyn people want me to be the next thing. I want the same thing. On my down days, I think about stuff like that. I think about how many people want me to do good and it pushes me to work harder.
Hugo (Fort Lauderdale)
Who is the hardest puncher you have faced thus far and, without giving away the gameplan, how do you plan on imposing your will/style of fight on Pirog?
Daniel Jacobs
(3:16 PM)
The fans haven't really seen a lot of what I'm actually capable of doing. This fight will show that I can pull a lot of things out of my sleeve. Those things will force him to go to Plan B or Plan C. The guys that he's fought have been of lesser talent and don't match up to mine. He's going to be shocked. If I'm shocked, I have a gameplan that I can go to, Plan B, C, even D.
panchito (porterville,ca)
who do you have winning saturday marquez or diaz ?
Daniel Jacobs
(3:17 PM)
Well, I don't really like to pick fighters to win. Marquez is very confident and he has the experience from the last fight. I just hope it's a good fight.
Henry (Northampton MA)
Who was the toughest opposition of your career so far?
Daniel Jacobs
(3:18 PM)
Between Walker and Smith. Those probably would be the toughest I have had. I learned a lot from them. And I have learned a lot going through this fight.
brian (ct)
whats the thought in your world about the mayweather-pacquiao? if two guys want to fight, is it really that hard to make it happen?
Daniel Jacobs
(3:19 PM)
My personal opinion is that it isn't that hard. If they really wanted to fight, there wouldn't be anything to stop them. But there is also a lot of pride and testosterone in there. I've heard that Mayweather wants to split things 60-40, but they're both good fighters, so it should probably be 50-50. I don't know why they're doing what they're doing, but I'm a big fan of both of those guys. No matter what happens, they'll have a big fan in me.
Ali MacDonald (Glasgow, Scotland)
Hi Jacob, good luck with your upcoming fight. I was wondering which boxers inspired you to take up the Sweet Science ?
Daniel Jacobs
(3:21 PM)
Yeah, Roy Jones. He was my idol. That's the guy I looked up to. Even when I wasn't boxing, that was a guy that I said was cool and I liked his style. You never knew what he had up his sleeve. In the beginning, I kind of emulated him and picked up on some things, but I slowly grew to develop my own style and do things that worked for me.
Daniel Jacobs
(3:22 PM)
Thank you to all my fans. Hopefully I can make more July 31. You can reach me at Twitter: @danieljacobstko. Keep supporting me. Hopefully, I will give you a reason to continue to support me on July 31.