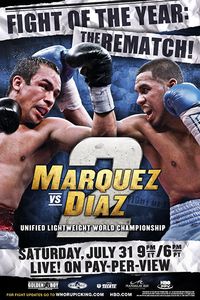 Welcome to SportsNation! On Thursday, we'll go inside the boxing ring when legendary boxing writer Bert Sugar stops by to chat about Saturday's Juan Diaz-Juan Manuel Marquez fight on Saturday.
Diaz (35-3, 17 KO) takes on Marquez (50-5-1, 37 KO) for Marquez' WBO lightweight belt. The fight will be live from the Mandalay Bay Resort & Casino in Las Vegas Saturday at 9 p.m. ET/6 p.m. PT on HBO PPV.
Sugar has written over 80 books and from 1979-83 he served as editor-in-chief of The Ring. Sugar also, according to his bio on HBO.com, founded Fight Game magazine in 1998. Sugar has also appeared in a few movies, including recently in "Rocky Balboa," the final chapter of Sylvester Stallone's Rocky boxing movies.
Send your questions and join Sugar Thursday at 1 p.m. ET!
More Bert Sugar: Chats | Search | Boxing index
Buzzmaster
(1:01 PM)
Bert is here!
Bert Sugar
(1:02 PM)
In spite of the fact that we do not have a Pacquiao-Mayweather fight coming up, this is one of the best ones we can even think of, a repeat of the best fight last year Diaz-Marquez. As a boxing fan, I am excited about this one.
Bert Sugar
(1:02 PM)
How about you?
melissa (sealy)
if juan diaz fights the way he says he is going to fight whats the outcome going to be
Bert Sugar
(1:03 PM)
Well, it's not just what he says, Melissa, it's if he can put his gloves together to block uppercuts, which seem to have been his downfall in his first fight with Marquez. He has a habit of just ducking down, unseen with his gloves apart and Marquez picked him apart. If he can keep his gloves together, he has a chance. If he doesn't, he doesn't.
Andrew (PA)
Will the superfight that everyone is waiting for give boxing a big enough boost to be in people's minds again or is MMA destroying what is left of what is boxing now?
Bert Sugar
(1:07 PM)
First of all, it's not losing fans to the MMA. What I'm afraid of is not immediately, but down the line, say 5-10 years, people will not have a major fight to look back on and remember, as some do the Ali-Frazier fights, the Hearns fights, or any one of a lot of the Tyson fights. In 5-10 years, the younger fan will have nothing to hang his hat on (sorry I brought up hats). We will lose those fans then, not now. All that said, I'm still waiting for Mayweather, who is posing as a Hamlet in boxing trunks, saying to fight or not to fight that is the question, to step up and take the fight. His claim to be the best fighter because he's never lost does not make him great. You just have to remember the group of fighters in the 80s, all of whom fought each other and didn't duck anyone. Right now, it looks like Mayweather is ducking Pacquiao, true or not. He's asked for blood tests and everything else. Let him get in the ring and prove he's the best, not just claim it.
Marc (Charlotte)
Bert, if money is the issue holding up Mayweather-Pacquiao, why don't they make a deal where whomever wins gets the bigger split of 60-40?
Bert Sugar
(1:08 PM)
That's not the way it's done, but if it takes it to get it done, fine. Why don't you talk to Mayweather, no one else seems to be able to.
Benjamin Ruiz (Birimingham, AL)
Do you think that Marquez can knockout Juan Diaz again.
Bert Sugar
(1:09 PM)
I think anything is possible with these two. You have to understand that Marquez has a harder punch, having scored 37 KOs in 50 fights. The question I have about Marquez is his age, he's two months shy of 37, his being ring worn and his not having a fight in a while. However if there's a KO, I give it to Marquez. Then again, as I've pointed out many a time, I picked Japan in WWII, but I had 7.5 points.
Chris (Newark, NJ/Puerto Rico)
Is Bob Arum making a huge mistake in matching Margarito against Pacquiao?Margarito always applies constant pressure and Pacquiao does night fight well moving back (that's part of the reason Marquez had much success against him).If Margarito wins, the superfight is out the window. Even his Pacquiao wins, he HAS to sell at least 1 million PPV's to ask for a 50-50 with Mayweather.Is the Margarito a lose/lose situation for Arum and Pacquiao?
Bert Sugar
(1:10 PM)
I think it's a good fight, not the great fight we were waiting for, but I would have rather seen Marquez v. Pacquiao for a third time. As for Margarito, yes, he applies pressure, yes, he hits hard, but he swings so wide that he could be the perfect setup for Pacquiao.
Bert Sugar
(1:10 PM)
I think what this match in Nov. is that Pacquiao was waiting for Mayweather, who is probably waiting for bailout money from the government before he fights.
Hayden (Logan, Utah)
what is the best drink to wash down a cigar?
Bert Sugar
(1:12 PM)
A good, good scotch is the best complement to a good cigar. And you have no idea how much wisdom is in the bottom of an empty scotch glass.
Benjamin Ruiz (Birimingham, AL)
If Juan Manuel Marquez win will he go on and face Amir Khan or Possible somebody else in the Jr. welterweight class like Alexander
Bert Sugar
(1:13 PM)
Marquez feels he's at his proper weight now, having already ballooned up to take on Mayweather, which was not a winning effort. He feels comfortable fighting at the right weight level. But given the chance, he might move up one, as opposed to two, classes. I don't think Khan is on the radar. He's being very protected by his promoter.
Tone (Geneva NY)
Hi Bert, What will your predication be if Trinidad was at 147lbs in his prime you think he will give anyone problems right now?
Bert Sugar
(1:14 PM)
Trinidad was one of the greatest punchers I've seen, but his balance was always suspect. He even crossed his feet and was knocked down by a jab. Still, with the power he had, in his prime, he would give anybody problems at 147.
courtney jackson (Lindenwold, NJ)
Which fighter you want to see win this weekend between marquez and diaz?
Bert Sugar
(1:15 PM)
It's tough to ask a writer whom he would prefer winning, since we check our prejudices and preferences at the door. That said, a win by either would liven the sport. Marquez to move up and challenge others or Diaz to become a major force again. So, if I were rooting, which I'm not, I would come down on both sides, whomever wins, as long as it's a good fight.
Dave (Boston)
What do you think of Jacbos? Good undercard fight?
Bert Sugar
(1:17 PM)
For the first time, I can honestly say I've got a good undercard. I'm so tired of watching terrible co-features and semifinals that turn off, rather than on, fans, that I applaud what I have for this fight. I have three excellent fights: Jacobs-Pirog, Guerrero-Casamayor and Linares-Warez. Three fights with six fighters who between them have 155 wins and 12 loses and 108 KOs. This is one undercard, finally!, that I can tout, rather than tossing my way around answering.
Hayden (Logan, Utah)
were you ever a trainer? you sort of remind me of rocky's trainer, in a good way.
Bert Sugar
(1:18 PM)
What's not to have liked about Burgess Meredith? He was one of the greatest actors around and no one remembers his role other than in Rocky. I was never a trainer, just an observer and an amateur boxer. If that sounds like a boast, my nickname was "The Great White Hopeless."
Bert Sugar
(1:19 PM)
I barely won more than I lost in the amateurs, although Muhammed Ali let me spar with him and I got my butt whoopped.
Steve (Dallas,TX)
Why no mention of JMM and PAC 3? Will this fight ever happen and how did you see the first two fights?And what do you think the outcome of a 3rd fight would be?
Bert Sugar
(1:21 PM)
JMM gave Pacquiao two of his toughest fights. In the first he was knocked down three times and got up three times and came back to fight to a draw, which many thought he won. In the second match with Pacquiao, Marquez lost a split decision, which many people thought he won. A third would be a great end to the trilogy. Right now, Bob Arum seems content to match him with others from his stable. I would like to look forward to a Marquez-Pacquiao fight. But Pacquiao is now fighting two classes above and Marquez might have the same trouble he did with Mayweather.
kevin (milwaukee)
Do you have any of the top P4P guys in your top 100 all time?
Bert Sugar
(1:23 PM)
Kevin, the answer is no, because I believe that you can not judge a fighter in anything less than his prime. For many of the fighters today, I don't know if they are at their prime, having come to their prime or past their prime. If you consider the fact that they're active, the only two "active" fighters that I have in my top 100 are Holyfield and Hopkins. Both are past their prime and don't know the word retire. (Of course, I don't know the word retire, either - or about 100 other words. My son, when asked when his father, me, was going to reture, said "let me get this straight, he smokes a lot, drinks a lot and BS's a lot and gets paid for it. What's he going to do if he retires? Smoke a lot, drink a lot and NOT get paid for it?")
Stephen (Tulsa)
When can we expect another book from you?
Bert Sugar
(1:26 PM)
Funny you should ask that...I have now a new book out now "The Baseball Maniacs Almanac." A book on baseball yes, another of my favorite sports, and has everything a baseball fan never wanted to know, including, players traded for themselves, most home runs by zodiac signs and players born on February 29. In the fall I have another book coming out with Tedy Atlas called "The Ultimate Book of Boxing Lists," which has 100 lists like "best footwork," "most devastating KOs," "most disappointing heavyweight championship fights," "greatest punchers," and several others which will only inspire, I hope, discussion, arguments, and nasty letters. But look for it in the fall.
bobby (philippines)
bert,can you name someone who you want manny pacquaio to fight ,other than floyd?
Bert Sugar
(1:27 PM)
I think Pacquiao only wants two more fights until he goes off into the dust and the Phillippine legislature. Floyd would be a good one. Marquez would be a good one. But he's running out of opponents, having retired many of them. I still hold out hope that it's Floyd. Can someone please get me his phone number so I can make that fight work?
Bert Sugar
(1:28 PM)
It would be the most anticipated fight since Leonard-Hearns 40 years ago.
Mike C. (Portland, Or.)
What's your fight of the year for 2010 so far?
Bert Sugar
(1:28 PM)
Good question. Well it sure as heck isn't any Klitchsko fight.
Bert Sugar
(1:29 PM)
Gang, this has been fun, as always. I always enjoy talking with you. I always enjoy your questions and almost enjoy as much my answers. I look forward to doing this again. It's been fun. -Bert