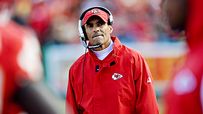 Edwards served eight seasons as an NFL head coach.
Welcome to SportsNation! On Monday, former NFL player and coach, and current ESPN NFL analyst, Herm Edwards stops by to chat about the upcoming season as well as being the keynote speaker at the sixth annual MEAC/SWAC Challenge presented by Disney on Sept. 5. The game pits Southern against Delaware State and fans can vote on the Walter Payton Award winner from each team.
Edwards spent 10 seasons in the NFL as a player before entering the coaching ranks. He served 14 years as an assistant coach before spending eight years as a head coach of the New York Jets and Kansas City Chiefs.
Edwards joined ESPN in March 2009 as an NFL studio analyst, primarily appearing on NFL Live, SportsCenter, and ESPNEWS. Edwards also contributes to ESPN's NFL Draft coverage and offers analysis on ESPN Radio and other platforms throughout the year. This college football season, he will provide commentary during some of ESPN's SEC broadcasts.
Send your questions now and join Edwards Monday at 2 p.m. ET!
More Special Guests: Previous chats | SportsNation
Buzzmaster
(2:00 PM)
Coach should be here shortly! Send in your questions!
Buzzmaster
(2:02 PM)
Coach is here!
Stacy (Florida)
How did you become involved with the MEAC/SWAC?
Herm Edwards
(2:03 PM)
Obviously, this is the 6th annual Challenge and ESPN is covering it. They asked me if I wanted to speak and I said I would be excited to do that.
Joshua (B)
So wondering...what's the most important lesson you try to get your athletes to learn? especially for the ones in college?
Herm Edwards
(2:04 PM)
To understand what their priorities are. We make a big deal about it but we lose perspective on it at times, they are student-athletes. If you're taking care of business in the classroom, you understand your priorities.
Jay (Chicago)
Herm, I was watching you on SC with the four Pac-10 QBs and I couldn't agree with you more on your rules to success in the NFL! Your midnight curfew and one of everything rules are SO true. Whenever you see a report of an incident where a player violated one of those two rules, don't you just want to go to him and shake him? So much trouble for these young men could be avoided if they just don't stay out until 2 a.m., don't you think!
Herm Edwards
(2:05 PM)
I agree. History seems to repeat itself, whether it's good or bad. You just don't want to be on the bad side of it.
Lawrence (Charlotte)
Why is it that people tend to overlook HBCU football?
Herm Edwards
(2:05 PM)
Scouts don't. The problem with it is the recognition and the TV exposure. With ESPN and the Challenge, it's great. There are a lot of good players coming out of there. I played with some and coached some also.
Kyle (VA)
Coach, it looks like you have such a good time on TV. Do you enjoy just talking football all the time more than coaching it?
Herm Edwards
(2:06 PM)
Well, the best enjoyment you have is playing. Nothing replaces that. But I'm enjoying giving something back to the fans, in terms of a former coach and player. There's a lot I've learned in over 30 years.
Wilson (San Diego)
Coach, I love when you come on SportsNation TV show. How much fun do you have working with Beadle and Colin?
Herm Edwards
(2:07 PM)
It's a lot of fun. It's a fun show. We don't take ourselves too serious. They have a good following there.
Marvin Taylor (Seattle)
Who is your dark-horse favorite to win it all this season?
Herm Edwards
(2:07 PM)
My dark horse favorite? This is one thing you realize that right now there are a bunch of favorites. I don't do that. I'll let Vegas figure it out. I need to see them play.
James (St. Louis) [via mobile]
Should Bradford start Day 1 for the Rams? And besides Stephen Jackson, what do u think of the supporting cast around him?
Herm Edwards
(2:08 PM)
If he's ready, as far as playbook wise, I think you do. He is going to be the face of the franchise. The only way you learn is to play. Troy Aikman did it. Peyton Manning had to do it. they weathered the storm and became very good players in our league.
Kevin (Simsbury, CT)
Herm, Would love to hear your thoughts on the Bengals adding T.O. to a locker room already filled with colorful personalties. Will Chad and T.O. feed off eachother, or will their characters clash and bring down the team?
Herm Edwards
(2:09 PM)
I would love to have some popcorn and sitting in the lockerroom after practice.
Greg (RI)
What's going to be the one big thing you want to impress on the athletes who will be listening to you speak?
Herm Edwards
(2:10 PM)
I would say the importance of playing for the university and there's a lot of history in playing black college football. Don't lose sight of that.
Shane (Viracon) [via mobile]
Coach I want you to know Im a huge fan of yours and Ive always admired your leadership skills. Who were some of your mentors as you were climbing up the coaching ranks?
Herm Edwards
(2:10 PM)
For one, obviously one of the coaches was Dick Vermeil. Tom Landry. And Tony Dungy.
Amber (Taylor)
How can the HBCU student-athletes get the same look on the next level as those at the more prominent institutions? They no doubt have great talent.
Herm Edwards
(2:11 PM)
National wise, yes, more coverage. Draft wise, there are always scouts covering them.
Herm Edwards
(2:11 PM)
ESPN has done a good job of the coverage part.
Bryan (Springdale)
Herm, do you find fantasy football to be a positive or negative for the game? I think it drives interest, though I don't see how someone could root for a player from a different team than their team they pledge allegiance too!
Herm Edwards
(2:12 PM)
Any time fans are involved in football, it's a good thing. I don't actually play it. I've got too much to worry about. But the fans enjoy it and that's good.
Kevin
How excited are you to do some SEC games?
Herm Edwards
(2:12 PM)
Very excited. It's a great brand of football. The SEC has a lot of good players coming out of there. I'm excited to be a part of it.
Matt (IN) [via mobile]
Herm, can you comment on your appearances in DJ Steve Porter's videos? I think you come off well.
Herm Edwards
(2:13 PM)
I did not. I just got a cell phone 2 years ago when I started working for ESPN. Just a few months ago I started on Twitter. As far as looking that stuff up, I'm not good at it.
Brett (San Antonio, TX)
Who would you feel you could stop easier....Chris Johnson or Adrian Peterson?
Herm Edwards
(2:14 PM)
Oh boy. It hurts more when you try to tackle AP. You're embarrassed more when you try to tackle Chris Johnson.
Mark U. (Dryden, Mi)
For how long can Suh holdout from the Lions before it thwarts his development as a player and a contributor to his team?
Herm Edwards
(2:14 PM)
After a week it starts effecting you because you lose practice time. You lose two practices every day you miss a day.
Sean (Kansas City, MO)
Mr. Edwards, What is your feeling on Jamaal Charles? Can Kansas City make the playoffs?
Herm Edwards
(2:15 PM)
I think they have two great backs. Good combination of speed inside and outside. They're very improved, they're going to play well this year. A lot of those young players are starting to come into their own.
Dave
How much prep do you ahve to do on the college game?
Herm Edwards
(2:16 PM)
I know it, but I'm prepping now. I will get there THursday before the game and watch tape and talk to the coaches.
Greg (Indianapolis)
In your opinion does there need to be rookie pay scale? Some of these contracts are flat out crazy.
Herm Edwards
(2:17 PM)
Yeah, I think that's going to happen. When you pay players that much, it's very difficult for them to ever meet those expectations.
April (Baton Rouge)
So coach...you gonna pick a winner for us? Who you got...Southern or Delaware State? SWAC or MEAC?
Herm Edwards
(2:18 PM)
Oooh. Here's the problem. I know both head coaches, so I hope they both play well. I wish I were there to watch the bands at halftime. I will be doing an SEC game.
Herm Edwards
(2:19 PM)
I'm thankful for the opportunity to be a part of Twitter now, answering fans questions. You're all very knowledgable and passionate. Without them, there is no game.