The Morning Buzz: Wednesday, Aug. 4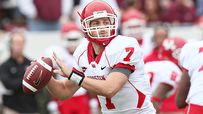 Welcome to SportsNation! We now start your day with a morning dose of Buzzmaster in The Morning Buzz. On Wednesday, we'll have a special guest joining us at 10 a.m. ET when Houston QB Case Keenum stops by to chat about the football season.
Coming into the 2010 season, Keenum has a chance to set several college football passing records. He currently sits seventh all-time in Division I-A for passing yards with 12,950, just 14 yards behind fellow Houston QB Kevin Kolb, and 4,123 yards from breaking Timmy Chang's all-time mark. Keenum and Texas Tech's Graham Harrell are the only two D-I players to have multiple 5,000-yard passing seasons.
It's The Morning Buzz, where you never know what subjects we'll hit. It's your morning water cooler break to get you through your next coffee break.
More From SportsNation: Chat Index | SportsNation Index | PollCenter
Buzzmaster
(9:40 AM)
Going to go get set up for Case Keenum. See you at the top of the hour!
Buzzmaster
(9:59 AM)
We're about to get started with Case's chat here in a couple of minutes.
Buzzmaster
(10:02 AM)
Case is here. Let's get started.
Bill (Friendswood, TX)
What is the biggest thing you've learned from Coach Sumlin?
Case Keenum
(10:03 AM)
Probably just how to become a game manager. Keeping everything in perspective and helping me when things are heated in game situations. Keeping a cool head and making sure not to make any mistakes.
Weston (3874 Holman Street)
Case, who is Houston playing in the Fiesta Bowl in January?
Case Keenum
(10:04 AM)
I guess we'll cross that bridge when we get there.
Amy (Mertzon, Texas)
Case, if you could choose between 1. winning the Heisman trophy or 2. a Liberty Bowl win or a berth in a BCS bowl, which would you choose?
Case Keenum
(10:05 AM)
First of all, tell Will and Alexa hi. How about getting into the BCS and winning or winning the Liberty Bowl. One of those two.
Davis (Charlotte)
How many upsets will the conference have this year?
Case Keenum
(10:06 AM)
I couldn't tell you the schedules of a lot of the other teams, but I think our league is extremely competitive. They can play as well as they want on any given Saturday. It's hard to predict, but there will be more than people expect.
Matt (IN) [via mobile]
Case, settle a debate for us: Charcoal or gas for the grill?
Case Keenum
(10:07 AM)
Gas. I've tried charcoal and the burgers taste like charcoal.
Mack (Houston)
How is the offense different now that Jason Phillips is the new OC?
Case Keenum
(10:07 AM)
It's very similar. There haven't been a whole lot of changes. I think the ones we have made have been for the good. We've just evolved and tweaked for the most part. It will be a lot of the same faces and the same production.
Eric (Chicago)
Case, college spread offenses have given QBs a bad name recently (Brennan, Harrel, etc.), how can you be different and be successful in the NFL?
Case Keenum
(10:08 AM)
I'll probably cross that bridge when I come to it. I'm just focused on the upcoming season right now. I'll do whatever coaches ask me to do and be the best player I can be. Whatever that takes, I plan on doing.
Tom (NM)
Case, I loved watching your Houston Cougar offense last year. Who would you say you are influenced by as a QB?
Case Keenum
(10:09 AM)
The Houston QBs that we've had, from Klingler to Kevin. Probably Kevin more so than any other. I grew up watching Troy Aikman and John Elway and recently, probably Drew Brees has become one of my favorites.
Louis (Fredericton, NB)
How do you deal with the expectations? Apart from winning the Heisman, every other possibility would be compared unfavorably to last year
Case Keenum
(10:11 AM)
One thing that we realize that the 2009 season is over and other people may compare us to that year, but we know that we're a totally different team. We realize that this 2010 team has not accomplished anything on the team yet. We haven't caught a pass or made a tackle yet. We know that nothing will be handed to us this year and we have to work hard and earn everything that we get.
Corey (Dallas)
Case will you be taking Ballroom Dancing to channel your inner Matt Leinart this semester?
Case Keenum
(10:12 AM)
No, I will not be taking ballroom dancing. Most of my work will be done in the film room, weight room and practice field.
Sledge (B'ham, AL)
Case, Other than your own stadium, what stadium has been your favorite to play in and which one are you looking forward to this year?
Case Keenum
(10:13 AM)
Favorite to play in would probably be a tie between Oregon and Alabama. This year, it will probably be UCLA, playing in the Rose Bowl. I'm pretty excited about that one.
Joe (Chicago)
What are your feelings on the new 3-4 Defense that you guys are using?
Case Keenum
(10:13 AM)
I think our defense has gotten a lot better. Just from going against them in the spring, I think the changes are for the better. We had points where we struggled against it in the spring. They mix it up and keeping the offense on its toes.
Godish (Chicago)
How far can you throw from one knee?
Case Keenum
(10:14 AM)
I usually don't practice that. Not as far as I can throw on both feet.
Case Keenum
(10:14 AM)
But I'm not JaMarcus Russell.
Steve (Austin, TX)
Case, who do you see as the big challengers to Houston for the CUSA conference title this year?
Case Keenum
(10:15 AM)
The conference is always really competitive. I know that a lot of teams change throughout the year. I think it's hard to say right now. I know SMU is going to be a big test for us. Tulsa is always a competitive game. Southern Miss, East Carolina.
Clay (Charlotte)
Any fun pranks you've played on freshmen this year?
Case Keenum
(10:16 AM)
Most of the pranks come out during camp. I don't do anything too crazy. We leave that up to the offensive line. We'll take water to the pads and put water on the top of the locker so that it comes down on them. We try not to come down on them too bad. Maybe some karokes.
David (Ottawa)
Case, how would you sell yourself to someone who has no idea who you are, or what you bring to the table?
Case Keenum
(10:17 AM)
As far as selling me and the Houston Cougars, I think we're a fun team to watch. I think we're exciting. We move the ball up and down the field. We play hard.
Case Keenum
(10:18 AM)
I definitely suggest watching a Houston Cougar game, because something is about to happen.
Trevor (Houson)
Case, as a fellow Cougar and avid college football fan, I would have to say the most exciting game I have ever seen was the Tech game last year. Do you have any games that stick out in your mind?
Case Keenum
(10:19 AM)
That one definitely sticks out. The Tulsa game from last year. And the year before, probably. Those are two. We've had a lot of fun games. A lot of exciting moments. One of the reasons why you play college football for games like that.
Sammy (Columbus)
Are you at all thinking of the fact that you have a decent chance of breaking the NCAA passing-yardage record?
Case Keenum
(10:20 AM)
I try to not think about that too much. If you try to think about statistics and records, that's the wrong mindsets to have going into games. The most important thing is focusing on winning the ball game. All of that other stuff comes with success on the field.
Case Keenum
(10:21 AM)
I appreciate all of the support. Come check us out at Robertson Stadium this fall. It should be an exciting year. I'm excited to finish out my senior year with the Cougars.
Buzzmaster
(10:22 AM)
Thanks Case!
Vicki (Indiana)
let the Favre talk begin in 3...2...1...
Buzzmaster
(10:22 AM)
No. Not at all.
Neal (Philly)
Now back to the normal trainwreck.
Buzzmaster
(10:23 AM)
I'm walking back from the studio area where we did case's chat.
Buzzmaster
(10:24 AM)
Found my way to the cafeteria. Think I'll chat from here the rest of the time.
Favre (in his Wranglers)
Buzz, go deep, I will pass you one....(waiting)....your out of breath already? We haven't even started?
Marc (Charlotte)
Buzz, is probably tired from walking, ya know cuz he's fat.
Sledge (B'ham, AL)
Buzz, be seroius...you aren't walking. You're on one of those old people scooters.
Buzzmaster
(10:24 AM)
No. Segway.
jillinho (norman)
I'm drinking coffee.
B (Boston)
In response to asking her to make it up, my five year old asked me, "Daddy, what's a friggin' mind?"
Colin (Northern VA)
What was Case in Bristol for?
Buzzmaster
(10:25 AM)
He'll be all over ESPN TV, radio, .com today.
Robbi (Clinton, Ky)
I'll be heading out to the Fancy Farm picnic, Saturday. I'd would love to see y'all there!
J. Russell (Oakland)
I knew that kid couldn't throw that well from one knee.
Brian (Madison, WI)
Get back in your basement corner Buzz.
Cafeteria Worker (Bristol)
Oh crap, he's early. Someone double the food order for this morning.
Nate (Madison)
Robbi, did you say Funny Farm?
Clay (Charlotte)
Thanks for the shout out in the "Overheard" section Buzz.
Buzzmaster
(10:26 AM)
Thanks for asking a good question.
Marc (Charlotte)
Shenanigans, Buzz. You are too fat for a Segway.
tom* (parkville, md)
Dear Brett Favre: Go away already! Your Pal, tom*
Buzzmaster
(10:27 AM)
Careful with writing letters. In this forum, we might all now think that you really want Favre to come back.
Scott (Brewtown)
Good morning! Late again. At least I'm consistent.
Sledge (B'ham, AL)
Buzz's Segway has flat tires.
Ryan (NY)
Have some moreee sloppy joes. I made em nice and slopppy for youz.
Christian (High Point, NC)
FREE NATE!
Steve (Austin, TX)
Buzz, what are you getting at cafeteria?
Buzzmaster
(10:28 AM)
Nothing yet. Just needed a place to sit to finish the chat and there are Laz-Y-boys in the caf lounge.
Scott (Indy)
Buzz, can we have a guest chatter in the cafeteria? Lunch Lady Bertha?
Hayden (Logan, Utah)
at cafeteria sounds canadian
Andy (Olathe, KS)
Steve, Buzz doesn't get anything in particular. He just takes it all, cause you know, he's fat.
tom* (parkville, md)
Just checked the Fancy Farm Picnic website. Looks like fun, Robbi.
Zack (Louisville, KY)
What is he NOT getting?
Sledge (B'ham, AL)
Free Darrell Revis!
Buzzmaster
(10:29 AM)
Revis can free himself any time he wants.
Robbi (Clinton, Ky)
How are those stools Nate?
Hayden (Logan, Utah)
in leiu of a raise, I'll take a desk/bed/clubhouse
Christian (High Point, NC)
Listening to the Dark Knight soundtrack
Nate (Madison)
So of course I put together our stools and they shorted us four nuts (as in nuts and bolts, turds) for each stool. Knew it was going along too smoothly, something had to happen.
David (Ottawa)
Buzz gets the whole menu...wait, back up....lazy boys in the caf? And you people complain I have a flat screen in my office.
Buzzmaster
(10:30 AM)
No, not in the caf, in the lobby before you walk into the caf.
Marc (Charlotte)
Buzz, are you keeping a tally of Gas vs. Charcoal choices of guests?
Buzzmaster
(10:30 AM)
That's a good idea. I should be doing that, shouldn't I?
Scott (Indy)
I saw they had an accident up at the Dells in Wisconsin. Have Nate/Brian ever been there?
Christian (High Point, NC)
For everyone wondering what the perfect gift to get me for my birthday tomorrow is, let me suggest the gift of hope. As I've mentioned in the past, I'm riding this September in the Tour to Tanglewood, a 2-day 90+ mile bike ride to raise money for the National Multiple Sclerosis Society. Every donation helps bring us closer to a cure. http://tinyurl.com/ct-tour2010 Thanks
Andy (Olathe, KS)
David, you have a flat screen in your office? I'm stuck here with a computer chair that is missing a wheel.
Ryan (NY)
eh?
Eric (Chicago)
Wait wait wait, will Buzz get paid for keeping the tally? If not, he needs more pop tarts.
Andy (Olathe, KS)
We'll have to start checking the archives to get a tally. Sounds like some good homework for Buzz after the chat.
Buzzmaster
(10:31 AM)
Sounds like a good procrastination project for one of you clowns.
jillinho (norman)
Why do you even have to go work? Do it all from home. Thet don't know you exist anyway.
jacob (sarasota)
I can't believe someone can make a living by monitoring and wasting time in chat rooms on ESPN.com.
Nate (Madison)
Been to the Dells more times than I can count. The ride she got hurt on is actually one I've been wanting to do. Not anymore.
Buzzmaster
(10:33 AM)
I found out last night that the father of the captain of LadyBuzz's kickball team was one of the workers shot in the shooting at the Connecticut beer distribution center yesterday. LadyBuzz didn't know her that well, but one of her friends did. Weird connection.
JB (TX)
Buzz, does Grant Hill really play the piano in the lobby? Does Tony Romo run the switchboard? We're dying to know!
Buzzmaster
(10:33 AM)
As far as you know they do.
Robbi (Clinton, Ky)
I prefer "clownette"
chaz (sa tx)
i am starting to believe that the only reason this chat room exist is to keep US away from the "real" sports chat down the hall....
Andy (Olathe, KS)
Jacob, don't forget, he has to type up the note from Buzzmaster's desk too. That is hard work.*
Matt (IN) [via mobile]
Jacob, who said it was a good living? Matt Damon brings home the bread in that house...
Clinton (Indianapolis)
If he's monitoring the chat, then he's not really wasting time, is he? He'd be doing his job, right?
Matt (IN) [via mobile]
Buzz you should've pointed out to him that if the food tastes like charcoal, it's because he's doing something wrong.
Albert Pujols (StL)
Darrell Revis, I'd be happy if you can work my shift at the Subway for me in the month of October. Seems like you'll have some free time on your hands.
jillinho (norman)
The Lady Clowns?
Robbi (Clinton, Ky)
chaz, could you bring Ruckus to the picnic? I want to meet him.
Steve (NJ)
Um...at my office we have a microfridge that isn't big enough...so take that! (whimpers)
Christian (High Point, NC)
Speaking of grilling, I have a question for the charcoal true believers: what type of charcoal are you using? I've been using Matchlight, but I'm switching to a chimney starter. I picked up some hardwood briquets, but I'm wondering if that's the best choice.
Hayden (Logan, Utah)
so crazy how nate has changed
David (Ottawa)
Buzz, I know I say it every week, but thank you for getting Anik as always.
Brian (Madison, WI)
I have seen that ride in the Dells and unlike Nate I have wanted nothing to do with that ride. Backs up my thinking of not trusting ride workers to let me free fall 100 feet into a net.
Josh (Lincoln, NE)
Ruckus has been strangely quiet on Twitter. I wonder if he did actually escape.
Robbi (Clinton, Ky)
Kingsford is the best.
Scott (Indy)
Always use Kingsford. Always.
Ryan Ludwick (San Diego)
Hey Buzz, figure out a way to get me back on the cards. I hate it here!
Robbi (Clinton, Ky)
Add some water soaked hickory chips for a good smoked flavor.
stephanie (cincy)
I am late only to find charcoal talk. Hide the knives please
Marc (Big D)
Anyone else experience that conference call where a couple people talk really softly and a couple talk really loudly? I am a pro at constant volume adjustment.
Andy (Olathe, KS)
RUN, RUCKUS, RUN!!
Zack (Louisville, KY)
So if we're not doing Favre talk, that means no ONB, right?
Buzzmaster
(10:37 AM)
Sure. Let's do it right now.....
brett favre (pep rally)
I have changed my mind. I am taking my talents to South Beach. I am a Dolphin now.
brad (hs lunchroom)
brett stole my shepherd's pie!
Jimmy (Seattle)
I'm trying to start another movement for ESPN360--- ESPN3.com should be 3SPN.com... Who's with me??!!
Garrick (Boise, Id)
I know Kellen is high on your skills on the gridiron, how do you view Kellen as a QB? how about as a person off the field?
jesse (bloomsburg, pa)
if the reports of Brett retiring are correct, and it is because of the ankle injury, is there a dl from the vikings that is going to take "defense" to it....and go after Brees late/low like the Saints did to Brett?
J.B. (Dunmore, PA)
Coming to you from the ONB today. Meeting this morning so no chat for me. Have a good one all. I hope you bring your A-game. Also hope Buzz is feeling better. See you all tomorrow.
RAY GORDON REID ( JACKSONVILLE FLA 32277)
MY COMMENT AT 10.50 AM LUNCH SUBWAY SUB COKE
Chris Fiegler (Latham,NY)
If you ever will go the NFL which NFL team would you want to play for?
RAY GORDONREID ( CHESTNUT HILL MA 02467)
GOOD F5 WEDNESDAY MORING BUZZ MASTER MY CONMMENT AT 9.45 AM IS BUZZ WEDNESDAY CHILD OF WOE NOT
alex (fallriver)
what is the chance that celtics will get shac
Buzzmaster
(10:38 AM)
And that's it...
Steve (NJ)
Personally, Chris, I'd play for the Jets.
Robbi (Clinton, Ky)
Who is he talking to?
Matt (IN) [via mobile]
Jimmy from Seattle has too much time on his hands.
The Suits (Bristol)
Hmmm. Jimmy (Seattle) might be on to something there.
Scott (Brewtown)
I prefer coleman propane tanks to Blue Rhino propane for my grilling.
JB (TX)
Revis is right to hold out, he'll never have this much negotiating power again, he's smart to take advantage now.
Buzzmaster
(10:40 AM)
He will blink first. He needs the Jets more than the Jets need him.
Mike (Boston)
Fall River is a dump
Steve (NJ)
I hope he does, Buzz; the Jets need him pretty damn bad.
Clinton (Indianapolis)
Quick Happy B-day shout-out to the Prez.
Ray Gordonreid (CHESTNUT HILL MA 02467)
you all suck! especially you buzz!
Ed Hochuli (Chat Ref)
Thats a personal foul on Zack for bring up the ONB, therefore bringing up favre talk. Penalty results in a banning of the chat for the rest of the day.
David (Ottawa)
Still in the Laz-E-Boy, Fat man?
Buzzmaster
(10:41 AM)
No. They were all taken when I got here. So I'm sitting next to the XBox360 stand.
Zack (Louisville, KY)
Appeal: I said not to do the ONB.
Joey (DC)
Anyone else wonder how RGR got from Maine to Florida in an hour?
Jeremy (Boston)
I agree Buzz....They all say they will hold out till week 10...none do...the only team I remember Blinking was the Cowboys with Emmitt, because they went 0-2 without him...
Nate (Madison)
Agreed. While being one of the best CB's in the league...you can still win plenty of games without him.
Vicki (Indiana)
Revis makes how many millions of dollars? Try living on a retail worker's salary.
Buzzmaster
(10:42 AM)
Well this year, he's "only" making $1 million. While a lot of money, it's not his market value. However, according to the Jets, they've offered him several contracts, just not the $15 million he thinks he deserves to be the highest paid CB in the league.
Greg (Boston)
I have no time to start a movement regarding ESPN's internet naming...
David (Ottawa)
How can you justify holding out when the offer was 12$ million? Revis is an idiot.
Eric (Chicago)
Haven't you people ever "grilled" over an open fire in your backyard? It's the best...better than charcoal, better than gas, just takes a little longer to ignite by rubbing sticks together.
Ed Hochuli (Chat Ref)
After further review, the penalty on Zack has been declined. Play results in first down.
JB (TX)
Well if Nnamdi Asomugha is making $15 mil and Revis is only making $1 mil, you can see his point. If some other retail worker who was as good as you was making 15 times your salary, Vicki, you might get upset.
Buzzmaster
(10:43 AM)
But why should the Jets pay him that much because Al Davis arbitrarily set the market at that price? The next highest CB is getting paid about $9 million.
Greg (Boston)
actually, Revis doesn't make a million, he's a shade under it
Matt (IN) [via mobile]
Never question RGR. As for the grilling question Christian had, I always use the Kingsford with the hickory chips in it.
Robbi (Clinton, Ky)
A street walker makes more than I do, and I'm upset about it too.
Scott (Brewtown)
Whenever I go camping we grill out over the campfire. Nothing like a little Pine, Birch, Oak scent added to the food.
David (Ottawa)
Honest question, is there anywhere in ESPN HQ that isn't really, really fun?
Buzzmaster
(10:44 AM)
Walking through the parking lot in the middle of the winter with 2 feet of snow on the ground.
Darrelle Revis (via mobile)
Need money. Baby need new shoes...
Steve (NJ)
Laz-E-Boys, Xbox 360 stands?
Christian (High Point, NC)
Wait, there's an XBox360 stand next to your cafeteria?
Buzzmaster
(10:45 AM)
Yes. It's loaded up with the ESPN sports titles, I believe.
coyote (sa) [via mobile]
If my coworkers make more than me then its my fault for agreeing to my salary in the first place. I'm free to quit.
Caveman (Stoneage)
If I had known it would cause this huge debate I never would have discovered fire.
B (Boston)
Revis' uncle held out for an entire season once. It's in his blood.
Vicki (Indiana)
True JB. Bad enough people being hired now start at a higher wage than i did when I started.
David (Ottawa)
If I had your job, I'd be fired quickly.
Josh (Lincoln, NE)
I'm surprised Antonio Cromartie isn't holding out. He's got like 8 babies from 7 different mothers to support.
Hayden (Logan, Utah)
buzz: do they let you booze on the job?
Buzzmaster
(10:47 AM)
No. Although one time when I was traveling for the Super Bowl, I had a beer during lunch on a travel day, which they were paying me for. So, I guess that's technically a yes?
jacob (sarasota)
SportsNation poll of the day: Which will end first?A) Alex Rodriguez home run droughtB) The Revis holdoutC) The gas vs charcoal debate
Brandon (Minnesota)
I suck today..... That is all.
Brian (Madison, WI)
I agree that he's the best CB in the league, but he has a contract with the Jets. Honor that contract, show up to camp, and shut up. You pay your agent to deal with that stuff, trust that he will do his job, and you'll get paid.
Buzzmaster
(10:48 AM)
I agree with the last part. Show up to camp, while having your agent restructure your contract. However, until the NFL has guaranteed deals or the teams can't cut you whenever they feel like it, NFL players should be able to reworkd their deals.
jillinho (norman)
RGR: Wednesday's child is full of woe. Where is that from?
David (Ottawa)
*currently applying to work at ESPN*
B (Boston)
Stick to your guns, Jets. Don't back down! Regards, Patriot Nation
Rich Rodriguez (Ann Arbor)
People who suck need to get lives.
Christian (High Point, NC)
Forget HR drought, I'm beginning to wonder if Rodriguez will ever get a hit again. 0-17!
Joey (DC)
Look at Leon Washington, didn't hold out, broke his leg, and the team cut him. It's a ruthless business. Get yours while you can.
jillinho (norman)
Me, too, Brandon.
Greg (Boston)
I agree with Buzz, if a team can cut you and not pay you, especially in a sport with an average career of 4 years, I say get yours...
Nate (Madison)
Nick Collins had the same thing with his contract the last two years. He thought he deserved more, wasn't happy but still showed up and played hard. He got rewarded. Nick Collins is GB's safety in case anyone didnt know.
Josh (Lincoln, NE)
ESPN doesn't accept Canadians for anything other than hockey.
Jeremy (Boston)
Actually....the only thing I will agree, is that Revis is on his rookie contract. Which is dictated by the draft....so if your going to hold out under a contract you signed, I can see that one.
Louis (Fredericton, NB)
I think we already had this debate, but since the owners don't have to honor the contracts, the player should not have to.
tom* (parkville, md)
My boss just gave me my own flag. Thick blue stripes on top and bottom, thick white stripe in the middle with the work "TOMS" in black letters.
Buzzmaster
(10:50 AM)
Ummm, what for excatly? Are you supposed to wave it when you're walking down the hall, kind of like ships show their flags in the open water?
Brian (Madison, WI)
I have no problem with his reworking his deal, just have a problem with the not showing up to work part. Isn't Nick Mangold restructuring his deal with the Jets too and still showing up to camp?
The Suits (Bristol)
Look at this resume from this guy in Canada. Claims to know all about Larry Bird, even though he was only about 5 the last time Bird played. *throws resume in the trash*
jillinho (norman)
Good guys rarely win.
Scott (Indy)
Lamar Woodley with the Steelers is making $550,000 this year and was one of the better pass rushers in the league. He isn't holding out.
Buzzmaster
(10:52 AM)
I'm no money genius, but even with these guys "only" making hundreds of thousands or one million, I would think that kind of money can still last a long time, if you spend it wisely and live humbly.
Brandon (Minnesota)
Lunch: Going out to the BK Lounge for a whopper.
Christian (High Point, NC)
Obviously jillinho hasn't been watching Fox's excellent new summer series, the Good Guys. They always win when busting some punks.
Buzzmaster
(10:53 AM)
Thanks for mentioning that. I've been DVR'ing that show. It's pretty funny so far.
JB (TX)
Lamar Woodley is going to feel stupid if he blows out a knee in camp.
jeremy (Va) [via mobile]
*thinking of something Buzz will post, because I'm like 0-6* Free Ruckus!!
Scott (Brewtown)
So are the mosquitoes as bad elsewhere as they are here? I can't even be outside after work at 5:30pm, in the sun without being swarmed by hundreds of the diseased little beasts.
Greg (Boston)
Of course, he shows up to camp, blows out his achilles and I'm sure the team will make it up to him in good faith
Clinton (Indianapolis)
Bad news: Good Guys is done with new episodes. Good news: They got picked up for the fall.
Eric (Chicago)
truth is buzz, they trust their agents because they have no money values.
Brian (Madison, WI)
I'm one of the best chatters in this league and I consider myself underpaid. I need to get my agent on this. Might hold out the rest of the week's chats.
Andy (Olathe, KS)
Lunch: Chops and pasta.
Matt (IN) [via mobile]
I'm jealous. I want my own flag. I won't ask for one though. I might end up with pink...as in pink slip.
Tom (NM)
Buzz, you are right but unfortunately most athletes spend, spend, spend and are broke within 4 years of being out of the league
Buzzmaster
(10:54 AM)
Well, that's their problem.
Neal (Philly)
I'm going to pull a stephanie on this company if I don't see any shipping information for my new cell phone case.
Michael (Shippensburg, PA)
why aint my question comming up? buzz eating too much ?
The Suits (Ottawa)
Wait a minute. David doesn't like hockey? How can he be working for the Canadian Government? Someone get his supervisor in here!
tom* (parkville, md)
I may be my own country now. Hmm. I mean, I'm probably large enough to have my own zip code, but I think I'll have to gain even more weight to live up to the status of being my own country.
Christian (High Point, NC)
Lunch: Day 3 of home-assembled black bean burger with chipotle ranch. Dinner: grilling up some Brats for a birthday dinner preview.
Nate (Madison)
Lunch: Ultimate fail on my part, forgot it at home. Deciding whether to go home for lunch, buy something nearby, or skip it and leave early today. Decisions.
Louis (Fredericton, NB)
Cave in Buzz, give Brian a 50% raise... no, make it a 1000% raise.
Josh (Lincoln, NE)
Timothy Olyphant (Raylan Givins on Justified) will be on the new season of the Office. And The Situation may be on Bones.
George Carlin (RIP)
Never got any walking papers. Never got a pink slip, either. You know what I would get? Some guy would come around to my desk and say, "GET THE #(*! OUTTA HERE!"
Christian (High Point, NC)
Who the hell is Brian (Madison, WI)?
B (Boston)
Lunch: I'll tell you only if I get a 15 posts per day deal over the next two years.
Hayden (Logan, Utah)
brian is overrated
Eric (Chicago)
Lunch: chipotle
Clinton (Indianapolis)
Lunch: The usual.
Louis (Fredericton, NB)
lunch: This awesauce homemade burger place near work. I'm hungry now..
Joey (DC)
Bt toms* logic Buzz is a continent.
Buzzmaster
(10:56 AM)
Oh sorry, I read that as incontinent at first. I was starting to wonder about your sources.
Tom (NM)
Shaq VS....Shaq loses every single challenge
Brian (Madison, WI)
Lunch: Not sure yet, but pumped for my order to come in from one of our clients. 2 lbs of veal brats, 1 lb of mushroom/swiss brats, and 2 lbs of beef sticks. Fantastic.
Greg (Boston)
550K isn't that much money, especially after taxes, agents fees, travel expenses
Nate (Madison)
Brian will be the Tim Thomas of this chat. Has one good week, gets a raise, and then just flops the rest of his chat career.
Yoga (Madison)
Damn it Nate! I cooked these Brussel Sprouts and asparagus just for him. I'm going to go bring him his lunch.
Josh (Lincoln, NE)
Have a good day everyone, the week is half over!
tom* (parkville, md)
Actually, Buzz is a universe. We only exist as long as he provides us with oxygen.
JB (TX)
Lunch: who knows? I already at a Kolache and I'm stuffed. Anyway, when you have power in negotiations you need to take advantage of it, because very often in life we don't hold the power. This is very true for athletes, especially ones w/non guaranteed deals like NFL players. Happy bday to the Prez and Billy Bob Thornton. And Buzz, you're still fat, probably fatter after spending the last hour in the cafeteria.
Chat team owner (cyberspace)
Gentleman we regret to inform you we have decided to go another direction and draft younger faster chatters and rebuild,good luck in your future endevors.
David (Ottawa)
Travel expenses? Everything is comped.
The Creeper (Madison)
Oh Nate forgot his lunch...maybe him and I will go out to lunch now.
Nate (Madison)
Actually tacos were made last night, but not sure I want them for lunch today. Possibly tomorrow.
Zack (Louisville, KY)
Damn you, Brian. Those sound delicious!
David (Ottawa)
You're on a pro sports team, you don't pay for anything other then agent fee's and taxes.
Buzzmaster
(10:58 AM)
Not to mention all the other freebies that you can get - meals at restaurants, apparel from endorsements, etc.
Christian (High Point, NC)
Everyone have a great Wednesday! See you for tomorrow's holiday!
Tom (NM)
Everybody should ask for a raise today because you are worth it. Peace out MBer's
Yoga (Madison, WI)
He doesn't like my tacos?!?!? MOMMY!!!!
David (Ottawa)
I'm out like my motivation to continue to stay awake. See you all tomorrow, stay thirsty my friends.
Josh (Lincoln, NE)
You have to have a posse too. They get expensive.
Buzzmaster
(11:00 AM)
That's his problem.
Buzzmaster
(11:00 AM)
OK everyone. We're done here. Thanks for stopping by. We'll be back again tomorrow morning. Until then, stay classy SportsNation!
Buzzmaster
(11:00 AM)
Signing off from the ESPN cafeteria, this is Buzzmaster.
Joey (DC)
Costs a lot to own an Island.
Brandon (Minnesota)
Bye, Buzz
Eric (Chicago)
Have a swell Wednesday everyone, tomorrow is Thirsty Thursday, I'm out like A-Rod's ambition to hit #600.
Bob (Lowell)
Bye ya'll