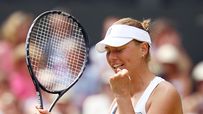 Zvonareva turned pro in 2000.
Welcome to SportsNation! On Monday, Sony Ericsson WTA Tour's Vera Zvonareva, a finalist at this year's Wimbledon, stops by to chat as the Mercury Insurance Open is underway in San Diego.
At Wimbledon last month, Zvonareva advanced the furthest she has ever gone in a grand slame event by reaching the finals. For her career, she owns 10 singles title and five doubles titles. She enters San Diego as the No. 3 seed in the tournament, while being ranked No. 9 in the world.
Send your questions now and join Zvonareva Monday at 3 p.m. ET!
More Special Guests: Previous chats | SportsNation
Buzzmaster
(2:57 PM)
Vera will be here at the top of the hour to chat!
pov (usa)
Other than being healthy again, what do you feel you've most improved in your game recently?
Vera Zvonareva
(3:03 PM)
It's hard to say, because to play at that level, you have to improve everything about your game. I have improved my consistency. I've improved my movement on the court. All of my strokes. It's good, because you're always working on it and you want to see the results, that you're improving. I think I've done a good job so far, but I'm working on it all the time.
John (Austin)
What did you take away from your match against Serena at Wimbledon? What do you have to do to have a chance to beat her should you meet again?
Vera Zvonareva
(3:04 PM)
I think it was a good experience, no matter what. Serena is so experienced in those finals. It was very difficult for me to show my best in that match. Serena was so aggressive and wouldn't let me. And I wanted to win so bad and maybe I tried too hard. That made me a little tight and made it hard to focus. Next time, I will have to prepare myself like it was the first round. Try to find ways to get to my opponent.
Lays (Brazil)
Hey Vera, you changed coach in the last year...How this change helped you to improve your game for best?I'm a huge fan for Brazil...good luck in the US Open Series!
Vera Zvonareva
(3:06 PM)
I worked with my previous coach for a long time and he helped me a lot. It's never easy to change coaches or change people in your team. But from my experience with my past coaches, I try to take a fresh view from my new coach and put it together. You have to be careful about changing things right away. It's good to have new opinions around and other advice and use it to your advantage to try and improve on. Not just from your past coach, but things that your new coach sees. I'm still trying my best and I'm still the same player, just trying to improve myself.
Tarun tennis (Washington DC)
Hi Vera. You and Azarenka switched your coaches earlier this year. Both of you have had successful runs but not consistent results. Does that have to do with coaching changes?
Vera Zvonareva
(3:08 PM)
I think it's not only about changing the coaches, but it's also about having very tough competition on the women's tour right now. Everyone is playing good tennis. You have to be at your best all the time to beat your opponents on the other side of the net. The season is so long, you'll see some ups and downs. It's managing your schedule, injuries. It's very difficult to stay consistent throughout the whole season. It's pretty much a 10 month season. It's not only about the coaches. They can play a role, because you have to get used to the new situation, but it's also the tough competition.
Dave
What are you looking forward to the most about San Diego?
Vera Zvonareva
(3:09 PM)
I'm just looking forward to finding my rhythm on the hard court again. The last few months we've played on the grass and clay courts. I would like to see what kind of adjustments I need to make and see where I need to raise the level of my game. I will have to try hard and find that rhythm.
Master Ace (Alabama)
Since Wimbledon, what have you done to get ready for the United States Hardcourt season? Did you take any time off?
Vera Zvonareva
(3:11 PM)
Yeah, I actually took some time off. I went to the Dominican for my best friend's wedding. I was a bridesmaid. I was also back in Florida doing some fitness and trying to get in shape for the hard court season. I was working on the footwork. It's a different surface.
Kyle (VA)
What's the biggest adjustment to make on the hard court?
Vera Zvonareva
(3:12 PM)
Coming from the grass court where the ball bounces very low, you have to put a little more spin on the ball on the hard court, where the bounce is much higher. You have to anticipate and move well on the hard court. The tennis is pretty quick, so you have to be perfect with your footwork.
Willie (NYC)
What's your favorite surace?
Vera Zvonareva
(3:13 PM)
It's difficult to say. My game is an all around court game. As long as I have time to adjust on the surface, I can play well. I have wins on a lot of the surfaces. I just need time to adjust and really get a feel for it and then I can play on any surface.
Joe (LA)
Vera, how has reaching the finals at Wimbledon changed your career? You feeling even more confident? Any more endorsement deals coming your way?
Vera Zvonareva
(3:14 PM)
I always feel confident in myself. I always believe in myself. I don't think it's a deep change to my career or my life by reaching the final. It gave me a lot of experience, playing 7 matches in a row. It's not that often, even if you win tournaments before, you play 7 matches in a row. I always believed that I could do it. It was great to be out there for the final. Now, I dont know how much it will help me, but hopefully it will help me for my future Grand Slams.
DAvid (Boston)
what are your expectations for the US Open?
Vera Zvonareva
(3:15 PM)
I don't much for myself. I just expect to go out there and fight the way I did at Wimbledon. I just go out and work on my game. I don't think what's going to happen in the hard court season. I just want to go out and take one match at a time and we'll see where it takes me.
Arev (Moscow)
I read you were taking classes AND playing tennis. Is that right? What classes are you taking? And how do you find the time to study?
Vera Zvonareva
(3:17 PM)
It's very difficult to manage that. It's one of the toughest tasks. I graduated from university and it's my second degree in international economic relations. I started taking classes when I was injured with my wrist. Since I've been back on the court, it's been hard for me. It's one more year and I have to take books with me on the road. I can get everything online now with my computer, so I don't have to bring 20 books on the road with me. It's something that can take my mind off of tennis. It helps me to not get bored with tennis.
Vera Zvonareva
(3:17 PM)
Thanks for supporting me and I hope to see you around!