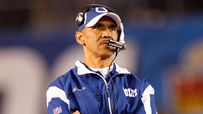 Dungy played three years in the NFL before coaching for nearly 30.
Welcome to SportsNation! On Wednesday, former NFL head coach and player Tony Dungy stops by to chat about the upcoming NFL season as well as his new book "The Mentor Leader."
After coaching nearly 30 years in the NFL, Dungy retired following the 2009 season, accumulating a 139-69 record at the helm of the Tampa Bay Buccaneers and Indianapolis Colts. He became the first African-American head coach in the NFL to win the Super Bowl when he led the Colts to victory in Super Bowl XLI.
"The Mentor Leader" (released on Tuesday) is Dungy's fourth book and he shares what propelled him to the top of his profession and shows how the same approach can be applied to virtually any area of life. He also explains his seven keys of mentoring leadership.
Send your questions now and join Dungy Wednesday at 1 p.m. ET!
More Special Guests: Previous chats | SportsNation
Buzzmaster
(12:51 PM)
Coach Dungy will be here at the top of the hour to chat!
Buzzmaster
(12:58 PM)
Coach Dungy is here!
Kevin (Cincy)
Coach, what was your inspiration to writing this book?
Tony Dungy
(12:59 PM)
Since I retired, I've spoken to a lot of corporations, lots of business people and leadership and developing good teams. Because of that, I thought it would be good to put it into the book and tell how the lessons in athletics translate to other areas of life.
Greg (RI)
I know Brett Favre is a great QB and if the Vikings don't have him this year, they won't be as good as they were last year, however, as a former head coach, how would you handle this situation? At what point does the team need to just say enough is enough?
Tony Dungy
(1:00 PM)
I think the Vikings kind of knew the situation. No one expected him to be there the first day. It's not a distraction yet. But as a head coach, I would have a timeline and by this date you're in or your out.
Matt (IN) [via mobile]
Coach, do you ever grill? Which do you prefer, charcoal or gas?
Tony Dungy
(1:00 PM)
I prefer charcoal, but I am so busy that usually I do gas. I do grill and I like it. It's relaxing.
Paul (Boston)
Could this potentially be a breakout season for Donald Brown? In the future could he handle being the feature back?
Tony Dungy
(1:01 PM)
I think he can. I know the team likes him a lot. I saw some explosiveness in him last year. Most players make the most improvement in their first to second year.
Dallas (Denver)
How long did it take you to write this book?
Tony Dungy
(1:02 PM)
Probably about 6 months all together. Coming up with the thoughts and ideas and putting them in order was the toughest thing. Little bit longer than the first two books.
Mike (Ohio)
Coach, Herm chatted a couple of days ago. He seems a little behind the times technologically speaking. Can you do something to help him?
Tony Dungy
(1:02 PM)
Herm is very old school. He doesn't break with tradition easily. It took him a long time to get the cell phone. I would say two more years before he starts texting.
Lyle (Alabama)
You've written a few books now. Do you just have a bunch of book ideas you're always playing around with? Or does something strike you and you think you should write about that? Do other people approach you with ideas? How does your writing process work?
Tony Dungy
(1:03 PM)
It's really been responses to the other books. I wrote Quiet Strength and I got a lot of letters from young people which surprised me. That made me want to write the next one. Then I got a lot of response from that one and people asking me how does this apply to my business, which inspired me to write this one.
Danny (NYC)
You've got a nice birthday year coming up...55. Any special plans?
Tony Dungy
(1:04 PM)
Don't remind me. No special plans really. My birthday always comes during the football season, so it usally revolves around the football season. I had a special 40th but since then, nothing out of the ordinary.
Jay (MD)
I went to Grambling and you remind me a lot of the great Eddie Robinson. Did you ever have the opportunity to meet him?
Tony Dungy
(1:05 PM)
I did. Great man. Great role model. I read about him. Talked to a lot of his players. He had an impact on me. He was a mentor as a head coach. He made his men better players, but also better men. That's what a coach is all about.
Dominic (NM)
How do you feel about an 18 game season as a former coach do you see it as a benefit or just draging the season along ?
Tony Dungy
(1:06 PM)
I don't like the idea. I think the more game syou play the more chance you have of an injury. In the playoffs, you don't have teams operating at full strength. I think you have more chance of having games at the end of the year that aren't meaningful.
Paul (Boston)
Can Mike Vick still be a starter in this league?
Tony Dungy
(1:07 PM)
I am working with Michael and staying in touch with him. I don't know where he is football wise. I know he wants to play. Coach Reid likes what he's doing. I'm not sure he will get back to where he was athletically, but as a person, he's getting better and that's what I'm concerned with.
Austin (Lexington, KY)
When it's all said and done who do you think will be considered the better quarterback between Manning, Favre, and Brady?
Tony Dungy
(1:08 PM)
I think Peyton's going to have all the records and then the argument will be is it records or Super Bowls? I think Peyton has played the position better than anyone I've seen play it. In my mind he'll go down as the best.
Andreas (Hamburg)
H Tony, do you sense that the Raiders are moving in the right direction, i.e. do you believe that Campbell was the right choice ?
Tony Dungy
(1:09 PM)
I like a lot of the moves they've made. Getting Campbell, he's a stable guy. A good leader. Their draft this year was very good. I Think they are moving in the right direction. I see them winning quite a bit more games than last year.
Jeff (Portland, ME)
Mr. Dungy, first let me say what an honor it is to chat with you. My late grandfather was a huge fan. As a respected coach and mentor, in your opinion, what should the Steelers do with Ben Rothlisberger?
Tony Dungy
(1:10 PM)
They should and I understand they are doing things to help him. That's one of the things that free agency has hurt us in that the veteran leadership that could have helped Ben isn't there to help him. But I think they are doing tihngs to help him off the field as well as on the field. They are doing somethings and we'll hear about them later on.
Tony Dungy
(1:10 PM)
We're going to discuss that on NFL Live with Merrill Hoge. He has some more information on what they're doing.
Amanda (Illinois)
Since you have retired what have you missed most about being a coach? What have you most enjoyed?
Tony Dungy
(1:11 PM)
I've enjoyed being able to do some other things in the fall and having more free family time. My son is going to be a freshman at Oregon and I will be able to watch him play. What I miss is the relationships and being around the guys every day. You're like a family. All of a sudden you've moved away from your family. That's the hard part.
David (DC)
Do you think Welker will be able to return to last season's status? As a coach would you be worried about overusing him because of the injury?
Tony Dungy
(1:13 PM)
I would be worried about overusing him early. It does take a year to get over that. I think they need to be aware of how they use him. He's a toughminded individual. If I were New England, I would be weary of overusing him early in the year. Edgerrin James came off a simliar injury for us and it wasn't until the second year that he was up to his playing status and was returned totally.
Clay (Charlotte )
Couch Dungy, you seem to be becoming a role model and voice of reason to more troubled players. Is this a role that you sought out or something that organically happened?
Tony Dungy
(1:14 PM)
It probably got publicized a little more. I've tried to help all the guys on my team and guys who have played before. Because of that, guys come to you and some of the troubled cases come to light. I've done it for a long time and usually more quietly.
Paul (Boston)
How will the Colts fair this year? What are some of the positions which need to step up in order to get back to the Super Bowl
Tony Dungy
(1:15 PM)
I think they're going to have a good year. They have to be favored in their division. They have that experience where they'll be tough to beat. I know they want to firm up their running attack. THat's probably the biggest area that they'll concentrate on.
Paul (Boston)
Who played the most pranks in the Colts locker room
Tony Dungy
(1:15 PM)
Without question, Peyton Manning. Not even close. The guy people see in the commercials is the real Manning. He has a great sense of humor and he can probably afford to pull the most pranks.
Andrew (MN)
Do you Tarvaris Jackson can lead the Vikings to the playoffs. (if need be)
Tony Dungy
(1:16 PM)
I think he could. I don't see anyway that Brett Favre isn't playing. He enjoys that team too much and they're too close to a championship. But if he gets injured, I think they can go to Jackson and win.
Ty (St. Paul, MN)
Why did the Vikings offer Brett a raise? It seems more of a health issue than monetary. If his ankle is healthy then he'll play, but I just do not understand the raise to get him to come back.
Tony Dungy
(1:17 PM)
You have to read between the lines when that happens. When the player says it's a health issue and the team offers more money, you have to surmise what's really taking place. They hope a little more money will help his ankle feel better. :)
Dennis (Denver)
Do you think Tim Tebow will develop into an excellent quarterback?
Tony Dungy
(1:18 PM)
I do. I think it's going to be a situation like Vince Young where the team tailors to the offense to what he does well. If they do that, then I think Tim Tebow will be very successful.
Amanda (Illinois)
I just returned from Colts training camp and it seems one of the biggest stories is how deep the WR corp is. As a coach how do you balance the playing time between all the talent there?
Tony Dungy
(1:19 PM)
You make it competitive and it is with Anthony Gonzalez being back. As well as Garcon and Collie did last year, they do have some weapons. With a great QB, you can throw the ball enough to keep it going. I don't think it will be a problem. Competition brings out the best in everybody.
Austin (Lexington, KY)
Do you still keep a close relationship with a lot of the players you have coached?
Tony Dungy
(1:20 PM)
I do. I do. As a matter of fact Derrick Brooks just texted me while I've been here to return his phone calls. You develop those relationships over the years. they are very important too you. I think Derrick just thinks I'm trying to steal his job here at ESPN.
Tony Dungy
(1:20 PM)
But I get texts from guys at all times. It's pretty neat.
John (Seattle)
What is it like for you to watch games coached by some of your former asistant coaches?
Tony Dungy
(1:21 PM)
It's fun. I try to put myself in their shoes and try to think what they think. I can see their personalities come into play. It's a sense of pride to know tha tyou picked some guys to work for you that were really very very good. That talent showed and they advanced.
Tony Dungy
(1:21 PM)
This was a lot of fun. It's kind of nice to be able to talk instantaneously out there with the fans. I'm like all the other fans out there. I'm ready for some football.