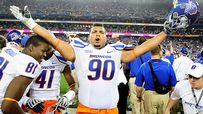 New college football blogger Andrea Adelson will keep you updated on Boise State this season.
Welcome to SportsNation! On Thursday, brand new College Football Nation blogger Andrea Adelson stops by for her very first chat with SportsNation.
Adelson comes to ESPN.com after serving as the Orlando Sentinel's college football blogger. As she mentioned in her first blog post, she'll be keeping track of the non-BCS teams, in addition to her other duties.
Send your questions now and join Adelson Thursday at 2 p.m. ET!
More Andrea Adelson: Search | Blog | Chats
Andrea Adelson
(2:00 PM)
Welcome to my first live chat at ESPN.com! Let's get underway
Zack (Fredrickson)
There is a lot of talk here in Utah about BYU going independent in football and joining another conference with the rest of its sports. Does this rumor have any validity and what are your thoughts?
Andrea Adelson
(2:02 PM)
I am not sure what the benefits of going independent are at this point from a financial standpoint. I know the MWC does not get as much TV $$ or BCS $$ as the major conferences do, but I am sure it benefits BYU to be a member there. What other conference would it join? The options are limited at this point. I do not see another BCS conference taking the Cougars right now.
Pete (Boise)
What scenarios are necessary for BSU to get a NC bid?Win big at VT and Oregon state? is that all it'd take?Win big at VT and Oregon state? and AQ teams lose at least 1 making BSU look better assuming undefeated?There are so many scenarios, what is the easiest scenario to get in do you think?
Andrea Adelson
(2:04 PM)
I think the easiest is to start the season ranked in the Top 3, go undefeated and have the teams ranked ahead of them lose. So let's say Boise is ranked behind 'Bama and Ohio State. If Boise runs the table and those teams ahead lose, it would be hard to see how Boise St. could get left out of the national championship game. Its computer ranking may not be as high as the coaches/Harris poll but it only counts one-third.
Chris Fiegler (Latham,NY)
How do you think that Syracuse will do this year in College Football?
Andrea Adelson
(2:05 PM)
I think it's going to be another struggle for Syracuse. There were so many defections in the offseason and we still don't know if Delone Carter is going to play. Another change at QB, though Nassib does have the experience. I just don't think the Orange are there yet.
Tyler Pellom (Kingston, TN)
How do you feel about Derek Dooley and the Vols?
Andrea Adelson
(2:07 PM)
I think it is going to be a tough year for the Vols. There are so many players they have to replace, from Hardesty to Williams to McCoy to Eric Berry. I am not sure on Matt Simms. He didn't light up the world at Louisville, so I am eager to see how he adjusts to life in the SEC. The sked is very tough, too.
ELO (ORLANDO)
just wanted to say welcome from a fellow orlandoer we will miss your stories at the sentinel
Andrea Adelson
(2:08 PM)
Thank you, Elo! I appreciate the support. For those of you who have asked, I covered college sports at the Orlando Sentinel for the last 4 years, and spent the last year as a college football columnist/blogger. I am still living in Orlando.
Keith (Lake Forest, CA)
With the entire offense returning in the second season under coach Brady Hoke, where do you see San Diego State finishing in the Mountain West? Considering the out of conference schedule, 7 wins and a bowl appearance does not seem out of the question.
Andrea Adelson
(2:10 PM)
I think SD State is going to finish fifth. I think TCU, Utah, BYU and Air Force have more talent at this point. Though I will say Ryan Lindley is great, and the team should make big improvements overall. Taking a quick look at the schedule, 7 wins is definitely possible.
Dalin (Moscow)
Andrea, welcome to ESPN! I'm curious if you think Boise St will walk into Moscow this fall and lay an egg? With all the rivalry hiatus talk and heated words with Boise's president, Vandals are going to be pumped up for this game and last time Boise walked into the dome when it was that intense (2006) they nearly lost.
Andrea Adelson
(2:12 PM)
I don't see it happening this year. I just think the talent disparity is too wide at this point. Boise St. returns nearly everybody this season. The Broncos are experienced, and my guess is they are probably going to want to back up some of that smack talk -- especially since this is the final year in the WAC.
Kevin (Provo)
What are BYU's chances of having another 10+ win season with their tough schedule?
Andrea Adelson
(2:14 PM)
It's going to be tough. The schedule is absolutely brutal. Washington is going to be better; Air Force is going to be better; FSU is going to be better; Nevada is going to be better. That's just the first 4. There are high hopes at Utah St., too. And then BYU has to play at TCU and at Utah. This team is young and inexperienced without a QB at this point. So I think a 10-win season is going to be an absolute testament to Bronco Mendenhall if it happens.
Jim (Sandpoint, ID)
I-D-A-H-O Idaho Idaho, GO GO GO! Here is to another break out year for the Vandals! As Robb Akey says... you're gonna love it!
Cory (Boise)
Andrea welcome!! Who do have winning the Boise v VT game? Your prediction on what will happen!
Andrea Adelson
(2:15 PM)
I am going with Boise to run the table this season.
Aaron (Boise)
Glad to see someone is covering the Non-aqs again, I had a very hard time getting someone at ESPN to answer the question of whether or not the Non-aqs were ever going to get a blogger back.Are the Non-Aqs going to be your primary focus as an ESPN blogger?
Andrea Adelson
(2:15 PM)
I am going to be doing a lot in my new role at ESPN. I will be covering non-AQs for the nation blog, but I also will be anchoring live chats on gamedays, holding lots of live chats during the week and contributing with multi-media as well.
Jim (Grand Junction, CO)
Welcome aboard! Here's a general question for you. In general do most coaches think that the time/practices allowed for summer are too little, too much, or just about right? Is there a concensus? Thanks.
Andrea Adelson
(2:17 PM)
I think most coaches would love to have access to their players during the summer! But since they can't, I think most agree that it is beneficial to have their players in place during the summer to get into shape for fall practice. There really is no such thing as voluntary summer workouts anymore. You saw the quotes from Michigan's Troy Woolfolk, in which he ripped Tate Forcier for not showing up to those "voluntary" workouts.
Aaron (Boise)
Do you think the new MWC can get an AQ exception on their own? If not, what teams out there would help their cause? Would a 12 team league with Nevada, Houston, and Fresno be more attractive than the current 9 team league? Or what would your best case scenario for the MWC look like?
Andrea Adelson
(2:19 PM)
I think it's going to be tough to get the exemption simply because the 6 power conferences don't want to let in somebody else to share the money. There are still 2 years left to go in the evaluation and the only way MWC gets in at this point is with the exemption. I think the rest of the MWC has to step up. Nevada, Houston and Fresno would most certainly help -- but again, none of those have gone to a BCS game or finished particularly high in the BCS standings, which are qualifications if the MWC wants to try to meet those three requirements it has laid out for inclusion as an AQ conference.
Chris Fiegler (Latham,NY)
Do you Follow the NFL? If so what is your favorite NFL team?
Andrea Adelson
(2:21 PM)
I do follow the NFL and I grew up in Miami, though I try not to root too much considering the job requirements and all. I will say my dad and 93-year-old grandfather are HUGE Dolphins fans!
Aaron (Boise)
Would an undefeated Boise make the NC game over a 1 loss Ohio ST? What about a 1 loss Alabama? (assuming there is only potentially 1 other undefeated team at the end of the season)
Andrea Adelson
(2:23 PM)
Aaron, that is an excellent question and one I want to debate at some point on the blog. I was listening to the radio the other night and the hosts were debating this. Their opinion was that the coaches would never vote Boise State in. I cannot see how this is possible. Can you imagine the outcry if an undefeated Boise St. team, with wins over Va Tech and Oregon St., was left out because it comes from the WAC and not the SEC or Big Ten? I think a lot of this comes down to where Boise is ranked in the coaches and Harris poll at the end of the year. I think there is potential for 1 loss Ohio ST and 1 loss Bama to be ranked high in the computer component. But if Boise St is No. 1 in coaches and Harris, it would be hard to see how a formual would keep them out. And if it does, I think BCS officials would want to run for cover.
Wyatt (Reno Nevada)
What do you think the chances are that both Nevada and Boise State go into their day after Thanksgiving showdown undefeated? And what would it do for the non-BCS conferences?
Andrea Adelson
(2:24 PM)
I don't know that Nevada will be undefeated. Games vs. California and BYU will be tough, not to mention at Fresno. But let us say that both were undefeated. I think this would be an incredible shot to the arm for the WAC and for Boise St. in its quest to play for a national championship. Plus, the WAC has got to start looking for another marquee team with Boise St. leaving.
Spencer Thurman (Fort Worth, TX)
It seems that at least part of the reason for the recent expansion of major college football conferences would have to be the push to get to 12 members and have a conference championship game. The Big 12 has said they may petition to have one, but what would the point be if they are playing a round robin schedule? How much is the MWC's current 9 member setup hurting them? Would it benefit them to add teams like Houston, Fresno, and Nevada to get to 12 and have fewer losses against the top teams and also play a Championship game?
Andrea Adelson
(2:27 PM)
The championship game is an interesting question to debate. Big 12 coaches have grumbled about having one, and who can blame them with the upsets they've had in that game. I think the opinions among coaches are probably mixed. UF and Bama would have played for the n.c. last year if it were not for the title game. I don't think the Big 12 is going to petition for one. It wouldn't make sense, especially if it knocked out one of its best chances at a n.c. I don't know how much a conf championship game would help the MWC, either. Adding those teams would certainly help, but it really all depends on what happens that season. Those non-AQ teams have generally got to start the season ranked really highly in order to have any shot at a n.c. And even then, it is almost impossible.
Kyle (Connersville, IN)
Andrea, do you see Graig Cooper getting much playing time this season, or will his injury force him to redshirt this year?
Andrea Adelson
(2:28 PM)
Kyle, Randy Shannon said yesterday they are going to work Graig back in slowly and hope to have him play this season. If he does, it would be remarkable considering how nasty that injury looked vs. Wisconsin.
Bill (NYC)
Hi, How are you? Who are you and what do you know about college football?
Andrea Adelson
(2:29 PM)
As I said earlier, I came from the Orlando Sentinel, where I covered college sports for 4 years. Spent the last year as college fb columnist and lead coll fb blogger. I also covered the Univ of Florida and Univ of Miami along the way includin the 2001 natl championship.
Jeff (Seattle)
What are the chances of Navy matching its 10 win total from last year?
Andrea Adelson
(2:30 PM)
Excellent. In fact, I think Navy exceeds 10 wins and has a shot at being a BCS buster. The schedule is very, very favorable.
Joseph Chiafair (Florida)
If Boise St. wants to go to a bcs bowl each year and if they want to be respected like a bcs conference team, why did they join the MWC? The MWC is about to become a very weak conference because of the departure of Utah.
Andrea Adelson
(2:30 PM)
Where would Boise St. have gone? Not to the Pac-10, not to the Big 12 I can assure you. Should it have stayed in the WAC? At this point, the MWC is better than the WAC.
Ed Hochuli (Chat Ref)
Andrea, I just want to let you know that I'm here to take care of any unruly chat behavior, including the use of Twitter language, emoticons, excessive post length, and unnecessary whining.
Andrea Adelson
(2:31 PM)
Thank you, Ed! I am a big fan.
Sean (Pensacola, FL)
Welcome to the Nation Double-A! Is the Notre Dame/Texas series finalized yet?
Andrea Adelson
(2:32 PM)
Yes it was just finalized for 2015, 2016, 2019 and 2020.
John (Norman)
Andrea,Which five teams do you think have the best shot at the national title?
Andrea Adelson
(2:35 PM)
John, That is a super toughie. But I have got to come up with a list of the 20 teams with the best shot so I guess this is as good a time to start as any. Now best shot does not necessarily mean best team in the country. This is who has the best shot at the n.c. title game. So keep that in mind. I would say at this point: Boise St., Ohio St., Alabama, Nebraska, TCU.
Clay (Charlotte)
Andrea, welcome to SN! You must answer the ultimate SN question: Gas or Charcoal grill?
Andrea Adelson
(2:36 PM)
I just bought a gas grill and I love it.
Tim (Columbus)
If you can go to only one college football game this season, which one would it be? And why?
Andrea Adelson
(2:37 PM)
I really, really want to go to Miami-Ohio St. I have never been to the Horseshoe, and I would love to see this ultimate rematch of the n.c. game. I am really high on Miami this year, and I really think this is going to be one of the best games all season.
Joseph Goodman (Gainesville, Fla.)
Congrats on the new gig! Who's the best team in Florida this season?
Andrea Adelson
(2:37 PM)
Florida is still the best.
Lauren (South Bend)
How long before Brian Kelly makes Notre Dame a contender again?
Andrea Adelson
(2:37 PM)
Not long. I am not as high on ND as some people this year, but I think next year could be a really good year.
Bob 150 (Ft Lauderdale)
Do you feel any different about Oklahoma now than you did 2 months ago ?
Andrea Adelson
(2:39 PM)
I think Landry Jones has the potential to be a star, but first Oklahoma has got lots of holes to fill, especially on defense. I still think the Sooners are a Top 15 team. Game vs. Texas is going to be huge. But then again, they always are huge!
Michael (Greenville, SC)
Do you think that this is the last time conferences will realign (at least for about 10 years)
Andrea Adelson
(2:40 PM)
No. I think there might be some movement with the Big East. There will definitely be something with the WAC past 2011. But I think it will be less than 10 years before we see the next seismic shift. Too much $ at stake.
Anna (Houston)
Case Keenum or Kellen Moore? Which QB would you choose? Either of them have a shot at the Heisman?
Andrea Adelson
(2:41 PM)
Oh boy that is a tough question, Anna!! Take it easy on me, this is my first chat! Haha. I think both are legitimate contenders but I don't think they have a legitimate shot. Too much knocking of non-AQ teams, too much knocking of "system QB" play. I think both players are outstanding, so can I take them both? That is a wimpy answer, I know.
Sean (Pensacola, FL)
New nickname for the Nation! Presenting Double-A!
Andrea Adelson
(2:41 PM)
I like it!
Josh (Fredericksburg, VA)
Boise St or VT? Who do you think has the edge?
Andrea Adelson
(2:42 PM)
I am going with Boise St. right now. I think somebody asked for a score. I will predict a score in Week 1.
Andrew (Provo, UT)
Do you think Utah was the smartest choice for the Pac-10?
Andrea Adelson
(2:43 PM)
Absolutely. Getting into a BCS conference is gigantic, from a $$ standpoint and a credibility standpoint. What other choise was there?
Nate (Boise)
Andrea,Great to have you on board covering (among about 60 other teams) Bronco Nation. Two questions. First, in your honest opinion, what do you think the chances are, percentage wise, that Boise goes undefeated this year. Two, if that happens, what do you think the chances are, percentage wise, that they get a chance to play in th NCG.
Andrea Adelson
(2:44 PM)
Chances are high for Boise St. to go unbeaten. I would say 90 percent. Chances for national championship game are high. Maybe I am being naive to think they would make it in over a 1 loss OSU or 1 loss Bama team or both. But I really think they would.
Josh (Fredericksburg, VA)
Mandel recently wrote a column about how Boise St is now just like the big powers they kicked and screamed about refusing to play them before (what with the not playing Idaho and all). Your thoughts?
Andrea Adelson
(2:45 PM)
Well, I think the Idaho game is an exception. From the Boise St. perspective, what good does it serve to play Idaho when they are going to a tougher conference and can maybe add in another more high-profile game? It's like USF refusing to play UCF. I know it's a different scenario but USF feels it has nothing to gain by playing UCF. Boise St. must feel the same.
Sarah (Tampa, FL)
Would it surprise you if Florida won the National Championship this year?
Andrea Adelson
(2:46 PM)
Yes. I would be stunned.
Nate (Boise)
Andrea--quick Boise State question. Are you going to pick against Boise every other week as your predecessor Graham did for the last two seasons, or are you going to get behind the Broncos and buy into the well-earned hype?
Andrea Adelson
(2:46 PM)
Nate, I think my answers here speak for themselves.
Robert Conner (Savannah Ga)
Welcome Andrea. When do you think Boise will come back to Athens Ga for their next beatdown?
Andrea Adelson
(2:47 PM)
Did you see my non-AQ House of Pain post listing Boise-UGA of 2005? I am sure Boise would be willing to play UGA anytime, anywhere.
Larry (Las Vegas)
What are your expectations for Buffalo this year and in the immediate future? Do Turner Gill leave enough solid talent for them to keep the same level or even improve?
Andrea Adelson
(2:48 PM)
I think it is going to be tough for Buffalo this year, but Jeff Quinn is an excellent coach, and Turner Gill set up the program well. One thing Turner did was recruit into the state of Florida, where there is so much talent. But there are a lot of holes to fill this year.
Nate (Boise)
Andrea, where do you honestly think Boise will start out in preseason rankings? Because, lets be hones, it matters in their situation as a non-AQ. Where would you rank them if you had a vote?
Andrea Adelson
(2:49 PM)
I would rank them No. 2 I think they will start in the Top 5.
Mike (E. Idaho)
Glad to see you drinking the Blue and Orange kool-aid. What are the chances you'll take a sip of the Idaho variety?
Andrea Adelson
(2:49 PM)
Depends on how Idaho does this year. I did some preseason rankings at my previous spot and had Idaho ranked much higher than most.
Matt (Philadelphia)
Congrats on the new gig. With Houston the overwhelming C-USA West favorite, what are your thoughts on the East? I'm sure you're very familiar with UCF, will it come down to UCF and Southern Miss?
Andrea Adelson
(2:50 PM)
Absolutely. I think the winner of their game in Orlando on Nov. 13 will win the East. I think East Carolina is going to be slightly down this year and Marshall, too. There are lots of rebuilding teams in the East.
thomas (los angeles)
at the end of the season, what will usc's record be?
Andrea Adelson
(2:52 PM)
Great question. 9-4.
Chris (Lexington, KY)
Who is a sleeper football team in the SEC this year? hint hint
Andrea Adelson
(2:52 PM)
I do think UK is going to have a better year than people think. I would watch for Miss St., though the West is absolutely stacked.
Nate (Boise)
Here's another NCG scenario. Let's say OSU or Alabama finish undefeated and claim one of the NCG spots without debate. If Boise is undefeated, but so is some AQ school that came out of nowhere and was not ranked preseason top 15, who gets that second spot and a chance to play for it all?
Andrea Adelson
(2:53 PM)
It would stil be Boise. Because starting the season with a high preseason ranking is key.
thomas (los angeles)
has anyone figured out yet how the decision of the coaches poll to not rank usc will affect the bcs rankings of the trojans' opponents?
Andrea Adelson
(2:54 PM)
the BCS rankings are not going to include USC, either. However, the computer rankings will for the integrity of the rankings. So basically whrever USC falls in the computer rankings, they will be removed and every team moved up 1 spot.
Dan (Tulsa)
Is cusa west or east stronger?
Andrea Adelson
(2:55 PM)
West is stronger this year with Houston, SMU, Tulsa
Will (Coos Bay)
Will the Oregon State Beavers be contenders for the Pac-10 Championship?
Andrea Adelson
(2:56 PM)
Yes. I think the Pac-10 is the most wide-open conference in the country. I love the Rodgers brothers. If Katz does well, Oregon St. will be in the mix.
Mathew (Houma, LA)
with the recent demise of the LSU football program it just goes to show you that coaching is the most important part to winning football games. LSU gets the same quality players that Bama does but cant deliver. I will relish this time of Bama fever because 1 day he will be gone
Andrea Adelson
(2:57 PM)
Well your coach did deliver a national championship not so long ago.
Gary Patterson (Fort Worth)
How would my team fare in the Big 12?
Andrea Adelson
(2:57 PM)
very well, in my humble opinion.
Jeff SLC [via mobile]
Who starts at QB for BYU? Are you going to any fall camps?
Andrea Adelson
(2:58 PM)
I am going to Boise St. in a few weeks. I think it will be Heaps in the end.
Jacob (Sarasota)
Welcome! Being from Florida and all, how do you see the Gators faring in 2010?
Andrea Adelson
(2:58 PM)
I still think the Gators win the East. The division is down this year.
Daniel (Pasadena)
Welcome Andrea! If Boise gets snubbed from the Nat'l Championship game by Ohio St, do they play in the Rose Bowl against (very possibly, Oregon)?
Andrea Adelson
(2:59 PM)
That would be a great matchup! Anything is possible.
Melissa S. (Miami Beach, FL)
Andrea, how do you think Miami is going to do this year?
Andrea Adelson
(2:59 PM)
I think Miami is going to do really well. I think the 'Canes will win the ACC.
Andrea Adelson
(3:01 PM)
OK, that is all the time we have for today. Thanks to everyone who submitted questions. I am sorry I could not get to all of them. Thanks for joining me, and I look forward to more great chats this college football season!! If I didn't get to you, then please submit your questions to the mailbag and I will get to them there.