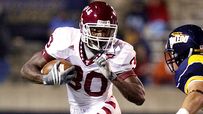 Temple begins the season Sept. 3.
Welcome to SportsNation! On Thursday, Temple's sophomore running back Bernard Pierce stops by to chat about the 2010 season, as well as his Heisman campaign.
As a freshman, Pierce garnered several conference and national awards for his 1,361 rushing yards and 16 TDs, both of which set school records. Some of his awards included the MAC Freshman of the Year award, First Team All-MAC, honorable mention All-American.
He was impressive enough that Temple launched Pierce4Heisman.com so fans can follow his progress this season.
Send your questions now and join Pierce Thursday at 1:30 p.m. ET!
More Special Guests: Previous chats | SportsNation
Buzzmaster
(1:23 PM)
Bernard will be here at 1:30 p.m. ET to take your questions!
Jacob (Sarasota)
Hey Bernard, who do you see as your team's biggest challenge this year in the MAC?
Bernard Pierce
(1:32 PM)
I would say Central Michigan because we haven't played them yet. They're one of our first games, those are some of the tougher games out there.
Dave (Owlified) (Doylestown, PA)
Are you excited to have the chance to get a full game worth of carries against Penn State this year?
Bernard Pierce
(1:33 PM)
I'm real excited. I'm really excited. Last year I had only four carries or so. This year, I'll be in the starting lineup and ready.
Tom (Virginia)
BP: What were your specific off-season training goals? Are you bigger, faster or stronger than last year? We're proud of your accomplishments and wish you the best this season. Go Owls!
Bernard Pierce
(1:34 PM)
Yes, I did get bigger, faster and stronger. My goals were to get my shoulder stronger. I think I did that.
Jacob (Nebraska)
Hey Bernard, do you follow an eating plan? If so, what does one day look like? And also I wish you the best of luck this year.
Bernard Pierce
(1:34 PM)
I would say I probably eat four meals a day. Every time I do, I try to eat red meats and carbs, pasta, two plates every meal.
Sean (Philly)
Benard with out a doubt teams will be more focused on making sure they stop #30. What will it take this year to ensure that you and Temple has another successful season? Do you also think Temple will be going bowling again?
Bernard Pierce
(1:35 PM)
We did recruit a lot of wide receivers, so our depth there is good. We'll have a lot of good WRs out there that run great routes and can catch. I don't think there will be a lot of pressure on my back because we will have a good set of skilled guys.
Jeff (Temple U)
Bernard, what would you attribute your freshman success to? It's very difficult to have success early, especially as a true freshman.Go Owls. -Your dude, Jeff G.
Bernard Pierce
(1:37 PM)
My line. Offensive line. Colin Madison, Darius Morris, Derrick Dennis, John Palumbo and Jeremy Schonbrunner.
Mark (Beaufort, SC)
what goals do you have for the season?
Bernard Pierce
(1:38 PM)
I wouldn't think I've set goals, I just want to have a better season than last year. And stay healthy.
Vic (Lindenwold, NJ)
how much muscle weight have you gained since last season? What did the doctors say about your shoulder and future injury potential?
Bernard Pierce
(1:38 PM)
As of right now they say my shoulder is fine. I've done a lot of work on it. The doctors said at my physical that they wouldn't haven't known that I was injured if I didn't tell them.
Kevin McDowell (Blue Bell, PA)
Bernard, can you talk about the type of coach Al Golden is? And what his message was to you guys last year before the Penn State game?
Bernard Pierce
(1:41 PM)
Coach, I wouldn't say he's strict, but he's a very moral based coach. When he makes up a rule, it's not that a couple of people have to do things that way, we all have to do that way. We all have to do it that way. He wants to keep a certain image. No hats, no ear rings in the building. Everybody has to follow that. In every building, not just our building. For academics, he says "B's are better."
Bernard Pierce
(1:41 PM)
He didn't really give us a big, huge speach. He just told us to play hard, fast and focused. Go out and play.
Vic (Jersey)
would you rather beat Penn state or win the MAC?
Bernard Pierce
(1:42 PM)
We're focused on the Villanova game. One game at a time.
Tom (Delaware)
Will the offense be any different with Chester Stewart at QB?
Bernard Pierce
(1:42 PM)
No. We run the same offense, but just with a few different plays. But it will be the same offense.
Jay (Miami)
I played at WVU from 96-99. And temple was always looked down upon, and we even had some transfers that said the mentality at Temple was horrible. It seems as though that may have changed, considering your not having winless seasons anymore, but my question is, what is your teams' expectations this year. And good luck, I've seen good players get passed up because of being at Temple, I don't see that happening anymore, especially with you now....GOOD LUCK!!!
Bernard Pierce
(1:44 PM)
This was my first year, I know that we used to lose a lot. But I haven't lost. But as far as I'm concerned, I play for a winning team. My teammates told me that practices used to be a lot harder, but now the program has grown and we expect to win.
Matt (Philadelphia)
Since you were used sparingly in the Villanova game last year, how anxious are you to come out of the gate and play well with a win against city rival Villanova this year Bernard?
Bernard Pierce
(1:45 PM)
I'm real anxious. I'm looking forward to not just that game, but the season in general. That's what I do is football. I love football.
Brian (California)
BP, what do you say to people who argue that your level of competition is easier than say, Mark Ingram?
Bernard Pierce
(1:46 PM)
I just let them talk. A lot of people have said that or are still saying that. I don't let it get to me. I just go about my life. Everyone is entitled to their opinion, so it doesn't bother me that much.
Tom (Delaware)
I saw you and a number of your teammates at a lot of basketball games this year. Are you guys close with the basketball team?
Bernard Pierce
(1:46 PM)
I'm cool with a lot of the guys on the basketball team.
kevin mcdowell (philly)
Is there an emphasis on finishing games this year? I know last year Temple lost a couple games in the last minute or so.
Bernard Pierce
(1:48 PM)
That's always a point of emphasis from coach in finishing games.
Steve (Philly)
Bernard,What are you looking forward to seeing and doing the most during camp? Any new players or camp programs you are excited to see?
Bernard Pierce
(1:48 PM)
Making it through. Camp is crazy. I think camp is the most intense part of football.
Bernard Pierce
(1:49 PM)
Thanks for all the support. See you at the Linc. Go Owls!