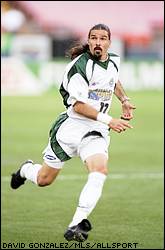 Welcome to SportsNation! On Monday, former U.S. men's soccer team captain Marcelo Balboa stops by to chat about the U.S. performance in the 2010 World Cup, as well as the teams upcoming friendly against Brazil on Tuesday night (8 p.m. ET, ESPN2).
Balboa played for the U.S. national team for 12 seasons, appearing in the 1990 and 1994 World Cups. The defender was named the U.S. Soccer Athlete of the Year in 1992 and 1994 and became the first U.S. player to earn 100 caps. He also spent six seasons in the MLS, amassing 24 goals and 23 assists in 152 games.
Balboa will be preparing to watch the U.S.-Brazil match by demonstrating the training techniques both teams will go through with the Gatorade Sports Science Institute and its Gatorade Performance Lab.
Send your questions now and join Balboa Monday at noon ET!
More Special Guests: Previous chats | SportsNation
Buzzmaster
(11:58 AM)
Marcelo will be here in about 5 minutes everybody!
Buzzmaster
(12:11 PM)
We've got Marcelo!
Paul (Miami)
What should we expect to see from the U.S.-Brazil match tomorrow night?
Marcelo Balboa
(12:13 PM)
I expect to see players that are in pre-season form, still not 100% game fit. I expect the teams to come out and celebrate the game. This gives the players the chance to play in a beautiful new stadium. Young players on both sides of the ball have a chance to show the coaches that they want to make an impact on the team over the next few years. This is a chance to give Bob to see what some of his players can do.
Dave (Boston)
Marcelo, what did you think of the U.S. performance in the World Cup?
Marcelo Balboa
(12:15 PM)
If you go by what everybody was talking about beforehand, that the U.S. should get out of their group, they did that. They did it in a great manner. There was quite a buzz over the team. I think that the bonus of what the U.S. did, winning the group, was fantastic. Unfortunately, after that was where it counts. The road was set. It was an opportunity that passed. The U.S. didn't have to face an Argentina, Holland, Spain, Germany. It was an easier path than anyone else. But winning the group brought so much awareness to soccer in the U.S.
Jiim (VA)
What kind of training are you doing with Gatorade?
Marcelo Balboa
(12:17 PM)
Tomorrow, they're going to take us through the real test. They're going to take us to the performance lab. We're going to ride the bike. Body chamber, they'll check our hydration levels. When I played it was all heresay, drink water. But now, the products with Gatorade and the products they're making, it's nothing that we had. That's why you see athletes playing until they're 38, 39, 40. A lot of us retired at 33, 34, 35.
Brandon (York, PA)
What do you feel is better for soccer in this country, American stars playing in the EPL or staying home in the MLS?
Marcelo Balboa
(12:19 PM)
I think both. I think it has to be a mixture of both. What's going on now is starting to work. Having Henry, Beckham come here is big. And some of our players are playing in the EPL. The experience that they're getting over there is tremendous. And you'll see New York starting to draw with guys like Henry. There has to be a mixture of our guys going over there, some big names coming over here. We need a mixture of American and European stars in our league.
Greg (Chicago)
Marcelo, what's going on with a team when they give up the quick goals we saw the U.S. tteam give up during the World Cup?
Marcelo Balboa
(12:21 PM)
1) You don't want to give up that early goal. You don't want to chase the game. But I think we've proven that we have some of the best athletes in the world. They fight, scratch for 90 minutes. The first time that happens, you konw you have to bite down and tighten up the defense. How do you get the goal back? Off a set piece? You're going to have to press the game a little bit. But when it happens a second time, you start to think, geez, how many times do we have to come back? This is a U.S. team that's proven they can score with anybody. No one wants to give up that first goal.
Brandon (York, PA)
Is Bob Bradley the answer at manager for the US Squad moving forward into Brazil 2014?
Marcelo Balboa
(12:23 PM)
That's a great question for U.S. Soccer. I can't answer that. That's something they have to see what their future is, what their goal is at the end of the day, what they're looking for at the end of the day. I think Bob did a great job. We've got players now that play in the EPL, Mexico, etc. and have all of this experience. I think it's time where our coaches need to start going overseas to get that experience as well. Our coaches should be like our players, get some experience in the MLS and then get experience overseas.
Chad (Las Vegas)
Will the U.S win a World Cup in our lifetime?
Marcelo Balboa
(12:24 PM)
Why not? Why not? Look at Uraguay. They reached the semifinal. We have players just as good as them. Now, it's just needing a little bit of luck. Do I think in our lifetime that the U.S. can win a World Cup? Yeah, I do. Now, I think the goal has to be winning that second round game. Getting out of the group isn't enough any more. The fans are very knowledgable here in the States. A second round win isn't enough any more.
Adam (Cleveland)
Marcelo, do you see the MLS ever becoming a Tier I world soccer league, ala EPL, Serie A, La Liga, etc? Why or why not? And when could this happen if it does? Thanks!
Marcelo Balboa
(12:26 PM)
Good question. I would say yes. The word would be patience. How long has the EPL been around? La Liga? They've been around 80-100 years. We are 15-16 years new in the MLS. It will take time to watch this league grow. I think it will be there. It will take some time. It's about patience. Each team is starting to get ownership. Two more teams are entering the league next year. But we're very young compared to those other leagues. The important thing is that it keeps growing. We have ownership and passionate fans. But medaling in the Olympics and doing well in the World Cup will help too.
Marcelo Balboa
(12:28 PM)
Thank you for the questions. Soccer has grown so much since 1990 when we qualified. It's nice to see how knowledgable the fans have become. It's great to see the fans at the MLS and hopefully pass on the passion of soccer to their kids. It's a beautiful sport. And refuel and recover with Gatorade!