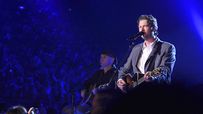 Blake Shelton's latest album hits stores Tuesday.
Welcome to SportsNation! On Tuesday, country music artist Blake Shelton stops by to chat about his new album, NASCAR and his other favorite sports.
Shelton's latest album "All About Tonight" releases on Tuesday and is already No. 1 on iTunes, just on pre-release sales. This is his seventh album and he has six No. 1 singles and 11 No. 1 videos.
A NASCAR fan, Shelton recently dished out his opinion on the top six NASCAR drivers on his website BlakeShelton.com. Fans can also follow him on Twitter: @BLAKESHELTON.
Send your questions now and join Shelton Tuesday at 1 p.m. ET!
More Special Guests: Previous chats | SportsNation
Buzzmaster
(12:59 PM)
Blake Shelton will be here at the top of the hour to take your questions!
Buzzmaster
(1:09 PM)
Hang in there everyone. Blake's running a few minutes late.
Kevin (Florida)
Who's your favorite NASCAR driver and who do you think will win the Sprint Cup?
Blake Shelton
(1:13 PM)
Elliot Sadler is my favorite driver. He is NOT going to win the Sprint Cup this year. In the words of John Madden, whoever has the most points at the end of the season will probably win the Sprint Cup.
Colleen (Palm Coast, FL)
What made you decide to get rid of the cowboy hat? It took awhile, buy I do like you without it.
Blake Shelton
(1:14 PM)
It blew off at a show I was doing one time in Canada. Security found it with some illegal drugs hidden in the rim. They wouldn't give it back. From that point on, I just said screw it.
Doug (Kansas)
Thanks for staying true to your roots! Two questions: 1) Who is/was your biggest musical influence and 2) When are you going to get your own hunting show?!
Blake Shelton
(1:15 PM)
My biggest musical influence was Earl Thomas Conley. I'm never going to get my own hunting show, because many of the things I do when it comes to hunting should never be filmed.
Nina Long (Gastonia, NC)
You cuss like a sailor... Who's your influence? (:
Blake Shelton
(1:16 PM)
Sam Kenison was a great cusser as was George Carlin, but my favorite cusser of all time Martina McBride.
lisa (wpb fl)
You seem so excited re the new cd which I love to see. Does a new release have the same thrill now as it did with your ealier cds or do you kind of get used to it?
Blake Shelton
(1:17 PM)
No, nothing won't ever be as exciting as that first album.
Paul (Boston)
What drink are you ordering at a bar?
Blake Shelton
(1:17 PM)
Paul, I think the correct question would be, what drink are you NOT ordering at the bar tonight.
Beverly (Navasota, Texas)
Blake,Do you ever go deap sea fishing?If so, come to Texas and go with us.
Blake Shelton
(1:18 PM)
No. And, OK.
Connie Schultz (Minnesota)
Blake you filmed a concert for TV & DVD, any word when we may see it?
Blake Shelton
(1:18 PM)
Concert debuts Sept. 8 on GAC.
Ann Fillmore (Al.)
I will see you August 21, 2010 at Windcreek casino in Atmore. Will you sing That Thing WE Do please?
Blake Shelton
(1:19 PM)
Yes, I will. Also, I like pickles.
Marc (Charlotte)
When manning the grill, are you using Gas or Charcoal?
Blake Shelton
(1:19 PM)
Marc, first of all, I've never "manned" a grill.
Kristin (NC)
How is the wedding planning going?
Blake Shelton
(1:21 PM)
I think you should ask Miranda. I think her answer would be "miserable."
lisa (wpb fl)
I know you love to hunt deer elk etc. Which is the most fun/challenging?
Blake Shelton
(1:21 PM)
Deer is the most fun to hunt, because it's the least challenging.
Andrea (Tx)
were you involved in sports growing up? and who are your "must watch" teams now?
Blake Shelton
(1:23 PM)
I was not involved in sports growing up. I was already playing in bars by then. My favorite sports team is the Arizona Cardinals. I have only one sports team, it is the Arizona Cardinals.
Leah (Missouri)
You seem to be really great to your fans. Is it true that you will give hugs if asked during your meet and greets?
Blake Shelton
(1:23 PM)
Yes, it's true, but only if the guy is really cute.
Heather (Florida)
Blake, I have been a fan since 2001, and you constantly tour..any plans to slow down in the future, not that I want that!
Blake Shelton
(1:24 PM)
Not any plans to slow it down right now.
Kris (TN)
Who is the better hunter you or Miranda?
Blake Shelton
(1:26 PM)
I say Miranda's the better shot than I am, but I'm a better hunter, because I have the ability to stay awake for more than 5 minutes at a time when I'm in the woods.
John (Denver)
Now that Kurt Warner has retired are you like the rest of the world in thinking that the Cardinals will be a miserable team this year?
Blake Shelton
(1:27 PM)
You, no more talking.
Nikki (Parkville, Missouri)
What was your favorite song you recorded off your new album?
Blake Shelton
(1:27 PM)
Got a Little Country.
Rocco (Ga.)
If you drink everyday.....how do you stay so slim???????
Blake Shelton
(1:28 PM)
The crack really helps keep the weight off.
Melanie Deal (McAlester,Oklahoma)
Who was the first country singer you seen in person?
Blake Shelton
(1:28 PM)
Sawyer Brown. It rocked my world.
Blake Shelton
(1:29 PM)
Thank y'all for the questions. See ya.