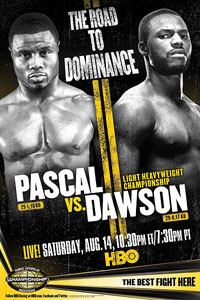 Welcome to SportsNation! On Thursday, we're going inside the boxing ring when Chad Dawson stops by to chat about his WBC light heavyweight title fight this weekend.
Dawson (29-0, 17 KO) takes on reigning champion Jean Pascal (25-1, 16 KO) live from the Bell Centre in Montreal at 10:30 p.m. ET/7:30 p.m. PT on HBO. Pascal won the WBC belt from Adrian Diaconu in June 2009.
Dawson owned the WBC light heavyweight belt for over a year, making three title defenses, before vacating the championship in July 2008. He has won his last four fights via decision and has gone the distance in six of his last eight bouts.
Send your questions now and join Dawson Thursday at 4:30 p.m. ET!
More Special Guests: Previous chats | SportsNation
Buzzmaster
(4:21 PM)
Chad Dawson will be here at 4:30 p.m. ET to take your questions!
Buzzmaster
(4:27 PM)
We've got Chad!
AW (PHX)
How has camp been going this time around?
Chad Dawson
(4:28 PM)
Camp went great. We had good sparring partnerts. Good trainers. Everything went great. Now it's just about putting everything from camp into the fight.
patrick (ee)
will u ever want to go for the heavyweight belt some day
Chad Dawson
(4:28 PM)
Yeah, some day. Right now, I'm probably still close to 168, well I'm 175, but can still make 168. Hopefully in the next few years after my body fills out.
James (Lexington)
Bad Chad! Will you be gunning for the KO in this fight to help revive your nickname?
Chad Dawson
(4:29 PM)
Everybody who knows me knows that I'm not the guy that who will predict a KO. But I will say that I'm going to win via KO this fight. They'll be playing for the KO and that will play right into my hands.
Luis rodriguez (Milpitas california)
What r u going to do after pascal knocks u out, will u keep boxing?
Chad Dawson
(4:30 PM)
Don't get your hopes up, because I think it will be the other way around.
Anders Gomez (Nottingham)
I was ringside for Froch vs Pascal and the Canadian was bull strong and took some heavy blows before slowing down in the later rounds, which enabled Froch to coast behind the jab. How will you tame Pascal and take the agression out of him? he is a warrior.
Chad Dawson
(4:31 PM)
By using my hand speed, height and reach. Everyone will see how much much bigger I am. Bigger, stronger, better jab, better boxing skills. We'll see how fast and strong he is on Saturday night.
Gentleman Chicanito (Los Angeles, CA)
How impressed were you in Pascal's wins over Adrian Diaconu?
Chad Dawson
(4:31 PM)
It was a good win. He showed a lot of heart fighting through a shoulder injury, but me and Diaconu are two different fighters. We'll see that on Saturday.
Lampley (Chapel Hill, NC)
Chad, do you think Pascal will attempt to draw you into a war and hope you brawl more like you did in the first Johnson fight? Hard to imagine him out-boxing you. Best of luck!
Chad Dawson
(4:32 PM)
I don't think so at all. I think he'll play it cautious. I'm the bigger guy, stronger guy. Everyone keeps saying how fast and strong he is, but I haven't seen it yet.
Ken (NC)
I know there has been talk of you moving down to 168 to where there are bigger names, but is that ralistic at this point in your career? (don't want to see you lose because you drained yourself trying to make weight)
Chad Dawson
(4:33 PM)
It's not really realistic, because at some point those guys at 168 will move up to 175. So I'll just stay there.
Courtney Jackson (Lindenwold, NJ)
Hi chad, who was the hardest fighter that you had to face in your professional career?
Chad Dawson
(4:33 PM)
The toughest fight I've been in was the first Johnson fight.
Justin (ATL)
Hey Chad I am a big fan. Could you talk a little bit about your training for this fight? How many miles have you been putting in a day?
Chad Dawson
(4:34 PM)
We were doing 5 miles a day. I was focusing a lot on strength and conditioning.
Judy O'Brien (Middletown, Ct.)
You have been rated among the top 3 boxers in the world today. Floyd Mayweather says you are the BEST. Where do you rate yourself?
Chad Dawson
(4:34 PM)
I don't rate myself. It's not what I think. It's what the fans think. I'm honored and it's a pleasure to be talked about so high. I'm happy to be where I'm at.
Erick (Whittier) [via mobile]
sup Chad...wat u think of mayweather ducking paquiao
Chad Dawson
(4:35 PM)
I don't really think he's ducking him. That's not the case. It would be a great fight if it happens. If it doesn't happen, they're both still great. They're both still making money.
Tyler (Wichita KS)
How do you feel about fighting Lucian Bute at a catch weight somewhere around 172 lbs? I think it would be a good fight between 2 kings of their division.
Chad Dawson
(4:36 PM)
I'm very comfortable with that. He's a great fighter. After handling business with Pascal, hopefully we can make that happen.
Henry (Oakland)
Hi Chad, I was wondering if you watched the Cloud-Johnson fight last saturday, and if you did, did you agree with the decision? And what's next after you beat pascal?
Chad Dawson
(4:37 PM)
I didn't catch it because I couldn't find a place that was showing it. I found a couple of highlights on YouTube. I heard that it was a good fight. I heard he fought a good fight for a 41 year old.
Sam (Brockton MA)
Do you think Hopkins is done? If so, then why not go for an easy win?
Chad Dawson
(4:37 PM)
Compared to the top 5 guys out there in the world, I think he's done.
Justin Terrell (Hendersonville, Tennessee)
Chad Dawson i have seen you fight before this weekend. I know your good. What has been your toughest fight. Just curious Chad. Ill be cheering for you this weekend. I am glad you beat Antonio Tarver, but im glad he beat Roy Jones Jr even though he is a legend in the sport of boxing.
Chad Dawson
(4:38 PM)
I have fought some great fighters in my career. I've fought Johnson, Tarver. I'm very excited where my career is going. I'm using all of that as motivation. I'm excited about the next fight coming up on Saturday.
Manny (Oxnard)
doesn't it annoy you that everyone is going crazy for pacquiao, mayweather when youre just as talented/skilled but aint getting that kind of love?
Chad Dawson
(4:39 PM)
It doesn't bother me. Eventually, the fans and everybody will start to realize how good I am and how talented I am. I will get the recognition very soon.
Justin (ATL)
Do you expect the crowd to play an important role in saturdays fight?
Chad Dawson
(4:40 PM)
No, I don't expect them to, because when we do get in the ring, no one can fight for him. It will just be me and him in the ring.
Chad Dawson
(4:40 PM)
To all the fans that support me and follow my career, thank you. Look for a great performance from me on Saturday night.