Chat with Bernard Hopkins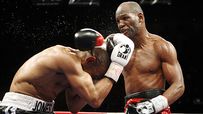 Hopkins is 5-1 since moving up to light heavyweight.
Welcome to SportsNation! On Friday, we're going to be inside the boxing ring when Bernard Hopkins stops by to chat. Hopkins will appear on ESPN2's Friday Night Fights at 9 p.m. ET.
Hopkins (51-5-1) spent 12 years dominating the middleweight division, not losing one fight, winning 24 in all. After capturing the IBF belt in 1995, he won 12 title defenses by the end of 2000. Over the course of his next eight fights, he unified the middleweight titles.
Since 2006, Hopkins has fought at light heavyweight, going 5-1. He last fought in April when he earned a decision against Roy Jones Jr.
Send your questions now and join Hopkins Friday at 3:30 p.m. ET!
More Special Guests: Previous chats | SportsNation
Buzzmaster
(3:24 PM)
Bernard is here!
Josh Eisenberg (Philadelphia, PA)
Would you like a 3rd fight with Jermain Taylor? I thought you beat him, and I'd like to see you make it official.
Bernard Hopkins
(3:25 PM)
Absolutely. That would be something to clear up what happened the first time. I just didn't get the decision. I would entertain that.
Deezy (Sparks, NV)
Winner of Dawson / Pascal? And would you like to fight the winner?
Bernard Hopkins
(3:26 PM)
I think Dawson will win. I think it will be a close fight, not a knockout. I would like to fight the winner of Cloudy and Chad Dawson. I hope they'll fight and I'll fight the winner and unify the light heavyweight championship. Or, should I say, bring a stimulus package to the light heavyweight division.
Courtney jackson (lindenwold, NJ)
hi bernard, since the fight between you and roy jones is split, would you do it again for the third time?
Bernard Hopkins
(3:27 PM)
Absolutely not.
Christian Rivera (Bronx, NY)
Yo B-Hop, of all of your great victories which do you feel was your best performance and why?
Bernard Hopkins
(3:27 PM)
Kelly Pavlik.
Eric (Cleveland)
Would you ever consider going into MMA?
Matthew (Columbia, NJ)
Hey Bernard, how much do the Philly fans mean to you as you continue your boxing career?
Bernard Hopkins
(3:28 PM)
The Philly fans mean to me what Santa Clause means to kids on Christmas. The fans have been supportive through my whole career and criticized when necesary, but mostly positive.
Leo (Trejo)
Who is the hardest puncher you fought, your toughest fight, & your favorite moment inside the boxing ring?
Bernard Hopkins
(3:29 PM)
The hardest puncher I ever fought was Antoine. Then after that, Robert Allen. But Antoine was the hardest of any of those guys.
Bernard Hopkins
(3:30 PM)
My favorite moment in the wing was with Trinidad. All of the surroundings with the flag and 9/11 and then having the victory, with the fight being cancelled. The fight itself, but you add all of the dressings surrounding that, that's the highlight of my career.
Lamont (Jersey City)
Whos your top 3 fighters you'd like to fight right now and how realistic are you into making those fights?
Bernard Hopkins
(3:31 PM)
It's up to the guys that are younger and their managers and promoters and if they want to risk fighting Bernard Hopkins. It's still a possibility, because I am still ranked high. I am there as a threat to any who keep their titles. I'm hoping that Chad Dawson fight to unify and then I'll come and fight and clean up and be the undisputed champ again. We need some big fights again. I just happen to still be active and fight again. It's 50-50.
Deezy (Sparks, NV)
How is your relationship with GBP right now? I've been hearing there's been some drama brewing.
Bernard Hopkins
(3:33 PM)
The relationship is good. It's fine. It's just that I'm still active and I made it clear to Golden Boy, so I don't want the interest from Golden Boy to go from my being still active. Bringing the attention to those that are my mouth piece. But they have the marching orders that I am still active. Even after the Roy Jones win, some people wanted to bury me. I needed to make it clear that I was still active and that they didn't need to put me aside, with the win.
Marc (Charlotte)
Bernard, not a Boxing question, but are you a Gas or a Charcoal man?
Bernard Hopkins
(3:33 PM)
I'm using wood. I'm using cooking wood that you can cook with. Hickory.
Kai (Tennessee)
Bernard I am a huge fan of both Boxing and MMA, I wondered if yiou would offer your thoughts on the upcoming Toney V Cotour matchup.
Bernard Hopkins
(3:35 PM)
Toney is going to get one or two legs broke. I think he gets beat bad in this fight. Period.
Bobby (Louisville)
Hey Bernard! Any interest in an old-school 'gladiators' fight with Glen, two modern day gladiators in their 40's?
Bernard Hopkins
(3:36 PM)
Absolutely. I would entertain that. I thought he won that fight last week. He has some fights in him. We are both veterans. We're both in the game. I think it would be a gladiator historic fight.
Chris Fiegler (Latham,NY)
What is the Best & the Worst Sports Facility that you ever Fought at?
Bernard Hopkins
(3:36 PM)
I would say the best was earlier in my career at the Taj Mahal in Atlantic City.
Tim (Pittsburgh,PA)
Bernard, have you finished your great fighting career or would you continue if the right fight came along?
Bernard Hopkins
(3:37 PM)
I will continue fighting if the right fight comes along that means something historically.
Courtney jackson (lindenwold, NJ)
hi bernard, How often do you train for a big fight?
Bernard Hopkins
(3:37 PM)
7-8 weeks of training.
Deezy (Sparks, NV)
Having fought and defeated Kelly Pavlik, what do you think about his career at this point? I hear he is fighting JCC Jr next, what do you think?
Bernard Hopkins
(3:39 PM)
I think he has to re-evaluate the teaching that I think he's not getting. I think he has fights left in him, but I think he outgrew and can't be taught the teachers and trainers that he has now. I think he needs new information, which brings on a new career, a new guy. I think he needs to re-evaluate and move forward and learn to do more than one thing, which is coming forward. He got beat two times because his style can't adjust, because his training can't adjust. He has to be taught something new. If he gets somebody that is used to taking a guy that is used to fighting the same way and changing him. He does that, I think he can be back on top within a year.
Deezy (Sparks, NV)
Higher point in your career : Tito or Oscar?
Bernard Hopkins
(3:40 PM)
Tito.
Jack Grady (Buffalo N.y.)
I know you started boxing later in life, what was it that got you into boxing, and what does/did it take for you to become a champion.
Bernard Hopkins
(3:41 PM)
To remember what it took to be a champion and then stay a champion until you are ready to walk away. There is a blueprint already set by Bernard Hopkins. Follow the blueprint and you will become what you follow.
Hayden (Logan, Utah)
WHat wwould you say to manny and pac? Are they being redonkulus?
Bernard Hopkins
(3:42 PM)
I think they both should give up blood and they both should fight. I don't think it's fair for the boxing fans to not, especially in this day in time that boxing is competing against MMA, we are also competing to keep the fans. I think we need Manny and Floyd to happen along with other matches that should be made and based on the fighters making money and helping their careers as well as holding up boxing like the fighters before us. I think that fight needs to happen. The longer it goes, it becomes that the fans don't care if it happens.
gonzo (philly)
Bernard, are you still thinking about fighting at heavywieght? If so, who do you have in mind?
Bernard Hopkins
(3:44 PM)
First of all, I'm still willing and able to fight David Haye, the smaller of the heavyweights out there. I have a time frame of when I want to do that fight, near the first of the year in 2011. That will give me a chance to train with the best trainer out there in Mackey Shulstone. We can get together and do the fight. I'm attacking the light heavyweight division first. I think I'm too much of a threat in the heavyweight division. The sand is running out of the glass jar to make it happen.
Mark (Orlando, FL)
Any thoughts on making a movie about you're life story? It would be stellar!!
Bernard Hopkins
(3:45 PM)
No, but if any known producers out there that feel the same way as you, then yeah. I'm always willing to share inspiration. I'm up for it. I'm willing to open all doors to make that happen and bring whoever into my life. It would be really inspirational movie.
Bernard Hopkins
(3:46 PM)
Hopefully the fans can see Bernard Hopkins get the light heavyweight division between now and next spring. Chad Dawson fights tomorrow. I have a lot of focus on that fight to bring some sanity into the light heavyweight division or take on David Haye. Look for Bernard Hopkins for at least one grand finale before I become strictly a suit and tie guy.