Chat with Brad Keselowski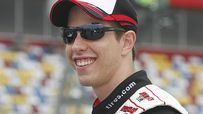 Welcome to SportsNation! On Monday, NASCAR driver Brad Keselowski stops by to chat as the Chase for the Cup draws closer.
Keselowski sits 25th in Sprint Cup points. He grabbed his first Sprint Cup win last year. He has been dominating the Nationwide Series the last few seasons, finishing third two years in a row, while sitting at No. 1 so far this season. He has three Nationwide wins and 16 top five finishes in 22 starts this year.
Send your questions now and join Keselowski Monday at 1 p.m. ET!
More Special Guests: Previous chats | SportsNation
Buzzmaster
(12:55 PM)
Nationwide Series points leader Brad Keselowski will be here shortly to take your questions!
Mike (Nijmegen, Netherlands)
Is it extra special to win the Nationwide championship, because it is the first NASCAR championship for Roger Penske?
Brad Keselowski
(1:00 PM)
First off it's cool that someone for the Netherlands is writing in. It would be cool to win for Roger. He's done pretty much everything you can do other than win a championshiop. That would be cool to win my first championship with Roger's first.
Kyle Jackson (Corona, CA)
Which series is the most fun to race in for you: Trucks, Nationwide or Cup?
Brad Keselowski
(1:00 PM)
The Truck Series is the most fun because of the atmosphere. It's the lowest of the pressure. The Truck Series is like throwing a ball in the backyard with my friends.
Chad (Illinois)
Do you see yourself scaling back the number of NW races you run next season when/if you win the Championship at that level this year?
Brad Keselowski
(1:01 PM)
At this point, I have a committment to our sponsors and plan to live up to them, barring any rule change. I know NASCAR has their eyes on several rule changes that could change that.
Jenny (Elizabeht Town LA)
Can you cook? If os what do you like to cook?
Brad Keselowski
(1:02 PM)
I can cook. It's not something that I do every day, that's for sure. My favorite things to cook are desserts, I am not going to lie. If I wasn't in racing and had to be healthy, I think I would put on weight real quick.
Ken (NJ)
How are you feeling heading into Bristol this weekend?
Brad Keselowski
(1:02 PM)
Bristol is one of my highest performing tracks. I'm ready. That's the best word to describe it.
Chris (Waktins Glen)
As a Michigan boy, what's it like to drive for Roger Penske? And how's it feel to be going into the blue duece next year?
Brad Keselowski
(1:03 PM)
It's an honor. An honor that probably means more than people can understand because of what he means to the racing world and the community.
Mike (Nijmegen, Netherlands)
Would you ever consider driving the Indy 500 for Roger Penske?
Brad Keselowski
(1:03 PM)
Absolutely. The key part though is that first we've got to win on the NASCAR Cup side before we do anything else. That's priority one.
Matthew (Columbia, NJ)
Hey Brad do you feel more comfortable each time you head to the track a 2nd time in the cup car?
Brad Keselowski
(1:05 PM)
Certainly experience gives you a lot of confidence. It's going to take more than that to feel comfortable. Raw speed makes you feel comfortable.
Chad (Las Vegas)
The economy is effecting NASCAR. Have the empty seats effected the drivers in any way?
Brad Keselowski
(1:06 PM)
Just a little bit. We're doing more than ever to promote the races and get out there and engage the fans. We're doing more of those kinds of things.
Joe (MA)
What did it feels like to flip over at such a high spped earlier in the year? I assume everything slowed down and it must have felt like a 5 minute crash.
Brad Keselowski
(1:07 PM)
Certainly going into the suspended animation state. In my mind, you can't help but think, this could be really big, this could be it. Fortunately it happened before those thoughts manifested. IT was something that was crazy and surreal. It gives me more confidence that I Will be safe in these cars.
Chad (Illinois)
Congrats on your great NW season...do you feel any difference in handling between driving a Chevy last year as compared to a Dodge this season?
Brad Keselowski
(1:08 PM)
I don't think manufacturer specific. But there are differences in how the engine revs up.
Julie (NJ)
What's it like having a Sprint Cup champion like Kurt Busch as your teammate?
Brad Keselowski
(1:09 PM)
He's very talented. His talents help me become a better racer. Things that he thinks of are things that I've never thought of. They expand my mind and talents as it pertains to racing.
Ann (charlottesville va)
Are the cup cars that much harder to drive than the NW?
Brad Keselowski
(1:10 PM)
It can go either way. On some race tracks, the NW cars are harder to drive. There are some tracks where I wish I were driving the Cup cars and they would be easier. Some of the mile and a half tracks are that way and some of the speedways.
Erin (MA)
How special was it for you to win in the state that you grew up in
Brad Keselowski
(1:11 PM)
Every win is special, but ones in front of your family and friends just highlight the work and sacrifices they've put in and make you reflect.
Kyle Jackson (Corona, CA)
Is it frustrating to be absolutely dominating the Nationwide series but without even a top 10 in the Cup series?
Brad Keselowski
(1:12 PM)
Yeah, absolutely. It drives you crazy, but nobody is going to give us anything on the Cup side. IT's our responsibility to go out get it, but we haven't gotten it done.
Mark (Palo Alto, CA)
Do you work out every day like Jimmie, Jeff and those guys?
Brad Keselowski
(1:13 PM)
I work out as I deem necessary to be competitive.
Brad Keselowski
(1:13 PM)
Anything other than that, I don't really like to talk about.
Scott (Mobile)
I know it's early in your career, but have you already decided what your best track is?
Brad Keselowski
(1:13 PM)
It's probably Bristol.
Brad Keselowski
(1:13 PM)
That's just a track that I've always run well at. I took an early liking to it.
Greg Stilwell (Plainville Ct.)
How different are the Nationwide and cup cars on the race setup?
Brad Keselowski
(1:16 PM)
They are a lot closer with the new NAtionwide car. THe new car has the same chassis. There are subtle differences on the front ride heighth.
Robert (Carrolton, TX)
Who did you go to for advice on running the road courses?
Brad Keselowski
(1:16 PM)
Kurt. Kurt Busch. Teammate. Excellent road course racer.
Brad Keselowski
(1:17 PM)
Thanks for being on. Looked like a good turnout. A lot of good questions. Appreciate the support. Looking forward to seeing you at the races.