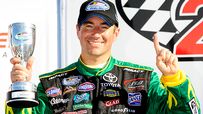 Ambrose currently sits No. 26 in the points standings.
Welcome to SportsNation! On Tuesday, Marcos Ambrose will stop by to chat as the NASCAR season gears up for the Chase for the Cup.
Ambrose, driver of the No. 47 Toyota for JTG Daugherty Racing, has one top five and three top 10 finishes this season. Prior to joining NASCAR, Ambrose was the Australian V8 Supercar champion in 2003 and 2004.
Send your questions now and join Ambrose Tuesday at 3:30 p.m. ET!
More Special Guests: Previous chats | SportsNation
Buzzmaster
(3:21 PM)
Marcos Ambrose will be here at 3:30 p.m. ET to take your questions!
Buzzmaster
(3:28 PM)
We've got Marcos!
Michael (Dallas, Texas)
Hey Marcos, I'm a big fan. Looking at the rest of the races on the 2010 schedule, what race presents your best opportunity for a win?
Marcos Ambrose
(3:29 PM)
On the Nationwide side, definitely Montreal. On the Sprint Cup side, Bristol this week. Texas. I've led laps at Miami last year too.
jeff (rochester)
was Ford a big point for you in making your choice providing you go to the 9 car?
Marcos Ambrose
(3:30 PM)
Yeah, it sure was. I've been treated well by my existing team and manufacturer. But it's good to be back in the Ford family. I look forward to going to Victory Lane.
Matthew (Columbia, NJ)
Hey Marcos, do you feel like you can win before the season is over?
Marcos Ambrose
(3:31 PM)
Sure do. Every week.
Brad (Gadsden,Alabama)
Marcus, Do you have any pre-race rituals?
Marcos Ambrose
(3:31 PM)
Not any more. But I do put my TV on before I leave the motor home.
Matthew (Columbia, NJ)
Hey Marcos, what's the difference between racing in nascar and racing in Australia?
Marcos Ambrose
(3:31 PM)
Australian racing is all road courses.
Marcos Ambrose
(3:32 PM)
The cars are a little more like a sports car than a stock car.
amy (wa)
congrats on the new ride! do you feel any pressure replacing a driver like kasey kahne?
Marcos Ambrose
(3:32 PM)
Yeah, sure do, but the reason I came is to drive for a great team and a great car owner and a great car number.
Marcos Ambrose
(3:32 PM)
Big shoes to fill, but I've got big feet.
Max (Illinois)
What kind of performance are you expecting next year with RPM, such as a certain number of top 5 finishes and top 10 finishes along with any certain number of wins?
Marcos Ambrose
(3:33 PM)
I just want to do my best every week. With RPM, Ford, Stanley and my teammates, if we can deliver our best, it should get us to Victory Lane.
Nick (Western PA)
Congrats on your new deal. What do you think about driving a Ford again?
Marcos Ambrose
(3:33 PM)
I'm excited.
Marcos Ambrose
(3:33 PM)
Looking forward to my F150.
Mike (Nijmegen, Netherlands)
Are you in a way concerned to leave JTG Daugherty Racing and head to RPM, because of their road course equipement? Let's face it, Kerr and the #47 team knew exactly what you wanted out of a road course car.
Marcos Ambrose
(3:34 PM)
That's true. But I have a good understanding of what set up I need and equipment I need to run a road course.
Chuck (NY)
Marcos, rumor is you might return to Australia for the V8 Supercar season finale. Any truth to that rumor? Thanks.
Marcos Ambrose
(3:35 PM)
Thanks Chuck. That's a good suggestion. Let me think about it.
Nick Rolando (Orlando)
Marcos, welcome back to the Ford family! Has RPM told you how many cars they will have next year?
Marcos Ambrose
(3:35 PM)
Both AJ, myself are locked into full programs. RPM has a lot of great stuff happening. There will be plenty of exciting announcements to be made. How many cars and what drivers are RPM's choice.
Joe (PA)
what is your favorite racing memory.
Marcos Ambrose
(3:36 PM)
I think winning Watkins Glen this year in the Nationwide felt really good. Good way to finish off my relationship with JTG.
Donny (Florida)
How many races will you and the rest of the RPM organization win?
Marcos Ambrose
(3:36 PM)
36 championship races, 2 non-championship.
Logan (MA)
Dear Marcos, you are one of my favorite drivers to watch and was wondering what your sponsor is gunna be next year for the #9 team? Thank you, bye.
Marcos Ambrose
(3:37 PM)
Yes. Stanley will be the major sponsor for us.
Stu (Tallahassee. FL)
What makes you so dominate on road coarses. Is there one thing you would say that you know more than the other drivers that gives you the obvious advantage.
Marcos Ambrose
(3:37 PM)
I just grew up road racing. I have been a little lucky myself.
James Piccarreto (Rochester, NY)
What Road Course Race Is Your Favorite?
Marcos Ambrose
(3:38 PM)
My favorite road course would be Watkins Glen. Old school track. Fast. Fast corners and banked curves.
Don (Alabama)
Glad to see Richard Petty Motorsports recruiting some excellent talent! Do you know who is going to be your crew chief for next year and do you have a particular crew chief that you would want on top of your pit box?
Marcos Ambrose
(3:39 PM)
We drive for the 9 team. We're talking to several premiere crew chiefs. It will be RPM's decision on who they choose.
Marcos Ambrose
(3:39 PM)
Whichever way it goes, Kenny Francis and the entire 9 team is one of the premiere teams in the garage area and it will be an honor to drive the 9 car.
Charles (L.A.)
Hi, how do you feel your new team is going to compete with Hendrick, joe gibbs, and other big name teams?
Marcos Ambrose
(3:40 PM)
It's a tough sport. There are great teams. But we are racing to compete against them and hopefully beat them.
Charles (L.A.)
You are pretty good on road courses, are you maybe going to try f1 or indy?
Marcos Ambrose
(3:41 PM)
No. I'm very happy in NASCAR. That's where the real racing is.
Dave (Virginia (formely Canberra Australia))
G'Day Marcos, I've been a huge fan of yours since you raced in Australia. I'm so glad you are back with Ford next year. My question is, when you win your first Sprint Cup race, what beer will you drink to celebrate? Cheers!
Marcos Ambrose
(3:41 PM)
First, you're up way too early in the morning. Secondly, it won't be Fosters.
Shane (OH)
How long is the contract you signed with RPM for ?
Marcos Ambrose
(3:42 PM)
It's a multi year deal.
Mike (Nijmegen, Netherlands)
Do you feel like you have reached your goals with JTG Daugherty racing in your time with them in NASCAR?
Marcos Ambrose
(3:43 PM)
I feel like it was time for a change. Great people and it's been a lot of fun driving for them. But after five years, I felt like I needed to shake things up to get the best out of myself.
James (Iowa)
Woohoo!! Ambrose back in the blue oval! Do you feel RPM is going to be financially sound enough to be competitive in future years?
Marcos Ambrose
(3:43 PM)
I'm very happy with RPM's position in the sport and the direction they're heading. We have a global sponsor supporting my efforts in Stanley. We have all the "tools" we need.
Joe (PA)
Is this your favorite time of the racing year?
Marcos Ambrose
(3:44 PM)
No. I like every race. I do tend to go well in July to September, historically.
Marcos Ambrose
(3:45 PM)
Thanks for tuning in. I appreciate your support. I'll see you in Victory Lane.