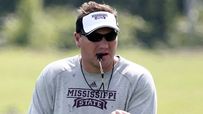 Mullen begins his second year in Starkville.
Welcome to SportsNation! On Wednesday, we will go on to the football field when Mississippi State football head coach Dan Mullen stops by to chat about the 2010 season.
Mullen enters his second season at Mississippi State, after four years under Urban Meyer as Florida's offensive coordinator. He went 5-7 in his first season with the Bulldogs, including a 41-27 win over Mississippi in the Egg Bowl.
Fans can follow Mullen on Twitter: @CoachDanMullen.
Send your questions now and join Mullen Wednesday at 1:10 p.m. ET!
More Special Guests: Previous chats | SportsNation
Jacob O. (Mississippi State, MS)
What aspects of the game have been your focus after last season's 5-7 record in order to increase the win column?
Dan Mullen
(1:10 PM)
Hey everyone. I'm having a lot of fun here at ESPN. Can't wait to get the season underway.
Dan Mullen
(1:10 PM)
Hey everyone. I'm having a lot of fun here at ESPN. Can't wait to get the season underway.
Dan Mullen
(1:10 PM)
Number one is ball security for our teams. We lost a lot of games that way. Also, helping our guys understand the plan for our program, and what we're trying to establish week in and week out.
Dan Mullen
(1:12 PM)
Gas grill, just because it's easier. As a coach, you don't have a lot of time to get that charcoal going.
Robert Sullivan (Brandon MS)
What's your thoughts on the O Line headed into the season?
Dan Mullen
(1:14 PM)
We have four starters returning from last year's team. They need to be the strong point of our team. Any strong team can control the line of scrimmage on both offense and defense, so we need a big year on our offensive line.
michael (picayune ms)
How do you see the WR and RB situations panning out?
Dan Mullen
(1:15 PM)
There's a lot more depth at those positions this year, so instead of having one main ball-carrier last season, we'll spread the ball around this season.
Rob (Nashville)
The SEC is starting to beef up their out of conference schedules. I know the Dawgs played Houston and Georgia Tech last year. Are there any big name teams State is currently looking at playing in the coming years?
Dan Mullen
(1:16 PM)
Southern Mississippi is obviously a huge rivalry, and that's our big-name team who we're going to play.
Barry Wade (Oxford,MS)
I heard your remarks about Dylan on First Take does Dylan have real chance to start this year?
Dan Mullen
(1:17 PM)
He does. It's still two and a half weeks before we play. He's had a great training camp. If he's ready to play, he'll play.
Judd (Ackerman MS)
What are your expectations for Chris Relf this year?
Dan Mullen
(1:18 PM)
Chris finished last season on a high note and has had a great offseason both mentally and physically. We expect him to pick up even better than where we left off.
Seth (Vicksburg, MS)
Coach,Any chance we see the black jerseys again this year?
Dan Mullen
(1:19 PM)
There's definitely a chance. We'll make sure we let the fans know when we do it.
bully80 (Grenada, MS)
What is the toughest part of your job?
Dan Mullen
(1:21 PM)
Not being able to get through to a young man to help him achieve his goals in life, when he quits or walks away before he's able to be successful.
Jim (Atlanta)
Dan, obviously every game is important from a Win/Loss perspective, but how would you rate the importance of the Auburn game? GO DAWGS!!!!
Dan Mullen
(1:21 PM)
It's a huge game. First SEC game of the year, so in conference play, you wanna get off on the right foot.
Bruce (Madison, MS)
Which player has been the biggest surprise during spring and fall camps?
Dan Mullen
(1:22 PM)
Chris Relf. He has developed himself from just being a football player to trying to become an every-down quarterback.
Stephanie (Jackson, MS)
Whats your favorite food?
Dan Mullen
(1:24 PM)
Cheesesteaks when I'm in Philadelphia, the Puritan backroom chicken tenders when I'm home in New Hampshire, and pizza anytime I'm close to New York.
Brian (Hendersonville)
What stadium other than Davis Wade is your favorite to play in?
Dan Mullen
(1:25 PM)
The Georgia Dome, for the SEC championship game.
brian (Jackson, MS)
How do you balance having a family (especially with a toddler) with work? I imagine your schedule is crazy.
Dan Mullen
(1:26 PM)
It is a very crazy schedule. You have to have a great wife that will bring your son out to practice, have lunch when you have five minutes to spend, and just to deal with the commitments that are involved with being a head coach.
Blake (Spring Hill, TN)
What is your most memorable moment so far in Starkville?
Dan Mullen
(1:26 PM)
Definitely winning the Egg Bowl.
Scott (Brandon, MS)
Coach, do you still have a clock in the locker room counting down the time until the Egg Bowl?
Dan Mullen
(1:27 PM)
Yes we do. It resets the day after the game.
Bill (Ridgeland)
What did you see when you played against Manny Diaz that made you go after him. I assume he is hard to figure out, but why?
Dan Mullen
(1:28 PM)
He gives you a lot of complex looks and is very creative in how his defense blitzes.
Rob (Houston, TX)
Coach, has anyone separated themselves at the RB position so far?
Dan Mullen
(1:29 PM)
No, but I'm pleased with the progress of all three backs, and I can see them playing in the first game.
Dan Mullen
(1:29 PM)
Look forward to seeing all the Bulldog fans in the home opener against Memphis. Bring your cowbells and ring respectfully!