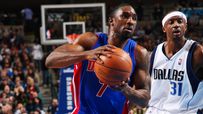 Gordon was the third overall pick in the 2004 draft.
Welcome to SportsNation! On Wednesday, Detroit Pistons guard Ben Gordon will stop by as NBA training camps are just a few weeks away.
Gordon will be entering his seventh season in the NBA and second with the Pistons. He won the NBA's sixth man award in 2005, while also being named to the all-rookie team. The UConn product has averaged 17.9 points per game during his career, while shooting over 40 percent on 3-pointers.
Starting Thursday, Gordon, through his charity, The Ben Gordon New Life Foundation will host the Ben Gordon Unity Weekend. His foundation, and weekend event, is dedicated to helping young people improve life skills and promoting education.
Fans can follow him on Twitter: @bengordon8.
Send your questions now and join Gordon Wednesday at 2:15 p.m. ET!
More Special Guests: Previous chats | SportsNation
Buzzmaster
(2:21 PM)
Ben is making his way over to the chat!
Jacob (Texas )
Ben, what was the inspiration behind your number change this year?
Ben Gordon
(2:28 PM)
I grew up on 8th Ave. In Mount Vernon. I just wanted to rep my block. That was pretty much the basic reason. I have a whole lot of other reasons, but that's the big one.
Kevin (Hartford, CT)
Ben, Still in touch with coach Calhoun? What would you says has been he biggest influence on your game today?
Ben Gordon
(2:29 PM)
Coach Calhoun is coming to my weekend, my 6th annual community weekend in Mount Vernon. He's a big reason of what I am what I am today. He's a hall of fame coach and he always pushed me to be better.
Kevin (VA)
How did you decide what you wanted to do with your foundation?
Ben Gordon
(2:30 PM)
Actually, it was easy. The foundation was actually the idea of my mom and mine. We collaborated on what we both wanted to do in the community. The foundation pretty much funds my whole weekend that we have in Mount Vernon. Not just in New York we work in, but around the country.
Emanuel (Mi)
Are you exited about playing with T-Mac this year?
Ben Gordon
(2:30 PM)
Yeah, I'm looking forward to playing with T-Mac. Seeing what kind of player he's going to be for us this year. I'm looking forward and am excited to see how he helps our team. See how he can help me a better player.
Matt (Chicago)
BG, longtime fan of yours from the Chi. Just wanted to say that the real Bulls fans appreciate everything you did for the team, making us relevant again, hitting some unbelievable clutch shots, and just overall making the team fun to watch. So thanks. Sorry re-signing didn't work out, but happy you got the contract you were looking for. Hope the injuries are behind you this year and good luck in Detroit (but not too good.) You playing for England in the WBC?
Ben Gordon
(2:31 PM)
Not this summer. I was supposed to play originally, but I had ankle surgery. I spent the summer rehabbing. But keep following me. Thanks for all the support.
Michael (Chicago)
Detroit is loaded at the wings, are you concerned at all about playing time this season?
Ben Gordon
(2:32 PM)
No, I love competition. I always play my best when there's a lot of competition around. That brings the best out of me. I relish those moments. I look forward to the challenge.
Jordan (Slinger, WI)
What will it take for this team to get to where it was four, five years ago?
Ben Gordon
(2:33 PM)
I think we have a lot of talent now. Joe is continuously looking at ways to build a championship team. We're not there now, but we do have great talent. If everyone can stay healthy, we can get back to where we were in 2004 and contend for a championship.
Ryan (Boca Raton)
What kind of drills have you done to approve your three point shooting over the years?
Ben Gordon
(2:34 PM)
Just shoot a lot of threes. That's the easiest way. It sounds simple, but there's no special formula. Go to the gym, get a lot of reps in. I think mechanics are a big part of your three-point shot. Make sure you hold your follow through until you see the ball go through the net.
Dan (Denver)
what are you looking forward to in your weekend?
Ben Gordon
(2:35 PM)
I'm looking forward to getting it started. We've been working on it hard all summer. Looking forward to getting it started on Thursday and having the best one yet.
mike v. (flint, michigan)
what do you think of the Heat deal? Do you think they can mess with the Lakers?
Ben Gordon
(2:35 PM)
It will be interesting to see. Right now your guess is as good as mine. They'll be a really good team, but it starts with chemistry. The Lakers are the champs. It will take a lot for somebody to take them down.
Michael (Chicago)
How have you never been invited to the 3-point contest during All-Star weekend? Are you too good and Stern is afraid you'd dominate?
Ben Gordon
(2:36 PM)
I think so. I don't think they want me to go out there and break all the records. That's probably why.
Marc (Charlotte)
Gas or Charcoal?
Ben Gordon
(2:36 PM)
Charcoal.
Matthew (Columbia, NJ)
Hey Ben, what do you like most about playing for the Pistons?
Ben Gordon
(2:37 PM)
The fans and just the organization as a whole. They're a first class organization and a big part of that is because of Joe Dumars and the late Mr. Davidson. The fans are great. Coming from New York, you always want to play in front of fans that appreciate and know good basketball. The Pistons fans are some of the best.
Nathan (Missouri)
Ben, have you seen much of Greg Monroe and what do you think of him?
Ben Gordon
(2:38 PM)
I haven't seen a lot of him. I watched him a lot in preseason. He's a highly skilled big man. He has some work to do. He has to get stronger. I'm excited about what he brings to the table. I think he can contribute right away.
Nathan (Kentucky)
Hey Ben, what are your expectations for the upcoming season?
Ben Gordon
(2:39 PM)
My expectations are to have my best season as a pro and definitely make the playoffs. That's pretty much it.
Big A (NY)
Hey Ben, when you are back home at Mt. Vernon, where's the first place you go to eat?
Ben Gordon
(2:39 PM)
Home. My grandmother and mom make something home cooked.
Ron (Michigan)
We're going to make the playoffs, right?
Ben Gordon
(2:40 PM)
Absolutely.
Alan (Denver, CO)
Which Detroit Piston best passes in a way that facilitates your shot?
Ben Gordon
(2:40 PM)
Wil Bynum and Rodney Stuckey.
Quinton (Detroit,MI)
Do you like or dislike of the idea that Mike Illich wants to buy the Pistons?
Ben Gordon
(2:41 PM)
It really doesn't matter to me. I don't know what his intentions are in wanting to buy the team, so it's hard to answer. I hope we get a good owner and pick up where Mr. Davidson left off. Hopefully our next owner can do some of the same work he did with the team.
Ray K (Detroit)
Ben, do you see the pistons signing anymore talent (or making a trade) soon? I'd really like to see AI come back to detroit.
Ben Gordon
(2:42 PM)
I wouldn't be surprised if we made some more moves. I think Joe is always looking for ways to improve the team. I wouldn't be surprised if we made some changes before the season starts.
Michael (Chicago)
BG7 as a lifelong Bulls fan I wanted to take this opportunity for your hard work and amazing play during your 5 years here in Chicago. It was a bummer to see you go.
Ben Gordon
(2:43 PM)
I had a great time in Chicago. I still have a lot of good friends on the team. I still go back to Chicago pretty often. I still love the city. Love the fans. It was just time for me to move on.
Ben Gordon
(2:45 PM)
I would just like to say thank you for all of my fan support over all of the years. Through the good times and the bad times. Follow me on Twitter: BenGordon8. BenGordon8 on Facebook. Look for my new website coming soon. We're working on it. It will be either BenGordon.com or BenGordon8.com. I'm also exectutive producing a basketball documentary on Mt. Vernon basketball. Also, if you're in the Mt. Vernon area, you're welcome to come join me for the 6th annual community weekend. It starts on the 19th and ends on the 21st. The 21st goes all day from 9-9. There will be basketball games, bring your kids, your families. It will be a good time.
Ben Gordon
(2:45 PM)
Giveaways too. Live entertainment.
Buzzmaster
(3:03 PM)
Thanks for chatting Ben!