Chat with Ashley Force Hood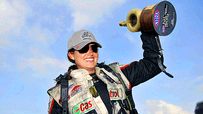 Force Hood owns eight career wins.
Welcome to SportsNation! On Friday, NHRA driver Ashley Force Hood stops by to chat about next weekend's Mac Tools U.S. Nationals presented by Lucas Oil.
Hood sits in eighth place in the Funny Car points standings, 90 points behind her father, NHRA legendary driver John Force. Hood won the 2007 NHRA rookie of the year in the Funny Car division and she earned her first win in the series in April 2008.
For her career, Force Hood has earned 24 final rounds and eight wins, three coming in Funny Car. Ashley's two sisters, Brittany and Courtney, also race for John Force Racing.
Send your questions now and join Force Hood Friday at 2 p.m. ET!
More Special Guests: Previous chats | SportsNation
Ashley Force Hood
(2:00 PM)
Hey I'm here, let's start!
David (aka long hair ) (Seattle,Wa.)
Hi, Ashley, What was it like to beat your Dad for the first time? Did you rub it in a little afterwards?
Ashley Force Hood
(2:01 PM)
(Laughing) It was a very exciting day. To get a win against my dad and a team that taught me how to drive was a great feeling. That day in Atlanta was a great day.
Phil Jones (Layton, ut)
Is there any truth to you stepping out of the car and giving the keys to your sister courtney next year?
Ashley Force Hood
(2:04 PM)
(Laughing) First there are no keys involved. We always knew that Courtney was going to start moving up the ranks. My husband and I don't talk about me walking away right now and I don't know when it will happen. But for now Courtney is finishing up her college courses and hopefully one day down the road she can make that move. I know it's a dream of hers and I'm very excited for her.
Robin Robbins (Seaford,Delaware)
How do you deal with all the fame and publicity,Ashley? What keeps you grounded? Foe me it is my faith in God, and the love of my friends and family.
Ashley Force Hood
(2:06 PM)
That part if it is the most challenging for me because I'm a shy person. I'm more comfortable in a fast car than I am around a group of people. I'm the total opposite of my father. The key is to be around the right people. My teammates and the people that I work with everyday are like family and they keep me grounded. It's also great to have my true family around.
Sabrina (Anaheim, CA)
What are your expectations going into the countdown to one?
Ashley Force Hood
(2:08 PM)
We really struggled this season and had a lot of bad luck. Last year was great from start to finish. This year has been very humbling to us and has made us a stronger team. Struggling they way we are has brought us closer together. My teammates never say anything negative and always stay positive. This year hasn't gone the way that we wanted but we are still in the race. Robert did it last year and we are looking to do it again this year.
david (raleigh, nc)
since your teammate robert hight was able to go from 10th to champion in the chase last year, do you feel you and your team, currently in 8th position, have a legitimate shot at the full throttle championship this year?
Ashley Force Hood
(2:10 PM)
Absolutely! It happened for Robert and it can happen for anybody. You have to put the past in the past and now try to grab every point possible. You can't waist anytime. We have six races left and there are a lot of points to be gathered. We just can't waist any chances at this point.
Kelle (Omaha, NE)
What is your favorite part of the off season?
Ashley Force Hood
(2:12 PM)
That's easy, Christmas! I'm a holiday person; I've already started Christmas shopping. I know it's embarrassing but I even play Christmas music from time-to-time. Just having that time with my family and friends is great. Getting time to relax before the start of the next season is always a good feeling.
Crystal (Louisiana)
What's your favorite part about being a Drag Racer?
Ashley Force Hood
(2:13 PM)
My favorite part is the team aspect of it. I've always been apart of teams. It's always fun to compete but when you have teammates it makes it all the better. My teammates and I have been though a lot together. We've gone through a lot of ups and downs and it's great to have teammates that you are close with to go though the ups and downs with.
dusty rose (danville,V.A.)
how can someone get there foot in the door to race in the N.H.R.A.?
Ashley Force Hood
(2:16 PM)
There are a lot of different ways to get into drag racing. I grew up around it, around tracks. I went to Frank Hawley's Drag Racing school, got licensed and a couple years later I started racing Super Comp. After that I started moving up. Going to school was very helpfully because you learn everything. I really think going to school is the best way to go about getting into racing.
Donna Meyer (Edgerton, Ohio)
Hi Ashley: Who do you feel is your toughest competitor?
Ashley Force Hood
(2:19 PM)
That's a good question! It depends on the time of year and how things are going. One year it was Tim Wilkerson, another year it was Jack Beckman This year it has been my teammates like my dad and Tim. There is never one particular person. I would say it's more challenging to race family or close friends. You have to put that fact that they are friends out of your mind and just think of them as another opponent. When it's time to go, it's time to go.
Michelle (Kentucky)
Is there a difference in racing men and women?
Ashley Force Hood
(2:21 PM)
No, I don't think so. I've really only raced Melanie in Funny Car. When I'm in the car, my mom doesn't have the time to wonder. I can not be distracted if I want to do my best a drive safely.
Ashley Force Hood
(2:22 PM)
I'm exciting that in a couple of days we leave for Indy. We won there last year and hopefully we can do it again. Thanks for all the great questions. See you in Indy!
Tracy (Garden grove ca)
Good luck in Indy
ron david (auburn ny)
keep up the good job, what you are doing is not easy. stay safe!!!!!!!
dominic (kenosha wisconsin)
your a great driver!! your dad has done good at teachin you!!
Tracy (Garden grove ca)
All of us in so cal want to wish you good luck in Indy next week! We wish you the best your friend Tracy :)!