Chat with David Reutimann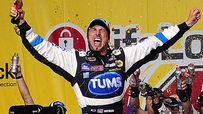 Reutimann captured the second win of his career this year in Chicago.
Welcome to SportsNation! On Wednesday, we'll be on the track when NASCAR driver David Reutimann stops by to chat about this weekend's Sprint Cup race in Atlanta (Sunday, 7:30 p.m. ET, ESPN).
Reutimann will be racing for a spot in The Chase in his No. 00 Toyota Camry from Michael Waltrip Racing. He sits in 17th place in the standings, 155 points out of 12th place with two races left in the season. He is one of 10 drivers with a win this season and he is 12th on the money list, having won just over $3.7 million this year.
Send your questions now and join Reutimann Wednesday at noon ET!
More Special Guests: Previous chats | SportsNation
Buzzmaster
(11:55 AM)
We're about to get started with David! Send in your questions!
Buzzmaster
(12:07 PM)
We have David!
Ken (ND)
What is your favorite track to run in the season?
David Reutimann
(12:08 PM)
My favorite track by far is Texas.
Jay (McDonough, GA)
You were doing so well at AMS before engine trouble in the spring. How are you and the guys feeling about this weekend?
David Reutimann
(12:09 PM)
Very encouraged. Because of the way that we were running earlier. But things change so much in our sport. You go back to the tracks and they're totally different some times when you went the first time. But we feel like we have a shot to do well.
Marc (Charlotte)
Gas or Charcoal?
David Reutimann
(12:10 PM)
Well, I burn about everything, but being as we always try to use some Kingsford.
Liz (Michigan)
When you were 20 years old do you think you could have handled Sprint cup racing like Joey, Kyle and those guys who started really young?
David Reutimann
(12:10 PM)
I feel like if I would have had the opportunity at that age with the organizations that they've been associated with early on, absolutely.
Barry (Wisc. )
What do you drive on the street?
David Reutimann
(12:11 PM)
I am a truck guy, so I drive a Toyota Tundra. I try to keep it toned down on the streets because tickets and insurance dictate all of that.
Brian (Wichita,KS)
Do you think you can overcome the 155 point deficit behind Bowyer for the 12th spot?
David Reutimann
(12:12 PM)
I think we have the kind of team that can pull that off. With that being said, we're going to have to run extremely well and Clint's going to have to have extremely bad races. We definitely have the right caliber of team and organization to do it, but it will be a tall order.
Harlan (Tenn)
Do you race the chase races all out to win or do you have to sort of let the chasers race and test for 2011?
David Reutimann
(12:13 PM)
My job is to win races, try to win races every time we go out there. You obviously respect the guys in the Chase, but you respect them before that. You don't really race them any different, because if you do, you're not doing your job.
Marty (Pearisburg, VA)
Afternoon David, who do you think wins the title this year?
David Reutimann
(12:13 PM)
Tough question. A lot of speculation. But with that being said, I still think Harvick looks awfully good.
Robby O (Mechanicsville Va)
David, I dont like the fact that there are consistently drivers who make the chase that havent won a race in the current season. What are your thoughts, and do you think some rule adjustments need to be made in order to place even more emphasis on winning and less on points racing?
David Reutimann
(12:15 PM)
I think it would be nice to have a little more emphasis on winning. With that being said, being consistent in our sport is very very important. You can't do anything that can take that away either. In the end, I don't really know what I'd fix, but I would definitely like to see a bigger bonus go towards those that have won a race.
Scott (Williamstown, WV)
I am a huge fan. Im the only guy I know with a 00 decal on the back of my truck. Why do you guys do so great on 1.5 mile track but struggle a bit on road courses, etc. ? Good luck this weekend!
David Reutimann
(12:16 PM)
Well, the reason we struggle on the road courses is because I suck at road courses. It is something I'm working on a regular basis. It all comes down to me trying to get better at those places. I like the ovals and especially the 1.5 mile tracks.
Bristol (NH)
How do you feel about road course races? Do you think one belongs in the chase?
David Reutimann
(12:17 PM)
Being as I'm not very good at the road courses, I don't think any belong on the schedule at all! Just kidding...but I don't think it's necessary for any to be in the Chase.
Triple C (South Roxana IL)
What do you think of Trevor Bayne as a possible teammate and are you looking forward to it.
David Reutimann
(12:18 PM)
Trevor's a great guy and is doing a great job. At the same time, I'm not getting any younger, so you have a guy in house that may take your job a some point. Not really thrilled about that.
Jamerson (Georgia)
You seem to usually avoid conflict on the racetrack. What sort of advice would you or do you give to guys like Kyle Busch and Brad Keselowski that are getting into alot of on-track altercations?
David Reutimann
(12:19 PM)
I don't talk to Kyle and only talk with Brad a little bit. They don't need my advice for anything. They're running pretty well. Some times those things happen and people handle it differently. Ultimately it comes down to the drivers personality. They don't need any advice from me.
JT (Louisville)
Do you and your family have any plans to run Nationwide or Truck teams like Harvick and Rowdy?
David Reutimann
(12:19 PM)
At this point no. To do a start up team is a huge amount of money. I have some dirt cars and things like that I enjoy, but I'm not interested in being a team owner at this level on my own.
Andrew (Kettering Ohio)
Do you think the races in The Chase should rotate to different venues each season?
David Reutimann
(12:21 PM)
It's an interesting question. I don't know what qualifies you as a Chase race track. I don't know what the deciding factor is. Location, fan base, type of race track. I don't know what goes into it. I think the tracks that they have now that are in the Chase are very good race tracks and provide for good racing. But I wouldn't be against spicing up things and changing things.
Scott (Williamstown, WV)
As a 00 fan, would you like me to go ahead and hate Kyle Busch? Because I'll do it for ya, man! haha
David Reutimann
(12:22 PM)
No, we have to share the love with Kyle. I don't think Kyle has a real good sense of humor right now. Maybe if we share him the love right now, he'll send us a Christmas card. As we all know, I love love.
Jenny (Elizabeth town LA)
Can you cook, if so what do you like to cook?
David Reutimann
(12:23 PM)
I don't like to cook. Things I have cooked in the past have been extremely well done....not done well, burnt. I'm not a good cook.
Joan (SC)
Is Mikey as goofy around the shop as he appears to be on tv?
David Reutimann
(12:24 PM)
I've been asked that question a lot. Mike's a fun guy to be around. He likes to have a good time and not be serious all the time. When the moment calls for him to be serious, he can be that too. He's a fun guy to be around. The guy you see on TV is the guy Michael Waltrip is.
Triple C (South Roxana IL)
Would you rather make the chase this season and go without a win or win multiple times during the chase without being in it.
David Reutimann
(12:25 PM)
The only way you're going to win a championship is to be in the Chase. The ultimate goal is to win a championship. That's a very tough question, because when you're out there, you want to win. In the end, I would want to have a chance at the championship and there's only one way to do it.
Daniel (VALDOSTA, Ga.)
Hey David, were you sad to see Atlanta lose a date? It's a great track with such high speeds, close racing, an overall great product... some of the best racing on the circuit.
David Reutimann
(12:26 PM)
I hate to see any track lose a date, no matter where it is. Atlanta is one of my favorite race tracks. I like it a lot. Unfortunately it happens. In a perfect world, all race tracks would have two dates. It's just not going to work out like that.
Brian (Wichita,KS)
If you make the chase, which chase race do you think you'd do best on? Kansas, Dover, Texas, Talladega,etc.
David Reutimann
(12:27 PM)
I think Kansas would be a good track for us. I think we could run well there. Holmstead. I don't think there are many tracks in the Chase that we wouldn't run well at.
Josh (Baytown, TX)
Not including road races, what is your least favorite track and why?
David Reutimann
(12:28 PM)
Martinsville.
David Reutimann
(12:28 PM)
It's a great race track. I just haven't had a lot of things go my way at that place. That's why.
Andrew (Kettering Ohio)
Are you excited to have Bobby Labonte in the fold next season? What is Truex like to work with? Seems like the 3 of you would work well together!
David Reutimann
(12:29 PM)
Yeah. Bobby's a great guy and an exceptional driver. He's helped me out a lot, especially my rookie year. He wasn't a teammate and he went out of his way to help me. I think he'll be a great fit for our organization.
Andrew (NC)
Do you play video games, if so, which games?
David Reutimann
(12:30 PM)
I don't really have much time any more to do that. Unfortunately. I used to play a fair amount. Too many other things.
David Reutimann
(12:30 PM)
Thanks for taking the time to ask questions. Go buy a David Reutimann T-shirt!