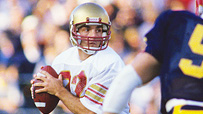 Flutie won six MVP Awards and three Grey Cups in the CFL.
Welcome to SportsNation! On Wednesday, College Football Hall of Famer Doug Flutie stops by to chat about the upcoming college and pro football seasons.
Flutie, a 2007 inductee into the College Football Hall of Fame, was the 1984 Heisman Award winner and is probably most famous for his Hail Mary pass to help Boston College defeat Miami in 1984. After four years in the NFL, Flutie went on to a hall of fame career in the Canadian Football League before returning to the NFL to play eight more seasons.
Flutie is working with Capital One to award the Capital One Cup and $200,000 to an NCAA Division I athletics program. The Cup winner is awarded to the program with the best cumulative on-field performance across a wide range of men's and women's sports.
Send your questions now and join Flutie Wednesday at 4:40 p.m. ET!
More Special Guests: Previous chats | SportsNation
Buzzmaster
(4:38 PM)
Doug is just a couple of minutes away! Send in those questions!
Buzzmaster
(4:43 PM)
We've got Doug!
Jake A (New York)
Which play do you think is more iconic, your Hail Mary pass or the band coming out on the field?
Doug Flutie
(4:45 PM)
I always classify the Stanford band play as the No. 1 college football play of all time. With the band being on the field, all of the laterals, it was just really something you will never see again.
Paul Sullivan (Quincy)
Do you think the Eagles will be a contender in the ACC.
Doug Flutie
(4:46 PM)
I think anyone in the ACC is a contender. I think they will be very competitive. It always seems like we're just a half step away from winning it all. A lot of that is dependent on how the QB play has improved.
wyatt (missouri)
what was the biggest transition for you to go to the NFL and then go to the Canadian league
Doug Flutie
(4:47 PM)
Maybe the speed of the game. The one thing that really comes to mind is that in the NFL, the WRs do not get open. It's body position. They beat a guys technique and they open their body and that's considered open. The pass has to be pinpoint. As opposed to college where guys get wide open.
Dave (Boston)
Doug, how excited are you to be working with Capital One on this award that rewards schools for having an overall good athletic program, and not just focusing on one sport?
Doug Flutie
(4:48 PM)
I'm excited about it. I love the concept for rewarding an entire program for doing it right. To see how the entire university will rally behind the other sports as well, when the time comes. If our field hockey team can finish third or better and we can win it or if our baseball team goes to the NCAA tournament, we can win it. That kind of comraderie will be exciting.
Heath (Mississippi)
Do you think Peyton and the Colts will make it back to the Super Bowl?
Doug Flutie
(4:49 PM)
When you have Peyton Manning at QB, you always have a chance there. He and Tom Brady are the two elite guys in the NFL. Drew Brees has put himself in that category now.
Andrew (Montgomery, AL)
Doug, first off I was a big fan. Secondly, do you think you and Drew Brees having been successful in the NFL will help other "short" QBs such as Kellen Moore?
Doug Flutie
(4:50 PM)
Absolutely. No doubt about it, especially Drew Brees winning a Super Bowl. He received many of the same comments and criticisms that I took early in my career. The mentality is that you have to be 6-3, 6-4 to run an offense but Drew stands in the pocket and does it as well as anyone.
J.B. (Dunmore, PA)
What was the biggest adjustment for you playing in the CFL compared to the NFL?
Doug Flutie
(4:51 PM)
From going initially from the NFL to the CFL, I had to learn to not throw the ball away and to scramble. With three down football, you can't throw a down away. Then, coming back to the NFL from CFL, I had to re-enforce timing and rhythm.
johnny (lexington ky)
I have a quest from SEC country. Who do you think is better as a one two punch mark ingram trent richardson or 2007 darren mcfadden felix jones?
Doug Flutie
(4:52 PM)
Well, right now, today, I would say McFadden and Jones, because they were more proven. We don't know a lot about Richardson yet. We'll get a better look at him now that Ingram's banged up. By the end of the season, I might change my mind.
j. b. boc BC84 (vero beach)
Doug, is the band ever going to play at Captain Hiram's in Sebastian when you're down here ??
Doug Flutie
(4:53 PM)
We would LOVE to! That would be a blast. I'll bring my drums across the river on my jetski. That would be a lot of run.
K (VA)
Are you happy with the title of your cereal, Fluttie Flakes? They are delicious
Doug Flutie
(4:54 PM)
Actually, the surprising part of it was we sold a lot of boxes and we sold a lot for our organization. The afterthought was that the cereal was pretty good. My wife ate it right out of the box.
Matthew (Columbia, NJ)
Hey Doug, what was your most memorable moment in your NFL career?
Doug Flutie
(4:55 PM)
NFL moment? Probably when I came back and I got to start against Jacksonville at home. It came down to the wire and we put a drive together and I ran it in for a game winning TD at the last second. It was kind of making my mark back in the NFL.
J.B. (Dunmore, PA)
How much did it cost you to get your coach to allow you to perform a drop kick in an NFL game?
Doug Flutie
(4:56 PM)
It didn't cost me one red cent. That was Chris Berman's little brain child. He put the bug in coach Belichick's ear. He got fired up about it and I did it. That was one of the scariest moments of my career, because I could have looked like an idiot.
andrew smiglowski (concord nh)
if you could be a nfl quarterback, besides yourself, who would you be?
Doug Flutie
(4:57 PM)
Tom Brady's has been pretty darn good. I'll take his any day of the week. I'm most proud of Drew Brees, though. I love how he has fought back from adversity and how he's established himself as a premier QB in the NFL.
matt (pittsburgh pa)
hey doug do you think before you went to the pats do you think you could of started for another franchise?
Doug Flutie
(4:58 PM)
At that time, I might have been in a position to help some teams, but probably not be a starter. The decision was made to go to New England because my daughter was going to be a senior in high school and I wanted her to finish school at home.
sean (virginia beach)
What's your take on Jeff Garcia? Do you think he can make it back to the NFL? You Gotta admire the guys determination and love for the game.
Doug Flutie
(4:59 PM)
I love those guys. Those guys have to work for everything they get. They appreciate it and will outwork anyone around. I'll a team full of those kinds of guys any day.
Doug Flutie
(4:59 PM)
I played with both of them. Jeff in Calgary and Drew out in San Diego.
Doug Flutie
(5:00 PM)
Thanks for the questions and interest.