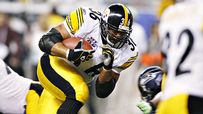 Bettis was drafted 10 overall by the Rams in the 1993 draft.
Welcome to SportsNation! On Tuesday, we will look toward the start of the NFL season on Thursday when former NFL running back Jerome Bettis stops by to chat.
Following a 13-year career in the NFL, Bettis retired after his Pittsburgh Steelers won Super Bowl XL in 2006, his only Super Bowl win. He left the game with 13,662 rushing yards, good for fifth all-time and his 91 rushing TDs is 10th all-time.
Bettis is working with Guinness in the Head-to-Head challenge. Between now and Oct. 31, fans 21 and over can send in stories about stepping up to a challenge. The winner gets an all-expense paid trip to Dallas to hang out with Bettis.
Send your questions now and join Bettis Tuesday at 3:15 p.m. ET!
More Special Guests: Previous chats | SportsNation