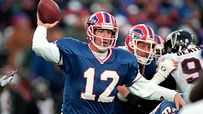 Kelly helped lead the Bills to four straight Super Bowls from 1991-94.
Welcome to SportsNation! On Wednesday, we will have football hall of famer Jim Kelly stopping by to chat about the upcoming NFL season.
After entering the USFL out of college, Kelly entered the NFL in 1986 and enjoyed an 11-year career. During that time, he threw for 35,467 yards, good for 15th all-time. His 101 wins as a starting QB is 10th all-time. The Miami (FL) product earned enshrinement into the Pro Football Hall of Fame in 2002, his first year of eligibility.
Having just turned 50 this year, Kelly is working with the Depend Campaign to End Prostate Cancer by helping men overcome their fears about visiting their doctor.
Send your questions now and join Kelly Wednesday at 3 p.m. ET!
More Special Guests: Previous chats | SportsNation
Jim Kelly
(3:03 PM)
I'm excited about what we are doing with prostate cancer. I am now 50 (thank God) but I want to make sure guys out there know how important it is to get tested. I urge everyone to go to www.depend.com to take a look at my PSA announcement. This cancer is beatable and treatable if it is detected early.
Leo (Miami, FL)
What advice would you give those men out there that don't like going to the doctor or getting checkups?
Jim Kelly
(3:05 PM)
Quit being so mocha! I don't want you to look back and say "I should have listened to Jim Kelly." Log onto www.depend.com and take a look at my PSA. It shows me going through my test. It's simple and easy so get it done!
Dan Miller (Johnsonburg, PA)
Do you really think the Bills have any chance of staying in Buffalo?
Jim Kelly
(3:06 PM)
Yes, I defiantly do. It's still Mr. Wilson's team and as long and he's alive and in charge they will stay in Buffalo.
Nate (Brooklyn, NY)
What are your thoughts on Chan Gailey as he leads the Bills into the season opener this week? Do you think he has the Bills pointed in the right direction?
Jim Kelly
(3:07 PM)
So far so good. Preseason is only preseason but I liked what I saw. The key for the Bills is to stay healthy because they don't have depth on this team to win if they don't. If they do stay healthy, I think they might shock some teams.
Rich (Hoboken NJ)
Jim, Every "expert" in the country is picking the Fins over the Bills this weekend. How big do you think the crowd factor is going to be for this game and do you think the Bills can squish the fish like the old days???
Jim Kelly
(3:09 PM)
(Laughing) You better believe it! Of course people are going to pick the Dolphins. They have made some good moves to make their team better this offseason. But they are coming to our backyard and we just announced C.J. Spiller as our starting running back. I say Bills 27-Dolphins 17.
Matthew (Columbia, NJ)
Hey Jim, do you think the Bills are headed in the right direction? C.J. Spiller looks like he will be a great player!
Jim Kelly
(3:11 PM)
He defiantly is. I just hope the offensive line stays healthy because we don't have the depth. Having a guy the C.J. will take the pressure off of Trent. Spiller getting 20-25 carries a game is what the Bills need.
Chris Muse (Buffalo)
You have said this year that Trent Edwards has the potential to be a good QB in this league. Do you think he will be able to turn the corner and bring the Bills back to viability?
Jim Kelly
(3:12 PM)
I HOPE SO!!! As long as the guys up front give him the time to throw the football, he'll be alright. He needs to get off to a good start and get his confidence level back up to where it should be. It will be tough with three of their first four games against AFC East team but it can be done. They just need to stay healthy, stay positive and play their game.
joey (pittsburgh pa)
hey jim big fan. whats your take on tim tebow as a future great qb?
Jim Kelly
(3:13 PM)
I really don't know enough yet. I watched his last game and it looks like he's back to his old habits and throwing the ball well again. As long as he takes the time to develop his skills, I think he will be a good one. As far as a great quarterback, it's too early to tell.
Chris Muse (Buffalo)
Do you think the Bills will come out of the gate this season with a chip on their shoulder due to being dogged by everyone in the media?
Jim Kelly
(3:14 PM)
It helps that nobody is predicting them. As long as they don't get key injuries, I think they will surprise a couple of teams out there.
PJ (CLT)
Biggest question of the weekend... Can Jacory and The U go into the Shoe and come away with a W over OSU? GO CANES
Jim Kelly
(3:16 PM)
Not only can they, they will. Miami 27-OSU 17 and THAT'S A FACT JACK!!!
Steven (NY)
Who's your pick to win the East? What's the breakdown of the four teams look like record wise?
Jim Kelly
(3:16 PM)
I pick the Buffalo Bills, what do yo you expect me to say?
Jim Kelly
(3:17 PM)
Bills, Jets, Patriots, Dolphins in that order.
Tim (Findlay, Ohio)
You mentioned the Bills will stay in Buffalo as long as RW is alive. What about after RW? (God bless him)
Jim Kelly
(3:18 PM)
I know people that are willing to step up and be apart of ownership but hopefully we won't have to think about that anytime soon. I hope he lives to be 110 years old. This team is a staple in western New York and hopefully it will stay that way.
Coach Tuesday (New York)
Jim - I agree with you about the Bills' lack of depth. Why do you think that is? Is it years of poor drafting? Unwillingness of free agents to come play and live in Buffalo? A frugal owner? Something else?
Jim Kelly
(3:19 PM)
A little bit of both. Letting players go, the draft hasn't been great to us and when a team isn't winning and you play in the northeast, players aren't willing to come. They want to win now and not later. When I was playing people wanted to play in Buffalo and that is something we need to get back. We need to get back to the days when players didn't mind playing in the cold for a WINNING team.
Jim Kelly
(3:24 PM)
My wife just authored a book "Without a Word" that will be in stands and online September 9. I had a son that pasted away at the age of 8 and even though he didn't speak a word, he touched many people's lives. It's a heartfelt book about out family's private struggle and how eight years with their severely disabled, terminally ill son, Hunter, unfolded in a redemptive and transforming manner. For more information, go to www.jillk.org.
Jim Kelly
(3:27 PM)
Thank you for all the great questions. Please men, go out and get tested. Prostate cancer affects one in six men and 192,000 men expected to be diagnosed this year in the United States alone. Early detection is key! Enjoy the new season and be sure to look out for the Buffalo Bills!