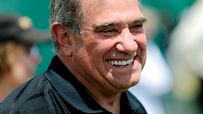 Lauria, who starred in "The Wonder Years," now takes on the role of Vince Lombardi on Broadway.
Welcome to SportsNation! On Friday, actor Dan Lauria is here to talk about his latest project, playing Vince Lombardi in a new play on Broadway "Lombardi."
Lauria is probably best known for his role as TV dad Jack Arnold in the show "The Wonder Years," which aired from 1988-93. He has had more than 70 roles on television over his career and nearly 40 movie credits. Lauria is no neophyte on stage either, having worked on more than 50 productions.
September 3, 2010 marked the 40th anniversary of Lombardi's death at the age of 57. The play "Lombardi" is the story behind the coach - his inspirations, passions and ability to drive people to achieve what they never thought possible. The show is based on the best-selling biography "When Pride Still Mattered: A Life of Vince Lombardi."
"Lombardi" online: @lombardiplay | Faceboook
Send your questions now and join Lauria Friday at 2 p.m. ET!
More Special Guests: Previous chats | SportsNation